Constitutional Reform to Make Georgian Parliament More Pluralistic
Publication: Eurasia Daily Monitor Volume: 17 Issue: 107
By: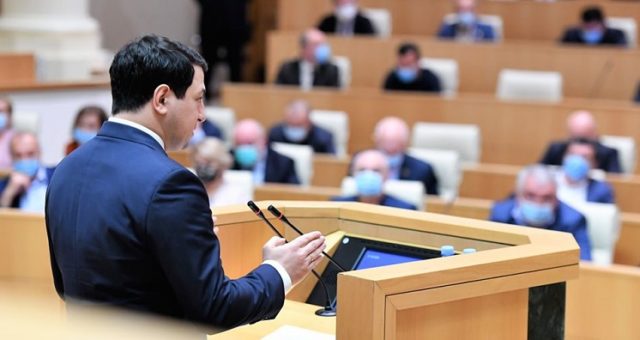 On June 29, the Georgian parliament finally approved the Western-mediated electoral reform amendment to the Constitution, with 117 deputies voting in favor and 3 opposed. The passage of the amendment was made possible thanks to the votes of the ruling Georgian Dream (GD) majority and several small opposition factions, including those created by former GD parliamentarians (Agenda.ge, June 29). According to the revised Constitution, the 150-seat legislature will be elected this October with 120 seats apportioned via a proportional vote with only a 1 percent electoral threshold, while the remaining 30 seats will go to the winners of single-member majoritarian districts. The legislative chamber's two main opposition parties, the United National Movement (UNM) and European Georgia (EG), boycotted the vote, accusing GD of not fully abiding by their March 8 election agreement, which was reached with the help of Western diplomats (see EDM, June 11; Agenda.ge, March 8, June 29). The ruling party, in turn, did not miss a chance to depict UNM and EG as a "destructive and anti-state force," disregarding the March 8 agreement by non-participation in the voting (Civil.ge, June 29). In response, 18 opposition parties, which, together with UNM and EG, had initially fought for the electoral reforms, issued a joint statement declaring the constitutional amendment as their victory, achieved with the support of international partners (Info7.ge, July 2).
On July 2, the GD-dominated parliament formally amended the Georgian election code to bring it in line with recommendations issued by the Organization for Security and Cooperation in Europe's Office for Democratic Institutions and Human Rights (OSCE ODHIR) following the strained presidential elections in 2018. The most notable legal changes include restriction in the use of so-called "administrative resources" during election campaigns and raising female representation in the parliament to 20 percent of the overall number of deputies. UNM and EG boycotted the voting again (Civil.ge July 2).
Georgia's Western partners praised the GD's willingness to adopt the needed reforms, characterizing them as evidence that the government is willing to take steps to restore trust ahead of the elections. But at the same time, the foreign partners indicated that the electoral changes could have been more profound. Additionally, local civil rights watchdogs, expressed concern over the "tense and polarized" pre-election environment (Isfed.ge, July 1; Civil.ge, July 1, 3).
Meanwhile, thanks to the new reduction of Georgia's electoral threshold to 1 percent of the vote, the country is seeing a rapid appearance of new political parties with varying ideologies, ranging from far-right nationalist to leftist liberal. The electoral reform has opened up opportunities for these newly established small-sized parties to win seat(s) in the legislature as well as diversify Georgia's political life more generally.
But the impact of this sudden political dynamism on the country's established opposition remains uncertain. Thus far, the newly formed ad hoc alliance of 18 opposition parties, spearheaded by the most resourceful UNM and EG, has agreed only on putting forward common candidates in the four single-member majoritarian districts in the capital city of Tbilisi. Moreover, key members of this grouping have declined the idea proposed by the Ukraine-based former president of Georgia and UNM's virtual leader, Mikheil Saakashvili, to run in the elections under a joint party list. At the same time, the future of the relatively effective UNM-led coalition of 11 political parties "Strength Is in Unity," created specifically for the 2018 presidential elections, also remains ambiguous. UNM has yet to decide whether it will run independently or together with those coalition members, all representing various miniature parties (Rezonansi, July 10).
The ruling GD, on the other hand, appears to be following a "go-it-alone" strategy. Based on their own and other surveys, GD leaders claim to have overwhelming advantage over UNM and other major opposition parties (Imedinews, June 15, 16). A poll conducted this past May by Georgian Opinion Research Business International (GORBI), by the order of the TV company Imedi, found that if elections "were held tomorrow," the majority (55 percent) would have voted for GD, with only 12 percent for UNM and 6 percent casting ballots for the nationalist-minded Alliance of Patriots (Imedinews, May 29). However, more recently, the ruling party's massive lead has apparently eroded somewhat. According to a survey conducted in June–July by Edison Research, at the request of the TV company Formula, GD leads with 39 percent, followed by UNM at 16 percent, EG with 5 percent, and 12 other political parties fluctuating between 1 and 3 percent of support (Formulanews.ge, July 16).
Probably none of Georgia's previous elections featured such unprecedented levels of Western engagement as this year's parliamentary campaign. The opposition parties are interpreting this engagement as a clear message to GD to cede power; and they have been trying to persuade the public about the inevitability of a change in power this fall. The latest Western reprimands to GD and its leader, the billionaire philanthropist Bidzina Ivanishvili, evidently play into the hands of UNM and EG (Reginfo, Netgazeti, June 11; Civil.ge, July 8; Agenda.ge, July 9). The latter are proactively positioning themselves as favorites of the West, simultaneously seeking to portray GD as a pro-Russian force. In an attempt to downplay the Western criticism, Prime Minister Giorgi Gakharia stated that some Georgian politicians are trying to drag Georgia's foreign partners into the country's domestic political processes, evidently alluding to UNM and EG and saying that this was "detrimental" to Georgian interests. He pledged to secure fair elections and brushed away allegations that Georgia was changing its pro-Western course. Gakharia did not exclude that Ivanishvili might appear on the GD's 2020 electoral list (TV Imedi, Rustavi 2, July 10).
Possible interference by Russia in the Georgian elections has increasingly become a refrain of local expert and political discussions as the campaign starts to pick up steam (Gip.ge, Interpressnews, July 1). Local pundits argue that Moscow is highly likely to again utilize its well-tested methods to dismiss, distract and dismay various targeted social groups in Georgia by using disinformation and exploiting multiple Russia-leaning Georgian groups and opinion-makers (Kviris Palitra July 6; Radiotavisuplepa.ge July 2, 6). Many Georgians remain receptive to myths about foreign (i.e., Western) threats to their national customs, culture and ethnic identity.
Regardless of how the campaign progresses, the newly adopted election reforms look likely to permanently shake up the established eight-year bipolar political system dominated by GD and UNM. They pave the way for new political actors to contribute to the development of parliamentary democracy in this South Caucasus republic.