Controversial Railway Project Consolidates China's Foothold in Central Asia
Publication: Eurasia Daily Monitor Volume: 14 Issue: 149
By: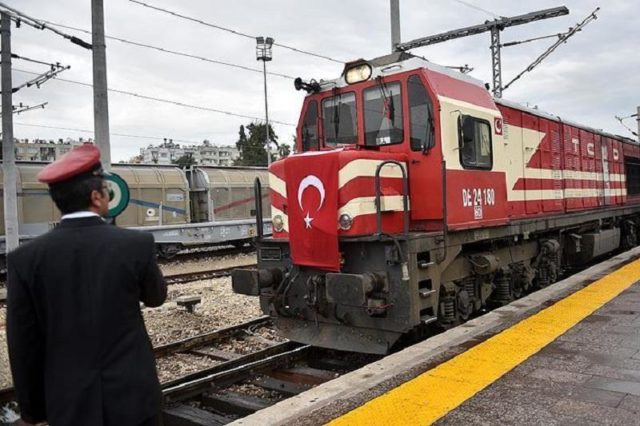 On November 5, a cargo train from Kokshetau, North Kazakhstan, carrying 30 containers of wheat, arrived in the Turkish harbor city of Mersin, on the Mediterranean coast. What made this event so notable was that this was the first train from Kazakhstan to use the new 826-kilometer-long Baku-Tbilisi-Kars (BTK) railway, inaugurated in the Azerbaijani capital city of Baku, on October 30. The ceremony in Kokshetau was attended by the presidents of Turkey and Azerbaijan, Recep Tayip Erdoğan and Ilham Aliyev, respectively. These heads of state were also accompanied by the prime ministers of Kazakhstan, Uzbekistan and Georgia— Bakytzhan Sagintayev, Abdulla Aripov and Giorgi Kvirikashvili (Inform.kz, November 5).
The BTK project, considered an essential part of the east–west New Silk Road transport corridor and the shortest route providing China direct access to Europe, took ten years to complete. Moscow is apparently suspicious of the rail route, which bypasses Russia and is seen by observers as a viable rival to its Trans-Siberian railway. Moreover, although Azerbaijan, Turkey and Georgia continually reiterate that the BTK project does not pursue any political objectives, this transit corridor in fact effectively isolates Armenia from vital transregional transport routes. In the long term, Armenia may join the BTK, but most likely only at the cost of making crucial concessions to Azerbaijan on the Karabakh issue (Rosbalt, October 26).
The railway race in the region has gained momentum since Shavkat Mirziyaev ascended to the presidency in Uzbekistan to mend fences with its neighbors. In June, at the summit of Shanghai Cooperation Organization (SCO), in Astana, President Mirziyaev and his then-counterpart from Kyrgyzstan, Almazbek Atambayev, resurrected the idea of constructing a China–Kyrgyzstan–Uzbekistan railway, which would stretch from Xinjian Uygur Autonomous Republic to the Fergana Valley. The project was first conceived in the late 1990s (Kapital.kz, June 9).
One of the technical problems surrounding this proposed railway corridor is that China and the post-Soviet Central Asian states use different track gauges. Beijing urged Kyrgyzstan and Uzbekistan to readjust their legacy Russian/Soviet broad-gauge rail networks to the narrow-gauge standard used by China (and most of Europe). Some Russian experts view this issue from a military-strategic angle: they argue that narrow-gauge rail lines extended from China into Central Asia would allow Beijing to quickly dispatch its troops to the region in a potential future conflict with Moscow (Eurasia.Expert, January 23).
Moscow is also growing suspicious of Chinese-Iranian rapprochement in railway development projects in Central Asia. After the visit of Iranian President Hassan Rouhani to Kyrgyzstan and Kazakhstan in December 2016, media reports disclosed Iranian plans to create an integrated railway network with Kazakhstan, Tajikistan and Turkmenistan. In February of that year, the Iranian ambassador to Kyrgyzstan announced Iranian-Chinese plans to construct a new railroad linking China and Iran with Tajikistan via Kyrgyzstan (Eurasia.Expert, January 23).
Between 2002 and 2013, the railway authorities of Kyrgyzstan and China discussed various transit projects on at least on two separate occasions. But each time, they failed to reach agreement on the length of the proposed railways as well as regarding financing (24.kg, October 13, 2016). Initially, the government of cash-strapped Kyrgyzstan considered selling iron ore and gold mine concessions to Chinese investors to help finance a railway across the Central Asian country. By 2012, however, under public pressure, the authorities in Bishkek abandoned that scheme. In every aspect, the construction of this transit route is an unsurmountable burden for Kyrgyzstan's economy. According to official sources, every kilometer of railway along the 432 km stretch from the Torugart mountain pass on the Kyrgyzstani-Chinese border to Jalal-Abad in southern Kyrgyzstan will cost $10 million (Knews.kg, January 20, 2017). Yet, the construction of this section is particularly important for Kyrgyzstan in order to solve the long-standing problem of existing transportation infrastructure in the southern portion of the country being virtually cut off from the north.
After more than two decades following its inception, the China–Kyrgyzstan–Uzbekistan rail route still exists only on paper. And there are good reasons to doubt the project's long-term economic feasibility. Nonetheless, several years ago, Kubatbek Rahimov, a well-known Central Asian railway logistics expert, argued that this railway would offer China a pretext to relocate its redundant workforce to Kyrgyzstan and gradually gain access to mineral deposits along the route (Catoday.org, March 29, 2013). And evidently, Bishkek—in the context of chilling relations with Astana after the October presidential elections in Kyrgyzstan (see EDM, September 27, October 18)—is again finding itself drifting toward Beijing.
China's increasing involvement in Central Asian railway projects can be seen as the practical implementation of the One Belt, One Road (OBOR) initiative proposed by Chinese leader Xi Jinping (see China Brief, May 15, 2015; see EDM, May 24, 2017). But it is difficult to predict whether Beijing's expanding activities will really contribute to genuine economic integration in the region or entangle the Central Asian republics in future geostrategic railroad wars.