CRISIS OVER, BUT RULE OF LAW UNDERMINED IN UKRAINE
Publication: Eurasia Daily Monitor Volume: 4 Issue: 104
By: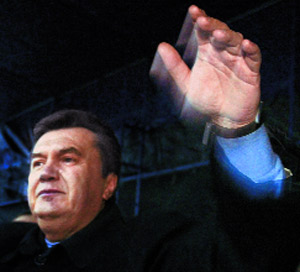 The Ukrainian political crisis triggered by President Viktor Yushchenko's April 2 decision to disband a hostile parliament appears to be over. On May 27, Yushchenko and his opponents, Prime Minister Viktor Yanukovych and parliamentary speaker Oleksandr Moroz, scheduled an early parliamentary election for September 30 and agreed on terms for the campaign.
Yushchenko de facto recognized that his game had not been legally sound. He agreed with his opponents that parliament's self-dissolution, rather than Yushchenko's accusations of illegally forming the parliamentary majority, will serve as the legal basis for the early election. Yushchenko, Yanukovych, and Moroz also agreed that the Constitutional Court (CC) would have no influence on the election process.
This decision followed a difficult week. Fearing that the CC's verdict on dissolution would not be in his favor, Yushchenko had tried to prevent the CC from delivering it. On May 21, he filed a lawsuit with a district court in Kyiv demanding that the CC be banned from carrying out any proceedings. On May 22, the court threw out his case. Also on May 22, Hryhory Omelchenko from the Yulia Tymoshenko Bloc, which is allied with Yushchenko, accused CC acting chief judge Valery Pshenychny of bribery (earlier, CC judge Syuzanna Stanik was accused of bribery, see EDM, May 22). Over the next three days, several courts across the country in turn invalidated and upheld Yushchenko's earlier decrees to sack three CC judges including Pshenychny and Stanik.
On May 23, the CC ruled that the president could not dismiss or appoint chief judges to courts. The CC was also reportedly close to ruling on Yushchenko's decree dissolving parliament. This prompted Yushchenko to act even more resolutely. On May 23, he addressed the nation on TV, saying, "the Constitutional Court is paralyzed," and "some judges have been suspected of large-scale corruption." This, Yushchenko said, prompted him to instruct the Prosecutor-General's Office (PGO) to probe CC judges.
Yushchenko's appeal, however, had no effect on Prosecutor-General Svyatoslav Piskun, who insisted that Stanik and Pshenychny occupied their posts legally. On May 24 Yushchenko issued a decree dismissing Piskun – ironically just a month after he had reinstated him as prosecutor-general.
Piskun's dismissal triggered two days of brinkmanship. Piskun did not recognize his firing, as Yushchenko's formal explanation had been that Piskun was illegally combining his job with work in parliament. Piskun insisted that he had renounced his parliamentary seat on time. When policemen from the State Guard Service, loyal to Yushchenko, came to the PGO to ask Piskun to go, he called Interior Minister Vasyl Tsushko, a Yanukovych ally, for help.
Tsushko overreacted, instructing riot police to storm the PGO and announcing, "A coup is taking place." Viktor Shemchuk, whom Yushchenko had appointed as caretaker prosecutor-general, opened a criminal case against Tsushko, suspecting him of organizing a coup. On May 25, Yushchenko issued a decree re-subordinating the combat force of the Interior Ministry – the Interior Troops – to himself.
On May 26, Tsushko told journalists in Kyiv that he had lost control of the Interior Troops, and that they were moving toward Kyiv on orders from Yushchenko. The troops, however, did not reach Kyiv, as pro-Yanukovych parliamentarians reportedly promptly moved to stop them on the highways, aided by police units loyal to Tsushko. Later in the day, Yushchenko admitted that he had ordered 2,000 Interior Troops to arrive in Kyiv, but he said that they were supposed to maintain public order during a soccer match.
In order to prevent further muscle flexing, Yushchenko invited Yanukovych and Moroz for urgent talks. In the early hours of May 27, the threesome announced that a compromise had been reached and shook hands before TV cameras.
The deal provides for holding a parliamentary poll on September 30, rather than in June or July, as Yushchenko had earlier insisted. Yushchenko agreed that parliament should resume work on May 29-30 in order to prepare a legal foundation for the election. After that, parliament should disband itself. For that, Yushchenko's and Tymoshenko's parties are expected to give up their seats, so parliament will number less than 300, making it illegitimate.
Yushchenko agreed to the Yanukovych coalition's demand to update the register of voters – Yanukovych and his allies had complained that they scored less than expected in the 2006 election because of irregularities in the voter rolls. Yushchenko also announced that the parties had agreed that the CC would not be involved in the process.
Yushchenko said that Ukraine had emerged from the crisis stronger and more democratic. This is arguable, as one of the foundations of democracy – the rule of law – was seriously undermined. Courts were helpless, producing contradictory rulings during the two months when the political rivals were issuing legally doubtful orders and decrees. The CC has been demoralized, and it should not be an easy task to revive popular trust in the court.
(Interfax-Ukraine, May 21, 24; UT1, May 22, 23; UNIAN, May 23; Channel 5, May 22-27; Ukrayinska pravda, May 27)