CSTO SEEN AS A SHIELD AGAINST OUTSIDE MEDDLING
Publication: Eurasia Daily Monitor Volume: 2 Issue: 225
By: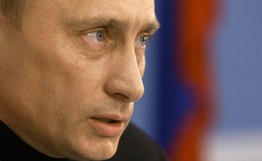 Russia has reiterated its pledges to strengthen the regional security grouping it has established with five former Soviet states. At an unprecedented November 29-30 meeting in Moscow of the Collective Security Treaty Organization (CSTO, which includes Armenia, Belarus, Kazakhstan, Kyrgyzstan, Russia and Tajikistan) Council of Foreign Ministers and Council of Defense Ministers, Russian representatives voiced their concerns over perceived Western meddling in the region, presumably implying that the CSTO should act as a shield against such interference.
Russian President Vladimir Putin told the CSTO foreign and defense ministers and security council secretaries gathered in Moscow that cooperation among member states was about to rise to a new level. Welcoming the officials in the Kremlin, he said, "We are meeting in this format for the first time." Growing cooperation indicates, "The organization was not set up for nothing," he added.
Putin also urged member states to jointly tackle questions of defense, including the development of an air-defense system: "Tackling these matters jointly we will remain self-reliant in defense." Putin also said the CSTO states would still be able to procure Russian-made arms at Russian domestic prices (Interfax, RIA-Novosti, November 30).
Yet despite Putin's diplomatic tone, other Russian officials sounded rather acrimonious. During the CSTO meeting Russian Security Council Chief Igor Ivanov accused the United States and NATO of pressuring former Soviet republics in Central Asia. "NATO and U.S. political and military pressures on Central Asia are raising tensions in the region," he told the participants. Ivanov also accused NATO and the United States of meddling in newly independent countries "using the pretext of democratic values and freedom promotion."
The CSTO member states have the military capabilities to ensure an adequate response to challenges and threats, Ivanov declared. Military cooperation within the CSTO will focus on institution building to effectively tackle the security threats and challenges the organization faces. But Ivanov ruled out any plans to establish new Russian military bases in Central Asia, including the one proposed in Uzbekistan (RIA-Novosti, November 29).
The chief of the armed forces' General Staff, Yuri Baluyevsky, accused the West of trying to weaken Russia-led groupings. "Attempts are being observed to weaken the commonwealth through recruitment of Commonwealth of Independent States [CIS] states into NATO," Baluyevsky said. "Russia will defend its interests," he stated, adding that Moscow has many reasons to do so, particularly given the 10 million ethnic Russians living in the former Soviet states (Interfax, December 1).
Baluyevsky's remarks came in the wake of a warning by Defense Minister Sergei Ivanov that Russia would end military-technical cooperation with Ukraine if it joined NATO. Ivanov, who is also first deputy prime minister, said that the CSTO could accept new members in the future (RIA-Novosti, November 30).
Officially, the main goal of the CSTO is to address security challenges and ensure the territorial integrity of member states. According to the CSTO rules, if there is a threat of aggression against one country, other member state can give help, including military aid.
However, the Russian remarks hardly kept secret what kinds of challenges Moscow considers to be important. The recent revolutionary upheavals in some of the former Soviet republics have dramatically slowed their social and economic development, Russian Foreign Minister Sergei Lavrov said in an article published on December 5. Lavrov lashed out at what he viewed as exports of democracy to post-Soviet states and called the use of commercial advertising and political tricks to promote it "unacceptable." He argued that the practice had entailed serious destabilization. Lavrov said that the former Soviet states should not become a zone of "destructive rivalry" between Russia and the West.
Any activities by "outside forces should be transparent and clear," Lavrov argued. "Covert agendas" of any sort are unacceptable to Russia. Lavrov also said that the development and improvement of the Commonwealth of Independent States remained one of the top priorities of Russian diplomacy (RIA-Novosti, December 5).
Russian official media sounded upbeat about the CSTO's prospects. "Collective security takes a new shape," the pro-Kremlin Russian TV Channel One commented. "The CSTO has become a serious international body" (Channel One, November 30).
Opposition media outlets were less optimistic. The CSTO meeting in Moscow was expected to take hard line anti-NATO overtones, but Russian officials refrained from saber-rattling, wrote Nezavisimaya gazeta. The CSTO officials also opted not to discuss military cooperation with Uzbekistan, the daily said (Nezavisimaya gazeta, December 1).
In the meantime, CSTO officials have also suggested cooperation and dialogue with international and Western institutions. For example, CSTO member states might join peacekeeping operations under UN auspices in the future, said CSTO Secretary General Nikolai Bordyuzha (Interfax, December 2).
The CSTO has proposed forming a Eurasian advisory council for countering terrorism and other threats, CSTO General Director Toktasyn Buzubayev said in Moscow. He said the council could include representatives from the European Union, the Shanghai Cooperation Organization, NATO, CSTO, and the Eurasian Economic Community. Buzubayev argued that there was a need for all regional organizations to coordinate counter-terrorism measures (RIA-Novosti, November 28).