Death of Georgian Volunteer in Ukraine Sparks Controversy in Georgia
Publication: Eurasia Daily Monitor Volume: 12 Issue: 4
By: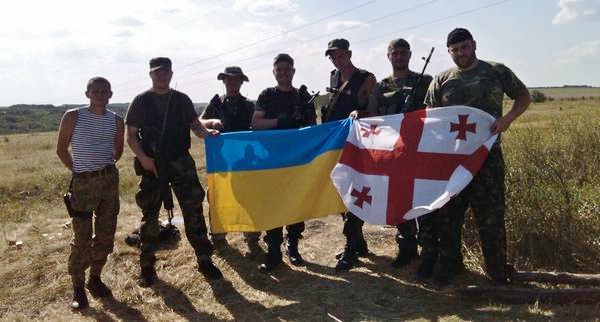 Alexandre Grigolashvili, a Georgian volunteer who was fighting on the Ukrainian side in that country's ongoing war against Russia-sponsored separatists, was killed in action on December 19, 2014 (Channel 1 TV, December 20, 2014). On December 20, Georgia's Ministry of Defense (MoD) issued a statement expressing its condolences to Grigolashvili's family over his death. MoD specifically blamed Grigolashvili's death on "representatives of former authorities," referring to former president Mikhail Saakashvili's administration (2003–2012), who, the Georgian defense ministry asserted, were urging Georgian citizens to fight in Ukraine. MoD called "on all citizens of Georgia not to yield to [such] provocation[s] and not to endanger [their] own lives in exchange [for] various offers" (Civil Georgia, December 21, 2014).
The awkward way in which the current Georgian government handled the news of Alexandre Grigolashvili's death in eastern Ukraine caused a firestorm of controversy inside Georgia. MoD's statement was widely condemned for being "shameful" not only by the political opposition, but also by some ruling coalition members. Moreover, a group of protesters held a rally in front of the Ministry of Defense, demanding the resignation of Minister Mindia Janelidze. As the controversy deepened, Prime Minister Irakli Garibashvili weighed in, declaring that he too did not like the statement, but asked everyone not to dramatize the whole incident. Several hours after the prime minister's remarks, MoD removed its statement from its website (Civil Georgia, December 21, 2014). Furthermore, MoD apologized, declaring that its text over the death of the Georgian volunteer was drafted by lower-level defense ministry employees and was not signed off on by Minister Janelidze or any of his deputies (Imedi TV, December 21, 2014).
However, the scandal went on as the defense minister failed to reveal who was behind this "mistake," as MoD qualified the incident. Furthermore, the opposition continued its attack on the government, even demanding the adoption of a legislative amendment that would give legal status to the Georgian volunteers fighting in Ukraine. Such legal standing would provide the volunteers the same social benefits enjoyed by Georgian war veterans who fought for the territorial integrity of Georgia in 1992–2008. The ruling Georgian Dream coalition recoiled from such a proposal, stating that it would amount to Georgia's official involvement in the war in Ukraine (Civil Georgia, December 23, 2014).
Estimates of the actual number of Georgians currently fighting alongside Ukrainian government forces are nearly impossible to come by. But it is unlikely that the figure exceeds 200–300 individuals. The volunteers tend to be former Georgian Army servicemen with significant military experience gained in combat in Georgia and abroad. Once they arrive in Ukraine, they join either the Georgian National Battalion or are assigned to one of the Ukrainian battalions on the front lines (Rustavi 2, December 14, 2014).
Overall, the death of a Georgian volunteer revived an ongoing controversy in Georgia about whether the country should involve itself more actively in the war in Ukraine. The government certainly has been quite cautious, if not timid, about the country's involvement in the Ukrainian conflict. Prime Minister Garibashvili's government plainly stated that Georgia absolutely distances itself from military hostilities in eastern Ukraine, thus keeping in line with the policies of Western countries. Furthermore, the government emphasized that Georgia's help to Ukraine is purely humanitarian in nature (Rustavi 2, Imedi TV, December 26, 2014). And indeed, as Kyiv stated, Georgia is the biggest contributor to Ukraine in terms of humanitarian aid. In particular, Tbilisi donated $316,000 worth of medicine and first aid kits to communities affected by the fighting (Newsday.ge, December 29, 2014). On the other hand, the opposition—specifically former president Saakashvili—encouraged officers of the Georgian armed forces to join the Ukrainian Army and obtain Ukrainian citizenship (Interpressnews.ge, December 7, 2014).
For Georgia, the importance of the outcome of the war in Ukraine is difficult to overstate. Most likely, as long as Russia remains under the grip of Vladimir Putin's revanchist regime, a Russian withdrawal from occupied Abkhazia and South Ossetia (Tskhinvali region) will remain highly improbable. Thus, the restoration of Georgia's territorial integrity will remain elusive. However, the defeat of Putin's regime in the Ukrainian war will almost certainly hasten the downfall of the Putinist system. This, in turn, could open up an avenue for a Russian withdrawal from the occupied Georgian regions.
However, several hard questions remain. First, how much can militarily weak and economically impoverished Georgia's involvement really influence the military balance of power in eastern Ukraine? Second, what will happen to Georgia if it becomes militarily involved in Ukraine, but Putin's regime eventually succeeds in the conflict? Under such an outcome, Georgia would undoubtedly pay a particularly heavy price. Putin's political revenge could include efforts to carry out a final disintegration of the already fragmented Georgia. It is difficult to imagine that anyone would be capable of stopping Moscow from further aggression against Georgia should Russia triumph over Ukraine—however such a victory might look.
Georgia's serious foreign policy dilemma is thus whether the country should pursue what it desires in earnest—that is, help Ukraine more actively (meaning militarily)—or stay back, as most Western countries have done, and limit its help to humanitarian aid. At present, the Georgian government is following the second path. But as the country's political elites continue to debate Georgia's role in the Ukrainian war, the balance of military power in that conflict still hangs in air. The following months, and maybe even years, will show how the Georgian course vis-à-vis the Ukrainian war will evolve.