Debating Lukashenka's True Role in Deflecting Russia's Domestic Crisis
Publication: Eurasia Daily Monitor Volume: 20 Issue: 108
By: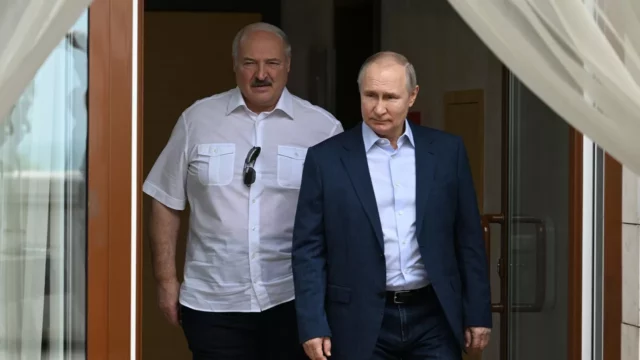 A discussion of Belarusian President Alyaksandr Lukashenka's role in bringing Russia's mutiny to an end continues unabated—in Minsk, among Belarusians-in-exile and among Belarus-watchers around the world. In Minsk, Lukashenka has been labeled Russia's "savior," whereas downplaying his role has become the fixation of the other two settings. Artyom Shraibman, nonresident scholar at the Carnegie Endowment for International Peace, set the stage as early as June 24 by describing the Belarusian president's role as merely "technical" (Zerkalo, June 24). Multiple associates and interviewees from the Belarusian service of Radio Free Europe/Radio Liberty also shared that opinion; Ian Brzezinski, an American foreign policy scholar, rejected the idea that Lukashenka "became stronger" as a result of his mediation (Svaboda, June 28).
Maxim Samorukov, an exiled Russian expert, suggested that Lukashenka may have gained ground but only within Russia. "In playing the role he did, the Belarusian leader has effectively joined the ranks of Russian grandees vying for Putin's favor by eliminating irritating problems that could distract the president from his high-stakes geopolitical machinations" (Carnegie Politika, June 30). In this, not only did Lukashenka not boost his international reputation, but he also downgraded himself to being a player within the Russian world only.
Yet, several days prior to Samorukov's publication, Oleksiy Danilov, secretary of the Ukrainian National Security and Defense Council, suggested Lukashenka's mediation in Ukrainian-Russian negotiations was now possible (Zerkalo, June 25). Still, Samorukov upholds the most tenacious trope of the Belarusian president's detractors: "Lukashenka's successful mediation … successfully fit into the image of a simple but savvy collective farm chairman … who would never miss his own chance" (Carnegie Politika, June 29). "Lukashenka wants to be the bride at every wedding, the corpse at every funeral, and the baby at every christening," remarked Arkady Moshes of the Finnish Institute of International Relations (Gazetaby, June 28). Indeed, what role could Lukashenka play if he cannot even peek into the Belarus-based storage of Russian nuclear arms without Putin's permission, according to Belarusian analyst Maxim Starchak (Svaboda, June 20).
Such a chorus of denials and downplaying the proverbial bad guy's agency, including his role in resolving a problem whose implications, had it not been resolved, might have extended well beyond Russia, is interesting in and of itself. It is almost like a defense mechanism that serves to protect Lukashenka's critics from their own anxieties. After all, not just Lukashenka himself shared the story of six rounds of negotiation on June 24 (Belta, June 27); his negotiation partners also confirmed his version of events. The Russian State Duma and some Western media outlets weighed in too. Fyodor Lukyanov, Russia's preeminent political commentator wrote, "The resolution of the crisis surprised many. … Settling an internal problem by attracting an external player, albeit a very close one, is an unusual practice for a country of the 'major leagues,' zealously upholding the value of its sovereignty. Such a break in pattern can only be welcomed because it helped avoid tragedy. But it also raises the question of Russia's further position on the world stage, the place it can and must take in the international hierarchy" (Globalaffairs.ru, June 27).
The reaction of the exiled opposition to the Russian mutiny is also noteworthy. On June 24, the "transitional cabinet" of Svetlana Tikhanovskaya announced the withdrawal of Belarus from the Collective Security Treaty Organization, Eurasian Economic Union and Commonwealth of Independent States and demanded a closing of the border with Russia (Zerkalo, June 24). Ultimately, this amounts to grandstanding for Tikhanovskaya who cannot affect the situation in Belarus. "It became obvious that if there is no instability and shocks [within the country], statements like this seem inappropriate," averred Shraibman (Svaboda, June 29). On the one hand, "inappropriate" is the most charitable way to put it; on the other, the cabinet's declaration is perfectly appropriate if its audience is exclusively the cabinet's sponsors while the perception of Belarusians at home no longer matters.
Outside of these considerations, two other aspects of the situation deserve closer attention. First, due to the two competing historical narratives of Belarus—the Westernizing one and the Russo-centric one (see The Growing Importance of Belarus on NATO's Eastern Flank, December 20, 2019)—both sides apply similar language while denouncing each other. Thus, Franak Viacorka, Tikhanovskaya's top advisor, wrote that Lukashenka's declaration that "our fatherland stretches from Brest to Vladivostok" sounded rather like that of a "Russian governor, not a Belarusian politician" (Twitter.com/franakviacorka, June 27). For his part, Vadim Gigin, Lukashenka's main propagandist, accused the "fugitives" themselves of thinking in colonial terms. Only for Gigin, the colonial masters are Westerners, not Russians. "Addressing the question as to why the Belarusians did not oppose the Soviet regime … and now do not oppose Lukashenka," remarked Gigin, "they say that all the courageous and the brave were beaten by wars so today's Belarusians are the heirs of opportunists, cowards, and traitors. Shut up! We are the heirs of the partisans who thrashed the Nazi collaborators, your spiritual fathers!" (Sb.by, June 29).
Second, the implications of Prigozhin's and his Wagner Group's putative activities in Belarus continue to be debated. In his July 1 address to the nation in conjunction with Independence Day (Belta, July 1), Lukashenka tried to calm domestic and international concerns related to the impending Wagner presence. He noted that "multiple calls to a dictator" (himself) have suddenly been made from unfriendly countries. Earlier, Yauheni Preiherman, who heads the Minsk Dialogue Council on International Relations, suggested that, given the nature of decision-making in Belarus, the formation of a rival authority is highly unlikely (Gazetaby, June 28). Indeed, as Alexei Chadaev, a well-informed Russian analyst, suggested, Wagner's participation in Russia's military operation was solicited in spring of last year, when it turned out that the regular army could not cope with the task. However, no protocol of interaction between the two structures—the army and the mercenary group—was ever formalized (T.me/chadayevru, June 24; Belta, June 28). And it is difficult to imagine anything like that materializing in Lukashenka's Belarus.
In summary, the devil is in the details. And the reputation of a political figure should not obscure this truth as it pertains to both Belarus's authoritarian ruler and his valiant detractors.