Defending Ukraine's Skies: Mission (Im)possible
Publication: Eurasia Daily Monitor Volume: 20 Issue: 67
By: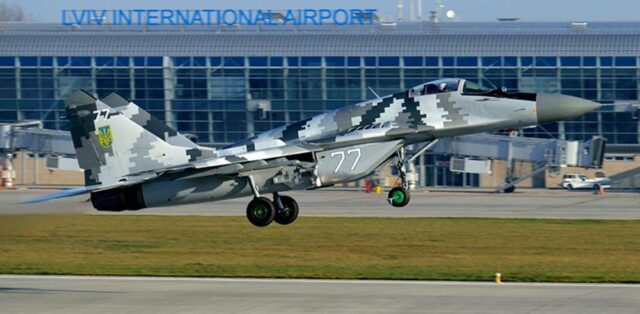 On April 17, the Slovak Defense Ministry announced that Slovakia had delivered the promised 13 Soviet-made MiG-29 fighter jets to Ukraine (Kyiv Independent, April 17). Earlier, the German government had authorized Poland to hand over an additional five MiG-29s, originally from the former reserve of the German Democratic Republic's military and later sold to Warsaw (24tv, April 13). Additionally, Poland delivered another eight MiG-29 aircraft from its own air force, all of which were modernized according to North Atlantic Treaty Organization standards. According to Polish President Andrzej Duda, the country will be ready to hand over six more MiG-29s after receiving new Western fighter jets—and maybe even the entire fleet of these fighters (Hromadske, April 5). For some European countries, Russia's war against Ukraine provides an opportunity to modernize their air forces while simultaneously helping Ukraine. British Defense Secretary Ben Wallace proposed providing air cover for European donors of Soviet-made planes to Ukraine. Moreover, he pointed out that, at the moment, the United Kingdom has no plans to provide the Ukrainian Armed Forces with Typhoons from the Royal Air Force, as these jets "would be too complex" (Kyiv Independent, February 18).
The new batch of MiG-29 fighters is certainly a positive development for Ukraine on the eve of its upcoming counteroffensive. But at the same time, according to Ukrainian Air Force spokesperson Colonel Yuri Ignat, these Soviet-made fighters will only marginally strengthen Ukraine's air power capabilities and will do little to ensure a successful counteroffensive and victory on the battlefield. In truth, Ukraine needs more modern platforms to achieve these goals (Hromadske, April 4). Colonel Volodymyr Logachov, a department head in the Ukrainian Air Force, stressed that Ukraine has a critical need for modern fighter jets, such as the United States–manufactured F-16. According to Logachov, F-16s have the versatility to be used as a platform for different types of weapons that would allow for engaging in various critical missions from dogfights with Russian aircraft to hunting down drones and conducting air-to-surface strikes on Russian positions. This could help save the lives of well-trained and experienced Ukrainian pilots, as Russians forces are now using more capable radars and air-to-air missiles. For example, the Russian R-77 anti-air missile (AAM) has a combat range that is almost two times longer as compared to analogous Ukrainian munitions, thus posing a serious threat to Ukraine's air power capabilities (ArmyInform, April 3).
A Ukrainian pilot with the call sign "Juice" has, for some time, been advocating for the provision of F-16s and other advanced air capabilities to Ukraine. In an interview in February 2023, he pointed out that Russian pilots are using AAMs with active seekers, while Ukrainian forces are utilizing only semi-active ones. That means Ukrainian pilots need to guide the missile until it reaches a target, which makes Ukrainian aircraft quite vulnerable to Russian AAMs. Meanwhile, weapon capabilities of the Russian Su-30 and Su-35 fighter jets allow them to "fire and forget," engaging in evasive maneuvers immediately following the launch of a missile. This allows them to more effectively avoid fire without entering into the area of impact for Ukraine's air defense systems. Furthermore, the Ukrainian pilot adds that most systems on Ukrainian planes date back to the late 1980s, without any thorough modernization since then. Thus, radars aboard these antiquated fighters are largely ineffective in fighting against modern threats, such as the Iranian-made Shaheed drones or cruise missiles (YouTube, February 5).
In early April 2023, the commander of the Ukrainian Air Force, Lieutenant General Mykola Oleschuk, named seven reasons why Ukraine needs modern fighter jets and more long-range munitions from the West. The Ukrainian commander stipulates that such capabilities will:
Allow for the improved defense of Ukraine's rear against Russian drones and cruise missiles;
Take away from Russian air dominance, which will help aid the effectiveness of ground forces;
Protect against guided bomb strikes by shooting down the enemy's planes in advance with more modern long-range AAMs;
Ensure control over the Black Sea as well as freedom of navigation;
Save the lives of experienced Ukrainian fighter pilots, who are now suffering due to outdated technologies and munitions;
Ameliorate the maintenance issues with Soviet-era aircraft, as there is a limited supply of spare parts for these fighters;
Expand Ukraine's air power capabilities, as F-16s utilize a wider range of modern weapons including air-to-air and air-to-surface missiles (ArmyInform, April 8).
Ukraine's military leadership is well aware that the exploitation of new systems will require not only the fighters themselves but also a number of adjustments for maintenance systems, logistics and personnel training on the ground. However, first and foremost, some critical political decisions need to be made here, similar to the decision-making process regarding the provision of Western tanks to Ukraine. Thus, in hopes of speeding up the process, the Ukrainian government and activists across the globe have already initiated information campaigns in support of acquiring modern fighter jets for the Ukrainian Air Force; and this has become one of the main topics discussed in recent high-level meetings. Traveling for a recent official visit to Canada, Ukrainian Prime Minister Denys Shmyhal even displayed some graphics on the exterior of his plane that called for the provision of fighter jets to Ukraine (Twitter/denys_shmyhal, April 11). Moreover, commander-in-chief of the Ukrainian Armed Forces, General Valerii Zaluzhnyi, recently discussed this issue with the chief of staff of the French Army, General Thierry Burkard, among others (Telegram/operativnoZSU, April 13). Additional countries, including Denmark, Belgium, the Netherlands and Portugal, are presumably ready to build a Western coalition for providing more advanced air capabilities to Ukraine, and according to Danish Defense Minister Troels Lund Poulsen, such an approach could come to fruition this summer (Le Figaro, April .11)
Meanwhile, Ukrainian pilots have already started to train for the potential new platforms while awaiting an official decision. Earlier this year, a number of Ukrainian pilots came to the US for training and evaluation. And according to Colonel Serhiy Golubtsov, head of aviation in the Ukrainian Air Force, this training could already be shortened due to the strong skills and high aptitude these pilots have already demonstrated (RFI, April 06).
Yet, on the other hand, modern Western fighters are not a panacea, they represent only a part of the joint efforts to deter Russian aggression. Ukraine also urgently needs more air defense systems, including the SAMP-T, IRIS-T and long-range Patriot systems. In fact, according to Ignat, the first of the promised US Patriot batteries are already in combat service on the Ukrainian battlefield (Twitter.com/KyivIndependent, April 23). However, more are needed, and fast, as these systems can hold back Russian air power from Ukrainian territory (ArmyInform, April 12). This is becoming ever-more crucial as Russia has begun to use guided bombs more often (ArmyInform, April 4) and recently announced its plans to start the mass production of Kh-50 cruise missiles (Defense Express, April 13). The acute lack of modern air defense systems and long-range munitions was even mentioned in one of the recently leaked Pentagon documents (Forbes.ua, April 15).
Ultimately, the Russian military leadership is quite well-informed on Ukraine's air power problems and will assuredly adjust tactics to capitalize on this during the impending counteroffensive. Therefore, it is imperative that the West does all it can to speed up the delivery of critical aircraft, weapon systems and long-range munitions to Ukraine, lest Russia disrupt Ukrainian preparations and maintain the initiative on the battlefield.