Destruction of Donbas Economy Supports Local Russia-Backed 'Insurgency'
Publication: Eurasia Daily Monitor Volume: 12 Issue: 225
By: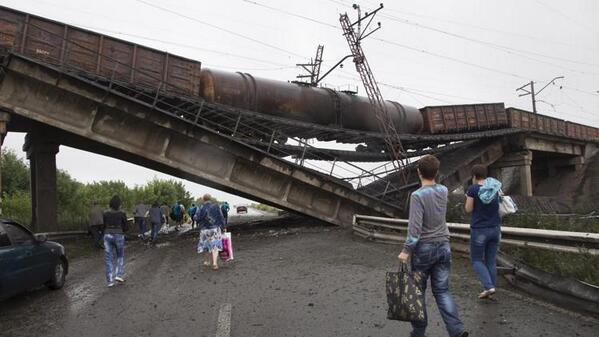 Ukrainian oligarch Rinat Akhmetov's key energy company DTEK announced the restructuring of its $750 million and $160 million Eurobonds, which are set to mature in 2018 (Interfax-Ukraine, December 1). One of the main reasons for the company's continuing financial troubles has been the war in Ukraine's eastern region of Donbas (Donetsk and Luhansk provinces), which has caused extensive damage to local energy transmission infrastructure as well as disruptions in the supply of coal and other business operations.
The war has also affected Akhmetov's mining and metals giant Metinvest. Operations of its key coke producing facility, the Avdiivka Coke and Chemical Plant, suffered repeatedly from interruptions and even artillery shelling. Metinvest's half-year 2015 earnings before taxes, depreciation and amortization (EBITDA) amounted to $620 million—63 percent less, year-over-year, compared to 2014 (Ekonomichna Pravda, November 20). Meanwhile, the manager of Metinvest subsidiary Krasnodonvuhillia, another producer of coking coal, told the media that the company's monthly fixed maintenance costs were 100–120 million hryvnia ($4.2–5.1 million), including the payment of salaries, while the company earned only 300 million hryvnia ($12.7 million) from June 2014 to date. Operations were additionally challenged by the embargo on the imports of fuel and wood, which are considered dual-use products (Slon.ru, June 12). In the chemical industry, the Horlivka-based flagship nitrogen fertilizer plant Stirol, owned by another oligarch, Dmytro Firtash, suspended its operations from May 2014.
Additionally, according to numerous media sources, the occupied territories of Donbas are suffering from disruptions in the food industry, agriculture and services companies, as well as the mass departure of the "middle class" and entrepreneurs from Donetsk and Luhansk. Intense fighting in the summer of 2014 and sabotage operations led to the destruction and interruption of railroad, air and ground transportation.
Such instability, however has the side effect of supporting the recruitment of local forces for the Russian war in Donbas. The correlation between the strength of insurgencies and the local population's standard of living is a textbook concept in insurgency theories. Indeed, compared to the majority of residents in the occupied territory, who are striving to survive, militants live better. Ukrainian blogger Oleh Yarchuk, quoted a Donetsk "People's Republic" (DPR) budget that included salaries for 18,126 militants of 35,000 rubles (approximately $622) each for December 2014 (Glavred.info January 10). Other DPR "leaders" also mentioned the salary range of $320–700 per month for local militants. The DPR "government" was planning to additionally offer militants "social benefits," including employment preferences upon end of service (Interfax, April 4).
Remarkably, these sums look significantly lower than the publicly announced monthly salaries for Russian "volunteers" of 60,000 rubles ($1,123) (Dontimes.com.ua June 3), or even 100,000 rubles ($1,833) and higher (Konan-vesti.blogspot.ru, December 24, 2014). But the local militants' actual allowances, even though inferior to Russian irregulars, seem nevertheless quite outstanding in the occupied territories, where many people are forced to live on humanitarian aid. Donbas presents numerous evidence that the Kremlin and local authorities support the economy's dysfunction. Additionally, the militants periodically disrupt humanitarian convoys, including those sent by the United Nations (Kommersant, October 22). Akhmetov's humanitarian convoys have also faced entry bans (Slon.ru, June 12).
Despite such economic incentives to join, local militants comprise only about 45–50 percent of the DPR and LPR (Luhansk People's Republic) "forces," according to Konstantin Mashovets of the group InfoResist (inforesist.org) in Kyiv (Authors' interview, December 7). This share has decreased recently from the former 60 percent. A number of reasons may explain this trend: from Moscow beefing up the local statelet "armies' " command and control structures and unit loyalty by installing larger proportions of regular Russian military personnel, to the locals exiting the force because of the Minsk ceasefire in place. Yet, by relying so heavily on core Russian commanders, advisors and irregulars, the Kremlin incurs higher costs.
Meanwhile, the DPR and LPR routinely use the economic crisis to manipulate public attitudes toward their "governments," shifting the blame for the situation squarely on Kyiv. A notable example is the "sanctions" announced by DPR and LPR against Ukrainian President Petro Poroshenko, Chief of Staff Boris Lozhkin, oligarch Ihor Kolomoyskiy, and former president Viktor Yanukovych's financier, Serhiy Kurchenko, who until recently controlled some natural gas flows from Russia to the DPR. The Russia-backed separatist authorities accused these individuals of "financing military aggression and of the destabilization of Donbas's socio-economic situation" (Nezavisimaya Gazeta, October 25). In addition, in a grand populist gesture, DPR head Aleksandr Zakharchenko forgave private individuals' bank loans extended by Ukraine's largest bank, Privatbank, owned by oligarch and former Dnipropetrovsk governor Ihor Kolomoyskiy, who is known for supporting Ukrainian volunteer battalions. "Only cowards repay debts owed to Kolomoyskiy," Zakharchenko proclaimed (Novosti.dn.ua, October 27).
Russia's economic control over and support for the occupied Donbas regions has been growing over time. To that effect, the Russian ruble was introduced as the region's "main currency," and a Russian bank registered in South Ossetia opened its branch in the LPR, later expanding to Donetsk (Fondsk.ru, August 20). Local pensioners have also begun to receive their pensions in rubles. According to Slon.ru's sources, Russia sends up to 4 billion rubles ($73 million) in cash to the DPR and LPR every month, not counting humanitarian aid and military expenditures (Slon.ru, June 12). But other observers note that the exchange rate negatively affects these pensions payment: "pensions in the LPR and DPR are distributed on the basis of prewar Ukrainian norms, but in a ruble equivalent based off of a rate of 1 hryvnia to 2 rubles. The actual market exchange rate, however, is closer to 1 to 3" (Meduza, November 13).
Thus, in a classic pattern of insurgency warfare, the Kremlin uses a combination of the threat of real and perceived economic "collapse" with a proposed "life line" to Donbas. It is also clear, however, that the costs to Russia are increasing in the longer term. Thus, Moscow is trying to pin the blame for and burden of reconstruction of Donbas on the cash-strapped government in Kyiv, while at the same time retaining the option of renewing, at any time, hostilities and economic destabilization in eastern Ukraine.