DIFFERENCES IN OUR UKRAINE HINDER COALITION FORMATION
Publication: Eurasia Daily Monitor Volume: 4 Issue: 220
By: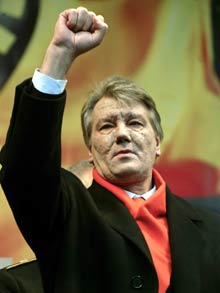 Ukraine's new parliament opened on November 23 only to adjourn until November 29, as the absence of a more or less stable majority left it incapacitated, making it impossible to elect parliamentary leaders and form standing committees. This deadlock is due to serious differences within President Viktor Yushchenko's Our Ukraine-People's Self-Defense bloc (NUNS) over electing the speaker of parliament and the coalition accord with the Yulia Tymoshenko Bloc (BYuT).
After the September 30 snap parliamentary election, NUNS and BYuT agreed that the post of prime minister in their coalition would go to BYuT and the less important position of parliament speaker would be filled by a representative of NUNS, because it scored fewer votes in the election. It was agreed that the leader of Our Ukraine – the larger component of NUNS – Vyacheslav Kyrylenko, would become speaker.
It emerged later that many people in Our Ukraine have serious reservations about Kyrylenko. He is seen by one group of Yushchenko supporters, which apparently includes the head of Yushchenko's office, Viktor Baloha, as an individual prone to make more concessions to Tymoshenko than necessary. Kyrylenko's strengthening, they fear, may weaken Yushchenko vis-à-vis Tymoshenko if she decides to challenge him in the 2009 presidential election campaign.
On the other hand, there are several members of NUNS who support a coalition with Prime Minister Viktor Yanukovych's Party of Regions (PRU), rather than with BYuT. Some of them, such as National Security and Defense Council (SNBO) Secretary Ivan Plyushch, who served as speaker twice in the past, and Yuriy Yekhanurov, who was prime minister in 2005-2006, reportedly would not mind being elected speaker themselves.
The situation is complicated by Yushchenko's failure to clearly articulate his position. Initially he seemed to back Kyrylenko's bid, but at a meeting with NUNS leaders on November 22 Yushchenko reportedly proposed reserving for Kyrylenko the position of deputy prime minister in the future cabinet. He suggested that NUNS should consider four candidates for speaker, including Plyushch and Yekhanurov, but not Kyrylenko. Yushchenko advice, however, was rejected by the majority of those present, who voted to back Kyrylenko's bid.
Plyushch later told journalists that Yushchenko wanted him to be chosen for speaker. Plyushch sounded patronizing when asked to comment on Kyrylenko: "I think he does not understand that the speaker should organize the work of parliament, rather than defending the interests of his coalition." Plyushch could either take his seat in parliament or remain in his current position, but Yushchenko left him no choice, dismissing him from SNBO. This means that Plyushch goes to parliament, quite probably to challenge Kyrylenko.
NUNS member Ihor Kril, who is close to Baloha, publicly called on Kyrylenko to drop his bid. Kril claimed that there was no transparent competition for the position of speaker and he called the NUNS-BYuT coalition accord "a conspiracy for the sake of posts." He also accused Kyrylenko of transforming NUNS into "a branch of BYuT." Kril was one of the first three NUNS parliamentarians who refused to sign the accord with BYuT (see EDM, November 21).
The number of dissenters grew to at least seven. By November 26, Kril, Plyushch, and Vasyl Petyovka were joined by another four, including Yekhanurov, despite Tymoshenko's concessions, such as omitting from the accord the promise to cancel military conscription from 2008. The dissenters argue that several provisions included in the coalition accord by Tymoshenko are unrealistic.
Yekhanurov has demanded deleting seven points from the accord and amending at least 25. These include Tymoshenko's promises to reimburse Ukrainians within two years for the deposits lost in the Soviet Union's Savings Bank, to cancel the value-added tax, and to change the parliamentary election system to make it more transparent. The promises to cancel conscription and return the Soviet-era savings were among the key points of Tymoshenko's election program. Now a coalition and her premiership are impossible without consent from the seven opponents of the original version of the NUNS-BYuT accord, as without their votes Tymoshenko's bid will be backed by fewer MPs than the required 226.
Kyrylenko scheduled a meeting of Our Ukraine's top body, the political council, for November 27 to try to persuade the dissenters to change their mind. More than half of the council, however, ignored the meeting, so dissent within the party is apparently growing.
The BYuT will not vote for a speaker candidate offered by NUNS as long as there is no formal coalition, Mykola Tomenko, one of the BYuT's leaders, told Channel 5. Earlier, the other three caucuses in parliament – the PRU, Lytvyn's Bloc, and the Communists – had made it clear that they will not help the NUNS-BYuT coalition elect the speaker because they were not invited to join the coalition. If NUNS and BYuT fail to settle their differences quickly, the process of electing the speaker may take weeks. In that case, Ukraine will hardly have a new prime minister by the end of 2007.
(Interfax-Ukraine, November 22; Ukrayinska pravda, November 23, 26; Channel 5, November 25; UNIAN, November 26; Inter TV, November 27)