Diplomatic Visits, New Arms Sales, and PLA Provocations Raise Tensions in the Taiwan Strait
Publication: China Brief Volume: 20 Issue: 18
By: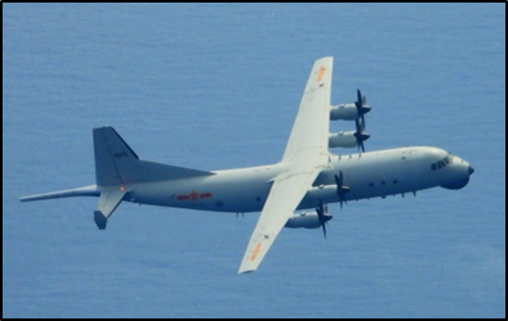 Introduction
Events throughout 2020 have seen a measured but steady increase in tensions surrounding Taiwan. The government of the People's Republic of China (PRC) continues to deny any legitimacy to the democratically-elected government of the Republic of China (ROC) in Taiwan. The PRC also continues to make menacing insistence upon unification on Beijing's terms, in language that has grown more strident throughout the tenure of Chinese Communist Party (CCP) General Secretary Xi Jinping (China Brief, February 15, 2019; China Brief, November 1, 2019).
Against this background, the PRC has reacted with both harsh rhetoric and saber rattling to enhanced U.S.-Taiwan diplomatic contacts in August and September, as well as a reported further round of impending U.S.-Taiwan arms sales (see discussion further below). One PRC English-language outlet opined in late September that "The U.S. has been releasing all kinds of supportive signals to Taiwan this year, with the level and frequency of their so-called interactions flagrantly enhanced… While [some in Taiwan] jump at such signals, they'd better think long and hard whether the signals are sweet poisons from the U.S. for Taiwan" (PLA Daily, September 25).
U.S. Diplomatic Visits to Taiwan
Recent years have seen a noteworthy increase in official and semi-official U.S.-Taiwan diplomatic exchanges. In March 2018 the Taiwan Travel Act (TTA) was signed into U.S. law, providing a statement of support for increased travel by high-level Taiwan officials to the United States. This was followed by unofficial "transit stop" visits in the United States by ROC President Tsai Ying-Wen (蔡英文) in 2018 and 2019, and a May 2019 meeting between U.S. National Security Advisor John Bolton and his ROC counterpart David Lee (李大維) (China Brief, July 31, 2019). In early February this year ROC Vice President-elect Lai Ching-te (賴清德) traveled to the United States, where he met with senior U.S. political figures and attended the annual National Prayer Breakfast in Washington D.C. (Taiwan News, February 4). Although Lai had not yet assumed office at the time, and therefore visited in an unofficial role, the trip produced harsh condemnations in PRC state press (Xinhua, February 6). All of these visits by Taiwan officials have drawn similarly negative reactions from the PRC Foreign Ministry and state media, as with the "stern representations" presented over President Tsai's stop in Hawaii in March 2019 (Xinhua, March 21, 2019).
These visits were reciprocated in summer and autumn this year by two visits made by U.S. officials to Taiwan. U.S. Secretary of Health and Human Services Alex Azar conducted a visit to Taiwan from August 9-12, described by his department as "the highest-level visit by a U.S. Cabinet official since 1979," and "part of America's policy of sending high-level U.S. officials to Taiwan to reaffirm the U.S.-Taiwan friendship" (HHS, August 4). Secretary Azar's activities included a meeting with President Tsai; a visit to Taiwan's Central Epidemic Command Center; and a speech at National Taiwan University (HHS, August 10; August 11; August 12). This trip was followed in mid-September by a visit from U.S. Under Secretary of State for Economic Growth, Energy, and the Environment Keith Krach, who traveled to Taiwan to attend a memorial service for former ROC President Lee Teng-hui (U.S. State Department, September 16).

New Arms Sales from the United States to Taiwan
In spring and summer 2019, the U.S. Defense and Security Cooperation Agency (DSCA) made announcements for a series of major arms sales to Taiwan, to include deals for one hundred eight M1A2T Abrams battle tanks, and sixty-six F-16C/D Block 70 fighter aircraft. [1] U.S. arms sales to Taiwan invariably draw a harsh reaction from PRC spokespersons and state media: state broadcaster CGTN opined in July that "the Taiwan card played by the U.S. is dangerous and doomed to fail," and asserted that "the arms sales violate international law, international relations norms, [and] the one-China principle" (CGTN, July 14).
Thus far in 2020, only two additional arms sales packages to Taiwan have been officially announced: the sale of eighteen MK-48 Mod6 Advanced Technology (AT) Heavy Weight Torpedoes (HWT) and related equipment  (estimated cost of $180 million) (DSCA, May 20); and maintenance and recertification support for Patriot Advanced Capability-3 (PAC-3) missiles (estimated cost of $620 million) (DSCA, July 9). However, media reports in mid-September indicated agreement between the U.S. and Taiwan governments for another major series of arms sales, involving seven categories of weapons systems valued at an approximate total of $7 billion dollars. Per these unofficial reports, two of the most noteworthy purchases would include: a $400 million package of MQ-9B Reaper drones, along with associated equipment and training (WSJ, September 16; Taipei Times, September 17); and the purchase of an undisclosed number of AGM-84H/K SLAM-ER, a long-range air-to-ground missile that could be deployed by aircraft against ground and naval targets (Taipei Times, September 20). Unconfirmed media reports in mid-October indicated that the U.S. Congress had been notified of intent to proceed with some of these sales, to include the Reaper drones, one hundred Harpoon anti-ship missiles, and sensor pods for F-16 aircraft (Reuters, October 13).
PLA Naval Exercises and Aircraft Provocations
The sea and airspace around Taiwan have seen an elevated level of People's Liberation Army (PLA) presence, patrol, and exercise activity since the beginning of 2020 (China Brief, April 1). In a briefing presented to Taiwan's legislature on October 7, ROC Defense Minister Yen De-fa (嚴德發) stated that PLA aircraft had conducted a total of 219 flights into Taiwan's southwest ADIZ in 2020; as well as 49 flights that crossed the median line of the Taiwan Strait, the most since 1990 (FocusTaiwan, October 7).
This trend ramped up in late summer and early autumn, as PLA deployments have been used to express Beijing's displeasure with the closer U.S.-Taiwan relationship. In announcing a series of PLA Eastern Theater Command naval drills near the Taiwan Strait beginning September 18, the nationalist Global Times proclaimed that the "PLA operations have multiple dimensions that make secessionists on the island a turtle in a jar, and the PLA can turn the exercises into real action any time if Taiwan secessionists insist on their obduracy" (Global Times, September 18).
Some of the most provocative actions in September involved PLA aviation sorties. In previous years, the Taiwan Strait centerline (海峡中线, haixia zhongxian), although an unofficial demarcation, was generally observed as a boundary by both PRC and ROC military aircraft. This changed in the early months of 2020, when PLA aircraft conducted multiple incursions across the centerline (China Brief, April 1). On September 18-19, PLA aircraft conducted an aggressive series of incursions in the vicinity of, and across, the centerline—with PRC state media explicitly linking this activity to the concurrent visit of U.S. Undersecretary of State Keith Krach (Global Times, September 18). Per media accounts based on Taiwan Ministry of Defense information:
On September 18, a total of 18 PLA aircraft—reportedly consisting of two H-6 bombers, eight J-16 fighters, four J-11 fighters, and four J-10 fighters—either operated near, or crossed over, the centerline of the Taiwan Strait (Global Times, September 18; Taipei Times, September 20).
On September 19, a total of 19 PLA aircraft—reportedly consisting of twelve J-16s, two J-11s, two J-10s, two J-11s, two H-6 strategic bombers, and a Y-8 maritime patrol plane—conducted flight operations in a similar manner. The J-10 and J-11 fighters reportedly crossed the centerline in the northern part of the Strait, while the H-6 bombers and the Y-8 entered Taiwan's air defense identification zone (ADIZ) in its southwest quadrant (Taipei Times, September 20).
The incursions on September 18-19 were accompanied by other incidents beginning in the latter half of September, in which PLA Y-8 maritime surveillance aircraft—operating either singly or in pairs—began conducting regular flights that crossed into the southwestern area of Taiwan's ADIZ. Such incidents occurred on at least seven days between September 16-30; and continued with twelve such reported flights between October 1-17. [2]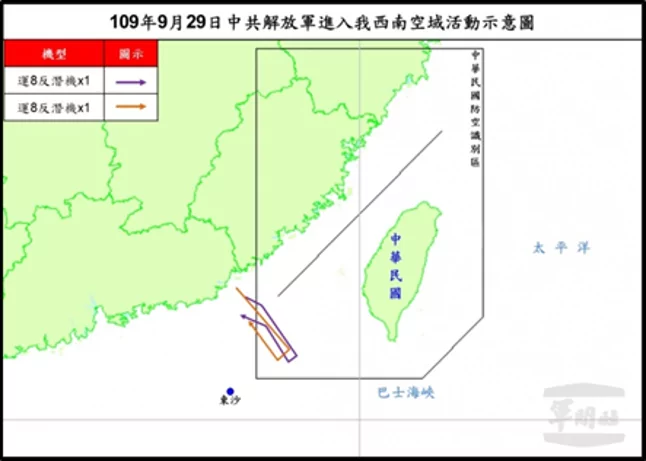 As with the naval drills, PRC state media has characterized the provocative aircraft sorties as an assertion of the PLA's will and readiness to confront any challenge over Taiwan. Per the PLA Daily, the "exercises staged recently by the [PLA] in the Taiwan Straits were designed to target foreign interference and the few 'Taiwan independence' secessionists and their activities… If 'Taiwan independence' forces dare to separate Taiwan from China by any name in any way, we will resolutely thwart their scheme at all costs" (PLA Daily, September 24).
In her National Day speech on October 10, ROC President Tsai Ying-Wen made reference to this more provocative posture by PRC forces, referring to "harassment by air and sea from the other side [that] has raised tensions in the Taiwan Strait." In response, she vowed that "we will continue to modernize defensive combat capabilities and accelerate the upgrading of our asymmetrical capabilities to deal with military expansion and provocation from the other side of the Taiwan Strait" (Focus Taiwan, October 10). In its official Twitter account, the ROC Ministry of National Defense has commented on the PLA flights into Taiwan's ADIZ by stating that the ROC Air Force scrambled fighters and "deployed air defense missile system[s] to monitor the activity," and that "No matter what… we will keep protect[ing] our country firmly" (ROC Ministry of Defense Twitter, October 11).
Conclusion
The recent diplomatic visits, arms sales, and provocative tactical military activity surrounding Taiwan are taking place not only against a backdrop of deteriorating relations between Washington and Beijing, but also against that of a domestic political environment in Taiwan running ever-more counter to Beijing's ambitions. Opinion trends in Taiwan remain resistant to the PRC program of unification (China Brief, September 9, 2019; China Brief, October 16); and the current administration of ROC President Tsai Ying-Wen, which was re-elected with a decisive majority in January 2020, has explicitly rejected Beijing's framework of "One Country, Two Systems" (China Brief, November 1, 2019; China Brief, January 17).
These factors, combined with the ever-more strident nationalist rhetoric and behavior of the PRC state under Xi Jinping—whose administration has taken a hard line against all resistance to Beijing's centralizing authority, whether in Hong Kong or among ethnic minorities in China's border regions—bodes ill for any near-term prospects for lowering tensions in the Taiwan Strait. PLA saber rattling is likely to continue as the PRC's other policy tools achieve little success in terms of pushing Taiwan further towards unification on Beijing' s terms.
John Dotson is the editor of China Brief. For any comments, queries, or submissions, feel free to reach out to him at: [email protected].
Notes
[1] In spring-summer 2019, four major packages of U.S. arms sales to Taiwan were announced. These were: the continuation of maintenance, logistics, and pilot training support for the ROC Air Force's F-16 fighter aircraft program (DSCA, April 15, 2019); a large package of military vehicles, munitions, and support equipment, including one hundred eight M1A2T Abrams battle tanks (DSCA, July 8); two hundred fifty Block I-92F Stinger missiles and four Block I-92F Stinger Fly-to-Buy missiles, with associated support equipment (DSCA, July 8); and in the largest deal of all, the sale of sixty-six F-16C/D Block 70 aircraft and related equipment and support, at an estimated cost of $8 billion U.S. dollars (DSCA, August 20, 2019).
[2] The flights by Y-8 aircraft into the southwestern area of Taiwan's ADIZ occurred on September 16, 21, 22, 23, 24, 28, and 29; they continued into October with such flights occurring on at least October 1, 3, 4, 6, 7, 8, 9, 10, 11, 15, 16 and 17. On at least one occasion (Oct. 7), the PLA platform involved was a KJ-500 airborne early warning aircraft; and on at least one other occasion (Oct. 9), a Y-9 aircraft flew in tandem with a Y-8. For individual references on the flights in September, see: Focus Taiwan, September 22; Taiwan News, September 24; Taiwan News, September 25; Taiwan News, September 28; FocusTaiwan, October 1. For references on the flights in October, see: ROC Ministry of Defense, October 4; ROC Ministry of Defense, October 6; ROC Ministry of Defense, October 8; ROC Ministry of Defense, October 9; ROC Ministry of Defense, October 10; ROC Ministry of Defense Twitter, updated as of October 17; and accompanying images in this article.