Dirty Business: The Russian-Iranian Strategic Partnership Intensifies
Publication: Eurasia Daily Monitor Volume: 20 Issue: 99
By: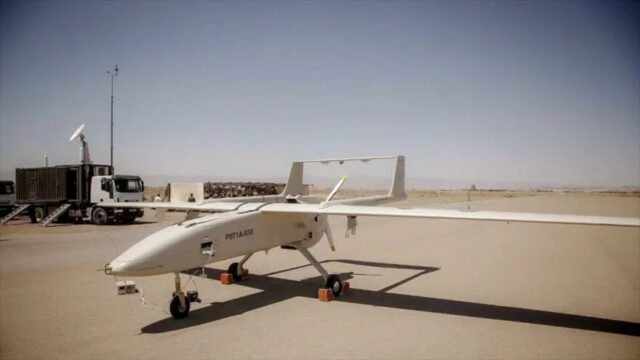 In May 2023, United States National Security Council spokesman John Kirby announced that Russia is looking to purchase additional Iranian drones and loitering munitions. Kyiv believes that Moscow already received around 2,400 units from its "brother in arms" and has already used over 400 of them in strikes against Ukrainian civilian centers and critical infrastructure (Ukrainska Pravda, May 15). US intelligence claims that, alongside drones, previous aid packages also included artillery and tank rounds. Although still awaiting final confirmation, leaked documents show that the parties recently signed a deal valued at around $1 billion for various munitions. The document claims that the agreement includes 40,000 122-millimeter (mm), 14,000 152-mm and 10,000 125-mm high-explosive rounds. The leaked document also provides evidence for the transfer of two 125-mm barrels for the T72 tank and two 122-mm barrels for howitzers (Ukrainska Pravda, June 5).
According to Kirby, military assistance flows both ways between Russian and Iran, and open-source intelligence confirms that the aid packages now include the infamous Mohajer-6 drone, which is a multipurpose drone that can return to its base after each attack (Twitter/clashreport, June 7). This in turn provides for a "much more sustainable and flexible concept of operations" (see Terrorism Monitor, June 9). As Ukraine has adapted rather well to Russian capabilities, Iranian systems provide Russian forces with a lifeline and fill in gaps left by Moscow's decrepit defense industry. Tehran's solutions are cheap, effective and expand the Kremlin's strike package options. While efforts to ramp up national production have stalled, Russia is increasingly resorting to Iranian weapon systems, particularly drones, loitering munitions and potentially long-range missiles in the near future.
Russia's ongoing aggression against Ukraine has highlighted the mutual interests of Tehran and Moscow. Put simply, no matter the process, this alliance of convenience hopes for a defeated West. This rapprochement has gone hand-in-hand with burgeoning bilateral trade, strengthening military-strategic relations and a significant uptrend in defense-related transactions, with new deals on ammunition and artillery, as well as joint weapons production as illustrated by the plans for an Iranian drone production facility in Russia (see EDM, March 6). Growing closer under their shared isolation from international markets, Moscow and Tehran are finding common ground for future collaboration in highly strategic segments including transportation, technology and energy (Caspian News, May 19). In this context, the remarkable 30-percent increase in bilateral trade between March 2022 and March 2023 is quite telling (Oreanda News, May 29).
Thus far, Russian military strategy has centered on high-tempo strikes and inflicting heavy damage on Ukraine's critical infrastructure and population centers. In essence, the main aim of this strategy is to exhaust the morale of Ukrainian forces and pressure Kyiv to surrender. Providing the Kremlin with a low-cost, effective strike package, Iranian drones have become integral to this approach. As Ukraine receives high-end Western systems, such as long-range Storm Shadows and Leopard tanks, the Russians are pulling out all the stops, employing every military asset available, including the Kinzhal hypersonic missile, in high numbers (TSN, May 11). In May 2023, Ukraine announced that its armed forces had intercepted 300 Iranian loitering munitions, indicating that the threat of kamikaze drones launched from Russian territory remains very real (Independent Persian, May 28). And Kyiv claims that Moscow is increasingly resorting to drone strikes to slow and halt the Ukrainian counteroffensive. For example, on May 27, Russian forces launched an attack with 54 loitering munitions, 52 of which were intercepted by Ukrainian air defense systems (Unian, May 28).
Still, despite the high interception rate, Moscow's specific targeting of urban centers, civilian buildings and critical infrastructure make Iranian drones an important trend to monitor. According to US intelligence, Russia already received a new batch of Shaheed drones from Iran in early spring (identified by their distinctive markings) with more expected to be delivered in the near future (Babel.ua, April 20).
As this military assistance goes both ways, Moscow is providing Tehran with high-value, strategic assets, including Yak-130 combat training aircraft, attack helicopters and radar (Bahar News Iran, February 16). Open sources also claim that Russia and Iran reached a deal for Tehran's procurement of Sukhoi-35 fighter jets (RBC, March 11). According to Iranian channels, the deal includes a full squadron featuring 24 aircraft (Mashregnews.ir, January 1). In gifting Iran the most sophisticated fighter jets it has received in the past five decades, Moscow will surely achieve strong leverage with Tehran for future military assistance.
Nevertheless, military aid between Russia and Iran is not the only consideration here. There is a bigger, and often overlooked aspect, of this cooperation—namely how this mutual assistance reaches its destination. Most military aid packages between the two countries are transported via two possible channels: private airlines (Iran International, December 15, 2022) and civilian cargo ships (Iranwire.com, February 13). Military ships and aircraft are easier to notice and track. It is much more difficult to accurately monitor the goods carried by every single civilian passenger aircraft or cargo vessel. Thus, hiding behind these routes allows Iran and Russia to significantly diminish the ability to regulate and track these shipments.
Regarding sea transfers, the Caspian Sea looms large as a particular hotspot. The main reason behind the region's particular attractiveness lies in the fact that it is surrounded by post-Soviet states. Open sources claim that trade relations between Iran and some of the littoral states, including Turkmenistan, are growing (see EDM, June 7), which can effectively serve Russian-Iranian transfers via the Caspian.
Open-source intelligence points to a significant number of gaps in tracking data for Russian and Iranian ships in the Caspian Sea, especially after the third fiscal quarter of 2022. Between the second quarter of 2022 and the first quarter of 2023, the number of these ships increased from 694 to 2,024, including 63 blacklisted or blacklist-associated cargo ships (Lloydslist.maritimeintelligence.com, April 5). According to available data, these ships turned off their automated identification systems (AIS) to hide portions of their journeys, their destinations or any ship-to-ship transfers. Most of these ships turned off their AIS around Turkmenistan. Indeed, transit hubs, such as the Amirabad Port in Iran, the Astrakhan Port in Russia and the Turkmenbashi International Seaport, loom large as key dark spots to monitor.
Additionally, other potential wildcards should be high on the West's watch list. The first worrying development is Moscow's and Tehran's joint drone and missile production factory in Russia, which is expected to become operational next year (Afintl.com, June 9). When it is finalized and functional, it will be a real headache for Ukraine and provide Russia with a secure supply of the military assets it need in a shorter amount of time (see EDM, March 6). The second imminent threat will come this fall, with the expiration of the clause that restricts Iran's export of long-range ballistic missiles. This will clear the legislative obstacles in front of Tehran's transfer of such munitions to Moscow and provide significant support for Russia's struggling defense industry and domestic missile production issues. Ultimately, besides the intensifying transactional relations between Russia and Iran, these strategic developments could cause additional troubles for Ukraine and the West, thus complicating the calculus of Ukrainian forces on the battlefield for months to come.