Dostum Says He Is Not in Exile in Turkey and Remains a Potent Force in Afghanistan
Publication: Eurasia Daily Monitor Volume: 5 Issue: 233
By: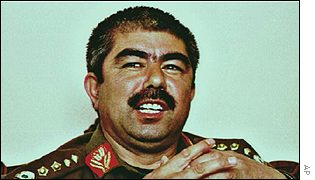 A Turkish newspaper has reported that Rashid Dostum, the leader of ethnic Uzbeks in Afghanistan, was flown to Turkey as part of a special operation arranged by the Turkish government. The report maintained that Dostum might be sent into exile by the Afghan government as a result of a secret deal to save him from the impending investigations into his involvement in the kidnapping and beating of political rivals (Vatan, December 3). Turkish Foreign Ministry spokesperson Burak Ozugergin confirmed that Dostum was in Turkey but denied the claims that he was under house arrest. He noted that there was no current judicial process against Dostum in Afghanistan and he was in Turkey to spend the Eid al-Adha (Kurban bayrami) with his family members who live in Ankara. "General Dostum is the honorary leader of a community with Turkic origins in Afghanistan… He may have some contacts in Turkey," added Ozugergin (Today's Zaman, December 5).
Dostum also spoke to members of the Turkish press denying the allegations. He thanked the Turkish government for its hospitality and noted that he would stay in Turkey after the holiday (December 8 to 11) and discuss the developments in Afghanistan with Turkish officials. Regarding his relations with Afghan President Hamid Karzai, Dostum said, "He is our president and commander-in-chief, and I am his deputy. We have excellent relations. I met with him before coming to Turkey." Dostum added that "Afghanistan is our home. Nobody can send General Dostum into exile. I am an important general" (www.cnnturk.com, December 4).
Dostum's past ties with Turkey lie behind the fuss created over this latest trip to Turkey. Turkey has been a safe haven when he has encountered difficult times in Afghanistan in the past. A regional commander supporting the communist government during the Soviet invasion, Dostum brought together the predominantly ethnic-Uzbek militias in the Northern provinces and formed the Jumbesh-i Milli Islami (Islamic National Party) in Mazar-i Sharif after the Soviet withdrawal. Supported by Russia and Uzbekistan, Dostum's well-equipped forces were part of shifting alliances during the civil war and later against the Taliban. Dostum pragmatically switched sides in response to changing balances of power and managed to survive the challenges of Afghan politics. Following the defeat of Ahmad Shah Massoud and fall of Kabul in 1996, Dostum emerged as a powerful force in the Northern Alliance (https://www.fas.org/irp/world/para/northern_alliance.htm).
When Dostum's ally Abdul Malik turned against him in 1997, allowing the Taliban forces to advance into areas under his control and briefly enter Mazar-i-Sharif, Dostum fled to Turkey and stayed there for three months. He returned to Afghanistan and joined the factions fighting the Taliban, serving as vice president of the defunct Afghan government. As the infighting within the Northern Alliance intensified in 1998, Dostum visited Ankara, seeking Turkey's support. Turkey tried unsuccessfully to reconcile the differences between Dostum and Malik and unite the anti-Taliban opposition under one roof (Zaman, August 28, November 19, 1998). Dostum then settled in Turkey where he maintained his ties to the Afghan opposition.
Overall, Dostum was sympathetic toward Turkey and is believed to have enjoyed Turkish support. As an expression of his admiration for Turkey, he named his son Mustafa Kemal after Ataturk, the founder of modern Turkish state. In an interview, he particularly noted the support given to Uzbek groups by former Prime Minister and President Turgut Ozal and Former Prime Minister and President Suleyman Demirel. Their support had helped the Uzbeks survive difficult times during the civil war (Milliyet, June 27, 1997). He reportedly was unsatisfied with the support of subsequent governments, however. He told Turkish journalists that if he had received more economic and political backing from Turkey, he could have brought Northern Afghanistan under his control in 1996 and 1997 (Radikal, May 31, 2002). Some observers have speculated that the Turkish government of the time, led by Islamist Necmettin Erbakan, might, in fact, have been more inclined toward the Taliban ideologically, therefore refraining from supporting Dostum (Radikal, 15 November, 2001).
The fact of the matter remains: Dostum found a home in Turkey in those difficult times, although he could not obtain the full support he might have wanted. In April 2001 he returned to Afghanistan to join Massoud's new campaign against the Taliban (Zaman, April 7, 2001). The launch of the Operation Enduring Freedom brought Dostum to forefront once again. His strategic decision to work with the American forces gave him a larger role in the interim Afghan government. Turkey's collaboration with the U.S.-led international coalition against the Taliban also facilitated Dostum's integration into the new Afghan political structure.
Turkey's close ties with Dostum, however, have led to questions about Turkey's neutrality toward different Afghan groups in the context of its involvement in the International Security Assistance Force (ISAF). The Turkish government has insisted that despite its special ties with Dostum, the country did not discriminate between the various Afghan groups, and supported Karzai's government (www.msnbcntv.com.tr, January 10, 2002). Dostum visited Turkey as the new government's deputy defense minister in January 2002 and met with Prime Minister Bulent Ecevit and other officials. His entire visit was arranged by the Turkish National Intelligence Agency (Hurriyet, January 23, 2002). At the time, Turkey's overt association with Dostum raised criticism that it would result in Dostum's gradual marginalization in Afghan politics, as reflected in his exclusion from the Bonn Conference.
Dostum has occasionally been involved in factional politics and armed conflicts with rival leaders. He ran in the 2004 presidential elections and received 10 percent of the votes. Like other veteran commanders, he had problems adjusting to the new political setting, which in some cases put him in confrontation with the central administration. Karzai appointed Dostum as the Chief of Staff to the Commander in Chief, which many deemed a titular position. In February 2008, after Dostum's alleged involvement in the kidnapping of a political rival, Karzai suspended his post. Nonetheless, the peculiarities of Afghan politics did not allow Karzai to eliminate Dostum (Terrorism Monitor, April 17). In October Dostum made peace with his rival through the mediation of Karzai and other senior officials (www.quqnoos.com, October 27). With the Taliban resurgent and the 2009 presidential elections approaching, Dostum, given his stronghold in the Northern provinces and reputation as a fierce military commander and master of alliance-building, remains an important force in Afghan politics. Turkey also seeks a larger role in the region as the trilateral meeting it held last week seems to confirm (EDM, December 5). It will be interesting to see how Dostum's return from Turkey will affect Afghan politics in the days ahead.