East-West Diplomacy of the Uzbek President
Publication: Eurasia Daily Monitor Volume: 8 Issue: 34
By: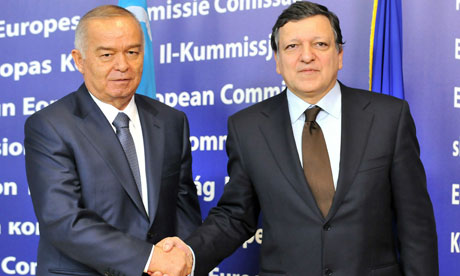 Uzbek President Islam Karimov has already made two important official visits this year: the first was to Brussels on January 24, where the president met with European Commission President, Jose Manuel Barroso, EU Energy Commissioner, Gunther Oettinger, and NATO Secretary-General, Anders Fogh Rasmussen, among others. The second trip was to Japan on February 8-10, where Karimov met with Japanese Prime Minister, Naoto Kan, Emperor Akihito and other officials (www.UzA.uz, January 25, February 9).
Karimov met with various partners in Brussels and consequently the issues covered were reportedly diverse. At the European Commission the parties discussed the EU strategy in Central Asia, with both sides signing a long-anticipated agreement on establishing a European Delegation in Uzbekistan, an effort that had been under discussion for several years. The meeting with Oettinger and the signing of a memorandum on energy cooperation was part of an EU effort to diversify its sources of energy away from Russia. Discussions at NATO were focused in particular on securing involvement in Uzbekistan's infrastructure to support coalition troops in Afghanistan (European Commission, NATO, January 24).
The main results of the trip to Japan were securing a loan for further construction works on the railroad connecting Uzbekistan with Afghanistan and signing a ten-year contract for uranium supplies. The latter is reportedly a move by Japan to diversify its suppliers of natural resources, uranium among them, thus trying to decrease its dependence on China. The contract anticipates an expected increase in Japanese uranium demand due to efforts to reduce greenhouse gas emissions through the expansion of global nuclear power generation. The contract was signed between the Japanese ITOCHU Corporation and the Uzbek "Navoi Mining and Metallurgical Combinat" and stipulates a stable supply of uranium concentrates by the Uzbek side, which is expected to contribute to Japanese energy security. Uzbekistan has uranium reserves of 111,000 tons of uranium (tU), which makes it the 12th largest in the world and has uranium production of 2,429 tU, the 7th largest in the world. The Japanese loan of $247 million to Uzbekistan, is meant for the electrification of the Marakand-Toshguzar-Boysun-Qumqo'rg'on railroad, which connects another new railroad system under construction in Afghanistan from Hayraton to Mazar-i-Sharif (Central Asia News, February 9; Itochu Corporation, RIA Novosti, February 8).
Although Karimov's trip to Brussels was his first in a number of years, individual EU leaders: the German Chancellor, the Spanish King, the former Spanish Foreign Minister, and a number of Eastern European heads of state have held separate meetings with the Uzbek President during the last two years. The EU decision to re-engage with Uzbekistan did not happen overnight, but rather was the culmination of a gradual process. For example, in 2008, the EU removed the sanctions imposed in 2005; and in 2009, an arms embargo was removed and a treaty with NATO was signed on the transit of nonlethal equipment through Uzbekistan for NATO-led forces in Afghanistan. In October 2010, the EU Foreign Affairs Council concluded "the willingness of the EU to strengthen relations with Uzbekistan in a comprehensive manner" (EurActive, European Commission, January 24, 2011).
After European gas consumers were held hostage to gas disputes between Russia and Ukraine, European policymakers seemed to have learned a valuable lesson. On January 20, 2009, Manuel Barroso encouraged taking action to ensure European energy security, rather than simply talking about it. Therefore, in this context Uzbekistan is viewed as an important link in this diversification policy, though, the contribution of Uzbekistan to EU energy security will be small due to high domestic demand and limited hydrocarbon reserves. Nevertheless, Uzbekistan is seen as a key player in ensuring stability in the region and could become extremely useful as a transit country under some scenarios, especially in a post-conflict Afghanistan. Uzbekistan clearly brings a greater measure of security and stability for transit than its neighbors Kyrgyzstan and Tajikistan, and is not hobbled by a neutrality policy such as Turkmenistan's (European Union, January 20, 2009; EurActive, January 28, 2011).
The bulk of the talks between President Karimov and NATO Secretary-General, Anders Fogh Rasmussen, focused on the situation in Afghanistan. Considering that Uzbekistan is the only Central Asian country with a rail connection across the Afghan border, at Hayraton-Termez, which will soon be extended into Afghanistan's city Mazar-i-Sharif, roughly 36.8 miles (59.3 km) from the Uzbek border, it is logical that NATO will step up its efforts to secure alternative supply routes in that country for its troops serving in Afghanistan. This engagement is even timelier given the precarious nature of US-Pakistan relations and the unstable security situation surrounding the volatile overland NATO supply route through the Khyber pass via Pakistan.
In December 2009, David Samuel Sedney, the US Deputy Assistant Secretary of Defense for Afghanistan, Pakistan and Central Asia, reported that nearly 5,000 supply containers had entered Afghanistan via the Northern Distribution Network (NDN) over the previous 11 months, bringing the monthly total to approximately 450 containers. US Secretary of Defense, Robert Gates, stated that the NDN now handles about 50 percent of supplies to Afghanistan. This indicates the growing reliance upon and importance attached to the NDN and therefore, further engagement by the European Union and the US with Uzbekistan can be expected (NATO, February 2, 2011; US Department of Defense, December 16, 2009, September 13, 2010).
President Karimov has been busy pursuing East-West diplomacy by first visiting the EU and NATO headquarters in Brussels, and later to Tokyo, the commercial and financial hub of East Asia, where he managed to cement his strategic partnerships. This sets a new chapter in Uzbekistan-EU and Uzbekistan-Japan cooperation, where Uzbekistan is viewed as a reliable and strategic partner. The EU, it seems has learned from its previous foreign policy mistakes towards Uzbekistan, sought a rapprochement by means of utilizing Uzbekistan's potential for accessing Afghanistan, while Japan secured supply of Uzbek uranium to enhance its own energy security.