Economic Doldrums for Belarus, or a Possible End to the Price War With Russia?
Publication: Eurasia Daily Monitor Volume: 17 Issue: 26
By: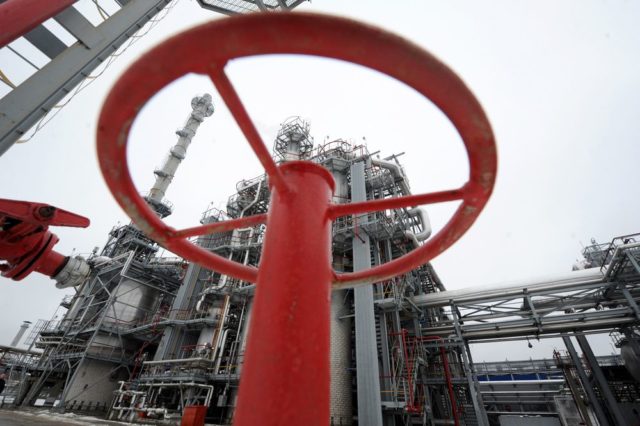 The Belarusian economy has begun to sustain losses due to the disruption of Russian oil supplies. Whereas the country's gross domestic product grew 1.2 percent in 2019 (annual growth), in January 2020, it was 1.9 percent lower than in January 2019. The government had predicted 2.8 percent growth for 2020, but the head of the Belarusian National Bank only foresees growth of 1.9 percent; meanwhile, international institutions like the IMF suggest GDP will only increase by 0.5–1 percent (Tut.by, February 17).
The average monthly salary in Belarus last year amounted to 1,891 Belarusian rubles ($851). But even this average should be reduced by 14 percent because of a 13 percent annual flat income tax and 1 percent mandatory insurance tax. The median monthly salary, which may be more representative than the average, was only 1,500 rubles ($673) (Naviny.by, February 20). Variation in monthly earnings for Belarusians is quite substantial. Across sectors of the economy, the lowest earnings are recorded in agriculture, education and health care—in marked contrast with Western economies, where health care professionals are usually not low earners. The highest earnings are recorded in the extractive industry and information technology. In the former, 12 percent of employees boast salaries from 2,500 to 3,000 rubles ($1,122–1,346); in the latter, 14 percent do. Geographically, the lowest earnings are recorded in the agricultural districts (rayons) of Gomel and Mogilev Oblasts—as low as 674–711 rubles ($302–319) in some of them. In contrast, the highest earnings, 1,650 rubles ($740), were recorded in the Soligorsk district of Minsk Oblast, where potassium is extracted (Svaboda.org, February 18); these earnings exceeded those in the city of Minsk (1,400 rubles or $628).
Considering that relatively "prosperous" Minsk is by far the biggest population cluster in Belarus (21 percent of the population), its pull continues to exert influence on overall population dynamics. Thus, as the initial and, as yet, sketchy results of the October 2019 decennial census have just shown, though the Belarusian population declined by 91,000 since 2009, to 9,413,446 people, the population of Minsk grew from 1.836 million in 2009 to 2.018 million people in 2019. From 1999 to 2009, the population of Belarus had declined much more significantly—by 556,000 (Tut.by, February 20). Compared with Ukraine and the two neighboring Baltic States (Latvia, Lithuania), where population decline is much steeper, Belarus is thus in better shape.
Low salaries are a difficult reality for Belarusians despite the lingering reliability of a welfare state, including free healthcare and subsidized utilities as well as government-funded recreational facilities and daycare centers. Those depressed wages boost labor emigration from Belarus, largely to Russia and Poland. The role of Poland has been growing lately, and its pull may soon grow even more. Beginning on March 1, Germany plans to lift its ban on labor migrants from outside the European Union. According to some estimates, this may cause Poland to lose as many as 400,000 Ukrainian guest workers out of the total of 1,500,000. But the resulting vacuum could possibly be filled by Belarusians (Interia, January 30).
At present, only 22 percent of Belarusians come from the countryside, which means that the formerly rural country marked by delayed urbanization is now an urban leader in the Central Eastern European region. On the other hand, there are 31 particularly depressed rural districts in Belarus where only extraordinary measures might perhaps slow down outmigration. These areas account for one-quarter of all districts and are home to almost 600,000 people (Tut.by, February 20). Needless to say, the ongoing major economic conflicts with Russia make undertaking such measures highly implausible at this stage.
The year 2020 will see a presidential election in Belarus, and Minsk is justifiably worried. On February 18, Igor Sechin, the Executive Director of Rosneft, the company normally supplying Belarus with the bulk of its imported oil, suddenly visited Minsk. The usually well-informed Russian journalist Alexei Venediktov reports that Sechin met with Vladimir Putin several days earlier. Venediktov believes some kind of a proposal is being presented to President Alyaksandr Lukashenka (Naviny.by, February 19). Indeed, on February 21, Lukashenka declared he received a call from Putin, who offered a deal in which Russia would compensate at least part of Belarus's losses caused by the Russian tax maneuver, which makes oil more expensive because of a new tax on extraction. This tax is being increased gradually from 2019 to 2024. Lukashenka disclosed that the 2019 level of spending on oil could be retained by way of some kind of compensation (Belta.by, February 21). All of this sounds surreal in view of the multiple failed meetings the two leaders have had since the beginning of 2019 (three times since early December alone). However, no detailed information will become available until February 29. It could well be that there is truth in the predictions from various seasoned commentators like Russia's Leonid Radzikhovsky (Svaboda.org, February 5) and Radio Liberty's Vitaly Tsyhankou (Svaboda.org, February 8). Both experts contend that, based on the long history of Russian-Belarusian squabbles on oil prices, the two sides are destined to eventually make a deal.
In fact, the unusual level of international attention to the new showdown, and its rumored association with Belarus's reluctance to further integrate with Russia, may have nudged Moscow to offer some kind of a deal. Apparently, in an awkward attempt to stoke tensions, Ukrainian Minister of Foreign Affairs Vadim Pristaiko suggested, on February 17, that Russia might start a war with Belarus just like it did with Ukraine (RBC, February 17). Needless to say, strongly worded repudiations followed. Gennady Davydzka, in charge of the Belarusian parliamentary commission on human rights and media, opined that it is easy for Ukrainian officials to make such statements because they have "nothing to lose in their relations with Russia"; whereas for Belarus, fighting with Russia is unthinkable regardless of bilateral problems (RIA Novosti, February 18).
Time will tell whether or not the price war with Russia has actually come to an end—for the umpteenth time—and whether a temporary respite does indeed derive from the international attention to the conflict.