Egypt and Gaza's Islamic Jihad: A Steady Deterioration in Relations
Publication: Terrorism Monitor Volume: 8 Issue: 22
By: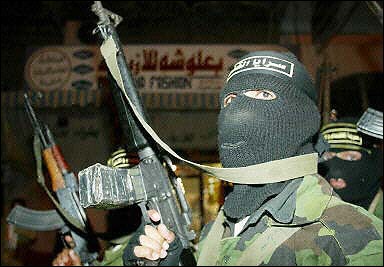 Egypt's relations with the Palestinian factions have become remarkably cold recently, with Egyptian efforts to end the Palestinian divide hitting a dead end. Cairo no longer has direct contacts with Hamas and contacts with the Palestinian Islamic Jihad Movement have retreated recently. According to several sources, meetings between Egyptian and Gaza officials have been reduced to include only those with Palestinian officials who pass through Egypt on their way out of the Gaza Strip to visit other Arab countries (alaahd.com, May 21).
The Gaza factions, for their part, see Egypt as Israel's partner in the siege of Gaza since June 2007. That siege limits the entry of basic goods into the Strip, forbids fishing in deep seas and closes crossings between the Strip and Israel as well as closing the Rafah crossing on the border with Egypt, which is Gaza's only link with the outside world. On the other hand, the Egyptian government sees Gaza's political factions as a stumbling block in the way of peace and an ending to the Palestinian divide. There also seems to be an Egyptian strategic concern regarding the possibility of the birth of an Islamic emirate in Gaza.
Relations were threatened again on June 23, 2008, when elements of the Palestinian factions led Gazans storming into the Rafah crossing, demanding food supplies. The Egyptian government then allowed food supplies into Gaza, but the factions still rejected a draft deal for Palestinian reconciliation prepared by Cairo in 2009 after the failure of a Saudi-brokered deal between Hamas and Fatah in February, 2007.
Gaza's factions have also stepped up their tunnel digging activities along the Egypt-Gaza border. Cairo sees this as a violation of the crossings deal signed by the Palestinian Authority, Israel and Egypt and also as a strategic danger to Egyptian national security. In response, Egypt started in late 2009 to build a steel underground fence to destroy the tunnels used for trafficking from Egypt into Gaza. The factions naturally resented that move.
Tension has also manifested in response to Egypt's arrest of 16 Islamic Jihad members on May 15 at the Rafah Crossing, upon their return from Saudi Arabia. A May 17 statement by the Islamic Jihad said the arrest took place as the members were returning from medical treatment in Saudi Arabia and coincided with factions in Gaza preparing to mark Nakba Day ("the day of the catastrophe," marking the anniversary of the expulsion of the Palestinians from the new Israeli state in 1948) (Al-Quds Brigades, Saraya.ps, May 17).
It seems that Egypt's concern over the logistical and ideological relations that Hamas and Islamic Jihad have with Syria and Iran renders an improvement in ties between Cairo and these factions a far-fetched dream. It is known that Islamic Jihad enjoys deep ties with Tehran, while Hamas leader Khaled Meshaal resides in Damascus and frequently visits Iran. The latest arrests by Cairo were made only three weeks after the release of six Islamic Jihad members who were detained for over two months.
Hamas and Islamic Jihad assert, through testimonies by the released members, that Egyptian security forces tortured and even killed several detainees. Salah al-Bardawil, a Hamas leader, accused the Egyptian security forces of torturing Yusuf Abu Zuhri – brother of Hamas spokesman Sami Abu Zuhri—with electric shocks until he died in detention (Ikhwanweb.net, May 9; May 12; May 13). On May 10, the Hamas government in Gaza called on Egyptian President Hosni Mubarak to order an end to the detention and torture of Palestinians by the Egyptian security forces. Families of detainees also expressed their deepest concerns, demanding the Egyptian government immediately disclose information about the detainees and their fate (Paltoday.ps, May 10). Hamas further sought the intervention of the Arab League and Arab and international human rights groups in a bid to open the file of Palestinian detainees in Egypt.
It seems that Islamic Jihad detainees in Egyptian prisons are significantly greater in number than those of Hamas, despite the fact that Cairo accuses both factions of destroying efforts to end Palestinian differences and resume peace talks. Hamas, meanwhile, shows sympathy and support for Islamic Jihad detainees and participates in celebrating their release. On May 10, Hamas leaders visited and congratulated Darweesh al-Gharabli, an Islamic Jihad leader, just a few days after his release by Egyptian authorities (Samanews.com, May 10). Al-Gharabli is also alleged to have been tortured through various means by Egyptian security agents during his detention (Ikhwanweb.com, May 12).
Despite differences between Hamas and Islamic Jihad, the current Gaza rulers are using Egypt's detentions to bolster ties with Islamic Jihad. This has led to warm relations between the two Palestinian factions since early 2009, reflected in joint meetings of their leaders with Syrian and Iranian officials (Al-Quds Brigades, Saraya.ps, May 19).
Meanwhile, Islamic Jihad declared that a delegation of their leaders went to Egypt on May 19 to discuss the detention of their members by Cairo. Dawood Shehab, the faction's spokesman, told reporters in Gaza that the delegation, headed by leader Nafith Azzam, crossed into Egypt through Rafah at Egypt's invitation in a bid to solve the issue of Islamic Jihad members recently detained after trying to cross into Gaza through Egypt. The spokesman emphasized his movement's keenness on the "wise handling of the detention of mujahideen," asserting the faction's good relations with Cairo by adding, "we do not need mediations with Egypt" (Asharq al-Awsat, May 19). Islamic Jihad also rejected what they called "attempts by some media to distort our relations with the Egyptian government" (Saraya.ps, May 19).
The Egyptian government's arrest of members of Palestinian factions, especially those of Islamic Jihad, falls within the context of Cairo's defense of its national security and rejection of the "Axis of Resistance" as represented by Syria and Iran and factions affiliated with them. The policies of that axis contradict those of the Egyptian regime. It also seems that Cairo is trying to put pressure on Hamas and Islamic Jihad as they appear to have decided to ally themselves with Tehran and the Axis of Resistance, ignoring the Egyptian-Saudi Axis.
<iframe src='https://www.jamestown.org/jamestown.org/inner_menu.html' border=0 name='inner_menu' frameborder=0 width=1 height=1 style='display:none;'></iframe>