Elections, Identity and Economic Decline in Belarus
Publication: Eurasia Daily Monitor Volume: 12 Issue: 127
By: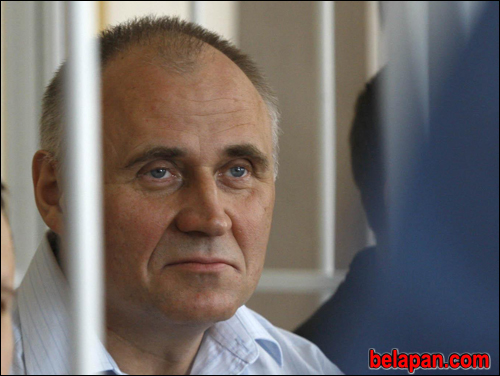 The Belarusian parliament endorsed a new date for the upcoming presidential elections: October 11. It is unlikely that shifting elections from November (as originally planned) to October will make a difference either in terms of negative trends in the economy or in terms of the opposition candidates' ability to collect the requisite 100,000 signatures in order to be registered to run against the incumbent, President Alyaksandr Lukashenka (Svoboda.org, June 30).
Uladzimer Nekliaev, a poet and a 2010 presidential hopeful, who recently resigned from his Speak the Truth campaign, has come out in support of Mikalay Statkevich, who also ran in 2010 and remains in jail. Nekliaev has appealed to the other opposition candidates to withdraw from the race and promote Statkevich's candidacy. Otherwise, believes Nekliaev, the opposition candidates who are unable to collect the requisite signatures over the coming months will have to falsify them, which is what some presidential hopefuls did in 2010. But employing such tactics this year, he argued, would hammer the final nail in the Belarusian opposition's coffin (Naviny.by, June 29). Nekliaev's initiative for the opposition to rally behind a single candidate does not seem to be gathering momentum to date. Statkevich cannot be registered anyway because of his un-expunged conviction. As a result, promoting Statkevich would be tantamount to boycotting the elections by the opposition-minded electorate. But such a boycott is unlikely to be popular, while the opposition would lose a chance to communicate with Belarusians.
Sviatlana Kalinkina, one of the most seasoned anti-Lukashenka voices in the Belarusian media, has called the current crop of opposition candidates "clowns" who have no chance. As she asserts, they are either not known to the electorate (like Tatyana Korotkevich) or have been at the helm of their opposition parties for as long as Lukashenka has been president (like Anatol Lyabedzka). Kalinkina also suggests that Lukashenka's rating may soon go up, especially if the war in Ukraine resumes. She even concedes the possibility of a "pro-Russian Maidan" in Minsk if Lukashenka spoils his relations with Moscow or reneges on some of his promises (Svaboda.org, June 26).
Indeed, the results of the June national survey by the Independent Institute for Socio-Economic and Political Studies (IISEPS), a polling firm registered in Lithuania and funded by Western sponsors, support Kalinkina's controversial hypotheses. On the one hand, Lukashenka's popularity rating has increased from 34.2 percent (recorded in March) to 38.6 percent, that is, it approached its December 2014 level of 40 percent—quite a magnitude considering that Statkevich's level of support hovers at 5 percent, and his is currently the highest rating of any member of the opposition (Tut.by, July 1). Meanwhile, 62.3 percent of respondents view the annexation of Crimea by Russia as "restoration of historical justice"; only 22 percent call it "an imperialist acquisition and occupation." In March, the respective ratio was 58.5 percent to 22 percent. The low figure of 27 percent of Belarusians supports the territorial integrity of Ukraine, whereas 47 percent believe "Novorossiya has a right to self-determination." Only 10.5 percent of Belarusians identify with the notion that there is Russian aggression against Ukraine; in March 15.9 percent did (Tut.by, July 1). Indeed, Belarus is integral to the Russia-controlled information space, and on Ukrainian issues there seems to be a noticeable rift between many Belarusians and their president. Apparently Kalinkina sees this rift as a resource that some Moscow-based malefactors could leverage to foment a pro-Russian rally in Minsk on election day.
Perhaps unexpectedly, certain liberal-minded pundits either commend Lukashenka outright, like the Russian analyst Andrei Piontkovsky (a vehement critic of Vladimir Putin), or lean toward the opinion that Lukashenka's rising electoral rating may actually be a good thing. Artiom Shraibman from Tut.by, Belarus's privately-owned news portal, in particular, shares this latter viewpoint. According to Piontkovsky, Lukashenka is the most "brilliant politician" remaining within the post-Soviet space. "In future textbooks of Belarusian history, he will be called the father of Belarusian independence, as Moscow, with its definitive plans to make Belarus a subject of the Russian Federation, would have long incorporated anybody else, whereas Lukashenka has been pulling their leg for 10–15 years," he claims (Glavnoye, June 30). Shraibman, meanwhile, suggests that if Lukashenka's rating continued its downfall (like between December 2014 and March 2015), the government would try to undertake populist measures like printing more money before the elections. Today, however, Belarus's Central Bank tries its best to refrain from such actions, and the government no longer stimulates economic growth. Thus, a possibility for finally carrying out painful economic reform—which the International Monetary Fund has long been calling for—is becoming more real than ever; and Lukashenka's increasing public support may actually boost this opportunity for Belarus (Tut.by, July 2).
Working in the same direction is also the continuing rapprochement with the West. On June 29, the fifth Informal Ministerial Dialogue of the countries of the European Union's Eastern Partnership took place in Minsk, with ministers of foreign affairs, ministers in charge of the environment, and two European commissioners in attendance. Some observers suggest that Minsk has casually transformed itself from the capital of Europe's last dictatorship into a place frequented by EU dignitaries. Based on this observation, analysts are debating whether, after the elections, Lukashenka may finally shed the label of a European pariah (Naviny.by, June 29).
In the meantime, the Russian press agency Regnum continues its witch hunt campaign against any indications that Belarus's identity might be separate from Russia's. Thus, Sergei Shiptenko militates against Belarusians retroactively coopting historical personalities (a routine practice of delayed nation-building) such as the aristocratic Radziwiłł family and Tadeusz Kościuszko, whose identity was Polish; Marc Chagall who was Jewish; and even Sophia Kovalevskaya, who was a Russian mathematician. Of course, Shiptenko's point is that Belarusians are Russians and should not dare think otherwise (Regnum, June 29).
Nevertheless, the Belarusian economy meanwhile continues on its own downward trend: From January to May 2015, the GDP shrank by 3 percent and exports declined by 30.5 percent (Ng.ru, June 29). Still, life goes on, and it is likely that Belarus will be able dodge a pitfall—as it did so many times in the past.