Electronic Jihad in Nigeria: How Boko Haram Is Using Social Media
Publication: Terrorism Monitor Volume: 15 Issue: 23
By: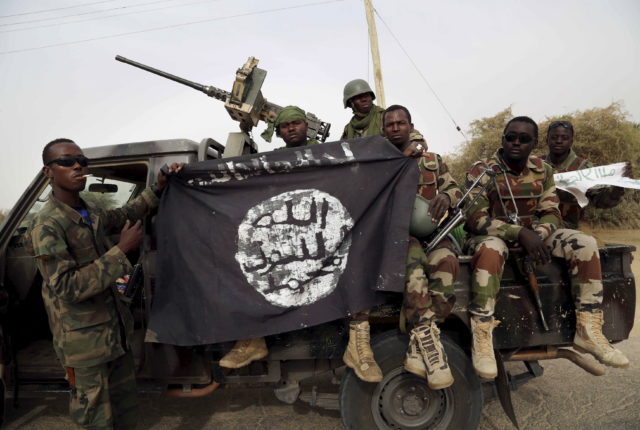 While many jihadist groups have shown themselves adept at using social media to further their propaganda efforts, Boko Haram arrived late to the game. In 2010, the year then Boko Haram leader Abubakr Shekau declared jihad, one Boko Haram member even posted on the Ansar al-Mujahideen jihadist web forum that "we lack vibrant media experts in video production … we are seriously lacking expertise, which is presently harming our efficiency" (Ansar al-Mujahideen, November 4, 2010).
Seven years on, however, Boko Haram is on par with most other jihadist groups in exploiting online media, using it to promote its attacks and sharia punishments, and to engage in debates with rival factions. Alongside growing sophistication online, Boko Haram is also controlling territory more stably than at any time in its history, a fact that often goes unreported amid government claims of counter-insurgency success.
What may appear to be quietude from Boko Haram, with its relative lack of dramatic attacks or kidnappings compared to previous years, may actually be obscuring the reality that the group has achieved one of its longtime goals: de-facto governance. Nonetheless, those territories are difficult to access. Therefore, the group's transparency on social media provides one of the best avenues to understand Boko Haram's current ideological and operational development.
The Battle on the Ground
Despite an ongoing military offensive against Boko Haram that began in early 2015, the main factions in the jihadist insurgency in Nigeria — Islamic State West Africa Province (ISWAP) and Boko Haram — still control a significant amount of territory in the country's northeast.
According to the latest map of northeast Nigeria from the UN Office for the Coordination of Humanitarian Affairs (OCHA), more than 50 percent of Borno State remains under insurgent control, as does the eastern border of neighboring Yobe State and scattered parts of northern Adamawa State (reliefweb.int, September). Attack claims and videos by ISWAP and Boko Haram, as well as local reports from the region, establish that ISWAP predominates around northern Borno and Lake Chad, while Boko Haram predominates around southern Borno and into Yobe (peccaviconsulting.wordpress.com, April 11).
The Nigerian military still controls most town centers in eastern Borno and the roads between them, albeit that safe travel is often only possible with a military convoy. The military does not, however, control the countryside, where ISWAP has managed to keep hidden 100 of the kidnapped Chibok schoolgirls, now in their fourth year of captivity. ISWAP also controls fishing areas around Lake Chad for taxation, and its attack and kidnapping in July of a University of Maiduguri oil exploration team in Magumeri, just north of Maiduguri, is indicative of the extent of its territorial control (vanguardngr.com, July 26).
Boko Haram's strength and territorial presence can also be extrapolated from online videos. One from November 13 shows an attack on the Nigerian military and the theft of a tank, while the group's Eid videos in 2016 and 2017 each showed several hundred people praying and Shekau's deputy, Man Chari, serving as imam (Sahara Reporters, November 13; Sahara Reporters, July 1).
The Nigerian military faces a classic counter-insurgency dilemma akin to what U.S. and Afghan forces face in Afghanistan — the insurgents have high maneuverability in the countryside; are able to resource themselves or retreat across the border into neighboring countries; and the population is either indifferent or has been cowed into submission. ISWAP militants mostly target civilians and supposed government collaborators, and in many cases have better knowledge of the cultural, linguistic and physical terrain than their military opponents.
Behind the scenes of the ground battles in northeastern Nigeria, ISWAP, Boko Haram and Ansaru are also engaged in a battle for supremacy of the jihadist movement and narrative in Nigeria. These three factions have been at odds since two key events in February 2015 and August 2016. First, in February 2015, a shura was held where Ansaru opted to remain separate from ISWAP, while the other insurgents, including some defectors from Ansaru, joined the group (jihadology.net, February 10, 2015). Then, in August 2016, ISWAP itself split, with Shekau being deposed from the leadership by Islamic State (IS). He returned to lead Boko Haram, while Abu Musab al-Barnawi became leader of ISWAP (jihadology.net, August 3, 2016).
Ansaru is now mostly operationally dormant, while ISWAP and Boko Haram sometimes clash in overlapping territories. Militants and civilians generally both prefer ISWAP under al-Barnawi. Boko Haram leader Shekau is known to attack pretty much anyone who resists joining his caliphate, which functions as his fiefdom around Sambisa Forest. That has included his own top commanders if he perceives they are disloyal, whether or not there is evidence to prove that disloyalty (vanguardngr.com, January 28).
The Battle Online
The differences between these factions also play out in the virtual world. Ansaru, for example, has a Telegram account used mostly for posting verses from the Quran and generic praise of al-Qaeda leaders, such as the late Osama bin Laden and Ayman al-Zawahiri, or the Taliban's late leader Mullah Umar.
Ansaru members have also been active on Facebook, but most of its posts have been images of Ansaru logos or re-postings from al-Qaeda groups in Syria. There is little from Ansaru in the way of social media activity to suggest it is challenging ISWAP or Boko Haram directly on the ideological field. It has also released almost no images from the battlefield since 2015. This is consistent with the assessment that Ansaru is operationally dormant but its remaining fighters are still observing the insurgency from the sidelines, perhaps waiting a future opportunity to re-enter.
Boko Haram, meanwhile, has released videos through its members' Facebook accounts and on Telegram, as well as via the website of Sahara Reporters. This triangulation of videos overcomes the longstanding problem Boko Haram faced before 2015 when it would send videos to journalists with Agence France-Presse (AFP). The news agency would release only several minutes of the videos, much to the disappointment of the militants. Boko Haram members could also upload the videos to YouTube, but one Boko Haram member lamented that this required fighters to travel long distances to find a fast and consistent internet connection, and risked YouTube taking down the footage (AFP, August 13, 2013).
Boko Haram had a Telegram account, but it was deleted without warning in early November 2017. The account used the name Khairul Huda, which was the same name as Boko Haram's grainy video branding used before Shekau declared jihad in 2010 (Youtube, Ocobter 28, 2011). Nonetheless, Khairul Huda maintains a Facebook page where it continues to release Boko Haram footage and occasionally praises of IS leader Abubakr al-Baghdadi — Boko Haram remains loyal to the IS, although independent of it. Finally, Boko Haram has members active on Facebook who praise Shekau and often taunt supporters of ISWAP for various reasons, such as when an alleged ISWAP member who had been active on Facebook was arrested (cupstv.wordpress.com, August 15).
ISWAP has an official Telegram account, while there is also a second Telegram account and a Facebook page maintained by an ISWAP supporter who releases the group's propaganda. ISWAP dramatically upped its online profile on November 15, releasing a selection of its old videos on Amazon, Google Play, Vimeo, Dropbox, Flickr and other platforms for the first time. Previously the group's videos had only been posted on YouTube or were downloadable straight from Telegram (archive.org, November 2014).
The official ISWAP Telegram account has been used to released Hausa language sermons by al-Barnawi, including his interpretations of IS theological debates, such as whether al-Baghdadi is himself an infidel for not declaring al-Zawahiri an apostate. Al-Barnawi sides with the official IS positions (jihadica.com, October 3). The Facebook and Telegram account operated by an ISWAP supporter releases official ISWAP media, but its owner also independently creates material, including pamphlets criticizing groups such as the Taliban for being nationalistic, cooperating with the UN and negotiating with governments.
The overall downturn in IS' media operations may lead to such independent ISWAP media outpacing the IS-sanctioned media. ISWAP's hostage video showing the three abducted University of Maiduguri professors from the oil exploration team in Magumeri was made in al-Barnawi's name and had no official IS branding (Youtube, July 28). While ISWAP shows no indication of abandoning its loyalty to IS, the video suggests it will have little trouble generating media even if IS' media capabilities deteriorate.
Ideology Online
On the battlefield, ISWAP and Boko Haram appear content with their territorial success, but continue to occasionally stage major attacks. Footage of these can subsequently be used to remind supporters and others online that they continue to hold territory and are frustrating the Nigerian security forces.
The groups' use of virtual spaces has evolved, with social media used to engage in dialogue about ideological and factional differences, and to explain their positions to online followers who are often members of opposing factions.
As well as providing insights for analysts, another incidental consequence of the groups' online presence has been increased dialogue between the factions, although there have not been any accompanying signs of reconciliation.