Erdoğan's Visit to Moscow: Background, Agenda and Beyond
Publication: Eurasia Daily Monitor Volume: 14 Issue: 39
By: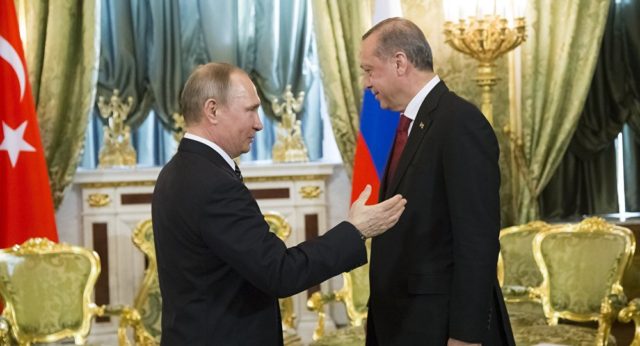 Turkish President Recep Tayyip Erdoğan's visit to Moscow, on March 10, unsurprisingly generated a great deal of attention (Hürriyet, March 10). Indeed the bilateral Turkish-Russian relationship has been a game changer in Syria for some time. And the timing of the visit notably followed the recent entry of Russian ground forces into Manbij (see below)—a target Turkey has repeatedly tried to take as its next important objective within Operation Euphrates Shield.
As part of Turkey's re-adjustment of its relations with several countries, Ankara and Moscow revised their relationship in August 2016, which had deteriorated earlier due to the Turkish downing of a Russian Su-24 that had strayed into its airspace (NTV, November 24, 2015; see EDM, July 7, 2016). Amidst this newly budding rapprochement, Turkey undertook Operation Euphrates Shield: Turkish forces entered Syria, where they succeeded in not only clearing the border area of Islamic State (IS) presence but also prevented the merger of Kurdish-controlled cantons in northern Syria. Probably as a consequence the Turkish intervention—whereby Turkey deployed thousands of oppositional forces under the umbrella of the Free Syrian Army in its Euphrates Shield campaigns—the Syrian regime was able to more easily capture Aleppo. Russia even conducted air strikes on al-Bab as Turkey pursued its own ground offensive there. The two sides denied they were coordinating their attacks, however; indeed, the Russian airstrikes and Turkish ground operations were launched in separate areas of the city. Turkey's active involvement in the conflict has won it a seat at the table for Syrian peace talks.
Amidst these gradually warming relations, came the high-profile assassination of the Russian ambassador in Ankara, on December 19, 2016. Both sides seemed to conclude that the attacker was a terrorist aiming to damage their bilateral relationship in a delicate atmosphere and the right response to the attack was not to heighten tensions but to improve the relationship further. Another risk of deterioration of bilateral ties came with the Russian friendly fire incident, on February 9, 2017, which claimed the lives of three Turkish soldiers (BBC Türkçe, February 9). Though they at first traded blame over the episode, Turkey and Russia ultimately chose not to escalate the situation.
Nevertheless, some limitations and points of friction within the relationship bear mentioning. Most notably, Ankara was angered by the "Kurdish congress," hosted recently by Moscow, where the Syrian Kurdish Democratic Union Party (PYD), Turkish Peoples' Democratic Party (HDP), Iraqi Patriotic Union of Kurdistan (PUK) and Iraqi Movement for Change (Gorran) were invited, whereas the Turkish-government-supported Iraqi Kurdistan Democratic Party (KDP) and Syrian Kurdish National Council (ENKS) were excluded (BBC Türkçe, February 14). Additionally, Turkey has chided the presence of an official PYD party office in Russia. Finally, a serious bone of contention between the two was the Syrian draft constitution that Russia prepared for the February ceasefire talks in Astana, Kazakhstan. The draft document specifically establishes Syrian Kurdish cultural autonomy with its own governing institutions (Sputnik Türkiye, February 2). This raised serious concerns in Turkey that it would lead to full-fledged Syrian Kurdish political autonomy in the future. One of Ankara's key goals in Syria has been to prevent the creation of a PYD-controlled region, both de facto and de jure—particularly since Turkey views the PYD as an extension of the Kurdish Workers' Party (PKK) terrorist organization.
Perhaps the most serious issue dividing the two sides at the moment has been the Russian involvement in the embattled Syrian city of Manbij. Photos have surfaced of PYD fighters in Manbij with US or Russian flags on their uniforms; while Russian troops have been seen wearing patches of the Syrian Defense Force, a multi-ethnic force militarily led by the Kurdish People's Protection Units (YPG) and opposed by Turkey (NTV, March 10). US deployments to the area have been gradually increasing with the recent arrival of Army Rangers and a Marine artillery unit (The New York Times, March 9), and Russian forces are on the ground, too. The tripartite Russian-US-Turkish meeting of Valery Gerasimov, Joseph Dunford and Hulusi Akar, in early March in Antalya (Sabah, March 7), possibly focused on how to deal with this complexity and how to avoid clashes between all sides. For Turkey, this complexity, along with the possible scenarios for the coming Raqqa offensive, seem to be the key reasons for its pause in the repeatedly mentioned offensive on Manbij; and it could channel Turkish efforts to other PYD-controlled cantons first.
Erdoğan's recent visit to Moscow took place as Russian troops descended on Manbij. Even though the meeting was already on the agenda, the timing of the Russian move seemed far from coincidental. Indeed, it appears to have played an important role in pushing Turkey to agree to purchase the Russian S-400 air defense system (CNN Türk, March 15), even though the Turkish defense minister had stated the two sides were not yet ready to finalize the contract (Hürriyet, March 15). But in fact, the deals looks finalized, both due to Turkey's urgent need for air defense as well as its dissatisfaction with the withdrawal of Patriot missiles by its allies. Also on Erdoğan's agenda with Vladimir Putin was the Turkish Stream natural gas pipeline, which would enable Russia to bypass Ukraine; visa-free travel for businessmen; the purchase of Russian MS-21 jet airliners; and Russia's construction of the Akkuyu nuclear plant in Turkey (Hürriyet, March 10).
With the possible purchase of Russian S-400s, Turkey may be sending a message to its anti-IS coalition partners and North Atlantic Treaty Organization (NATO) allies about its dissatisfaction with their silence or late response regarding last July's coup attempt. Additionally, Ankara could be expressing discontent with the US's continued close cooperation with the PYD/YPG west of the Euphrates—a red line for Turkey. Alternatively, the purchase of a Russian, rather than a NATO weapons system could be in retaliation to the recent political crises involving Turkish officials, who were obstructed in several European countries from engaging expatriate voters in Turkey's referendum campaign. Turkey has already blocked Alliance operations with non-NATO countries in response to these incidents (DW Türkçe, March 15). Either way, all of this undermines NATO unity. Therefore, it seems no coincidence that Putin stated Turkey and Russia are working on "other plans" to fight terrorism in Syria. Future objectives under Operation Euphrates Shield will show just how far Turkish-Russian cooperation can actually go, and whether this will be at the expense of Russia's support for various Syrian Kurdish organizations.