ERKINBAYEV'S ASSASSINATION PROVOKES CONTROVERSY IN KYRGYZSTAN
Publication: Eurasia Daily Monitor Volume: 2 Issue: 179
By: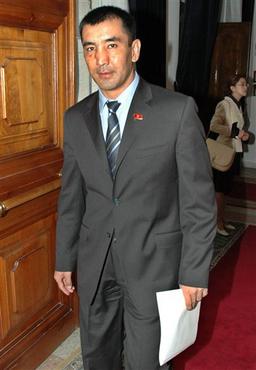 On September 21, Bayaman Erkinbayev, a member of the Kyrgyz parliament with alleged ties to criminal groups, was shot dead in central Bishkek, the Kyrgyz capital. His murder is the third political assassination in Kyrgyzstan since the March 24 Tulip Revolution. The National Security Service has not released any official statement regarding the possible perpetrators or what interests might have triggered the contract murder.
The first of the three assassinations occurred on April 10, when an unknown gunman shot Usen Kudaibergenov, a close ally of Prime Minister Felix Kulov, dead in his house. On July 10, pro-Akayev parliamentarian Jyrgalbek Surabaldiyev was gunned down in broad daylight in Bishkek. Since the ouster of former president Askar Akayev, Erkinbayev had survived two assassination attempts with only slight injuries (see EDM, June 14).
Better known by his first name, Bayaman earned a reputation as a criminal who was able to avoid prosecution by winning a parliamentary three times — in 1995, 2000, and 2005. Analysts explain Erkinbayev's wide local support by his efforts to improve living standards in the poverty-stricken region of southern Kyrgyzstan, his main constituency. Erkinbayev was among the wealthiest individuals in southern Kyrgyzstan; he owned a hotel in Osh and shared control of a key regional market in the town of Karasuu. After Akayev's ouster Bayaman initially declared that he would run for the presidency, but he withdrew his candidacy after Kurmanbek Bakiyev and Kulov formed a political union.
While the government has not issued official explanations for the three contract murders, some Bishkek residents are inclined to believe that Erkinbayev was killed due to illegal business deals. Although no direct evidence exists, many locals believe that the motives for Erkinbayev's assassination arise from criminal groups competing for control of the lucrative drug-trafficking routes in southern Kyrgyzstan.
It remains unclear whether there is a direct connection between Prosecutor-General Azimbek Beknazarov's unexpected dismissal on September 19 and Erkinbayev's assassination. President Bakiyev claimed that he fired Beknazarov for his disappointing investigation into an armed showdown between criminal organizations over the Karasuu market earlier this month. In return, Beknazarov declared that the government is trying to conceal the real reasons behind the conflict (Akipress, September 23). Beknazarov believes that the state's attempt to re-privatize the Karasuu market was a veiled attempt to strip Erkinbayev of his property.
Bakiyev's popularity has plummeted in the wake of Beknazarov's dismissal and Erkinbayev's assassination. Presidential approval rates reached their lowest point on September 24, when thousands of protesters took to the streets in Jalalabad to demand Bakiyev's resignation.
Beknazarov had political problems during the Akayev regime. The former president sent him to prison on corruption charges in March 2002, but local analysts believe he was sidelined for speaking out against a border treaty that would cede some territories to China. Beknazarov's imprisonment prompted the country's first popular protest, in Aksy region, on March 17, 2002. Six people died at Aksy due to law-enforcement agencies' unprofessional approach to dealing with civilian demonstrations. After being fired by Bakiyev, Beknazarov declared that he would join the opposition.
President Bakiyev's unpopularity is also dragging down Prime Minister Kulov. Parliamentary disputes over cabinet appointments suggest that Kulov's plan to promote his own candidates to balance pro-presidential figures has failed. Kulov's political weakness also casts doubt on whether he is able to act independently. As one 33-year old Bishkek resident explained, "Kulov is doing nothing. Imagine, he sat in prison for five years, and all of a sudden he is put to rule the country. Of course he will be weak." Currently Bakiyev's cadres in the government significantly outnumber Kulov's appointees. "Southerners are now everywhere, throughout public institutions, and I find myself unable to communicate with them, to find a common language," complained a 22-year old student at the Kyrgyz-Slavic University.
Frustration about Erkinbayev's death is increasing among the Kyrgyz public, because, as noted by a local journalist, "Nobody can definitely say why, how, and who's next." At an emergency session of parliament, a number of lawmakers expressed concerns about their safety, blaming the prime minister and the president for poor coordination among law-enforcement agencies. One anxious parliamentarian, Omurbek Babanov, claimed that he is next on the hit list because he owns businesses and has the courage to speak against the government (Kabar, September 23). The parliament voted to carry out its own investigation of Erkinbayev's murder.
Amid the controversies and ambiguities about Erkinbayev's death, the local mass media found themselves engaged in a press war. One day after Erkinbayev's murder, the popular internet-based Kyrgyz news agencies Akipress and Gazeta.kg disseminated a letter allegedly written by Erkinbayev about his premonition of his approaching death. In the note Erkinbayev assails the current government with allegations of corruption, while mentioning that only Akayev "was genuinely a strategist, genuinely the son of his land!" (September 21). However, most local experts agree that the letter is a fraud instigated by pro-Akayev forces. Other contentious reports in the media include Erkinbayev's possible cooperation with Akayev and his daughter, Bermet Akayeva. But no mass media outlet dared to name specific reasons for Erkinbayev's assassination or parties involved in the crime.
A private entrepreneur from Bishkek summed up the popular mood, saying, "During the Akayev era it was all corrupted, but predictable, the hierarchy of bribery was stable, all knew who takes what amount of money at what time. Today it is unclear who stands behind decisions at the Custom [Agency], who raises and collects the fees." Obviously, said the entrepreneur, today medium-sized entrepreneurs believe they contribute to the state budget in other, more direct, methods. But many doubt that such profitable areas as administration of import/export duties will remain uncontrolled for a long time.