EU Set to Green-Light Suspension of Import Duties for Ukrainian Grain Exports
Publication: Eurasia Daily Monitor Volume: 20 Issue: 98
By: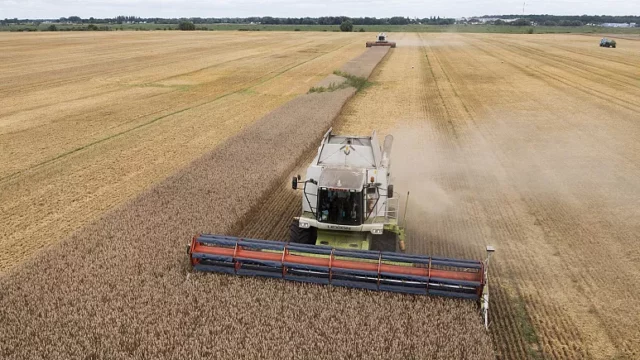 On May 25, the Council of the European Union ultimately renewed the temporary agreement for the bloc's trade liberalization with Ukraine for another year (Consilium.europa.eu, May 25). The decision, which came into force on June 6, was not, however, easy to achieve as the EU's eastern frontiers have been alarmed by the negative consequences this liberalization has had on a strategic segment of agricultural products. In response to that pressure, on June 5, the European Commission prolonged, until mid-September 2023, the ban on imports of Ukrainian grain—specifically wheat, maize, rapeseed and sunflower seed—to Poland, Hungary, Slovakia, Romania and Bulgaria (Euronews, June 5).
At the beginning of 2023, domestic pressure within the EU member states of Central and Eastern Europe (CEE) was intensively growing, as domestic producers usually sell their grain during the first fiscal quarter of the year. This pushed the agricultural ministers from Bulgaria, Hungary, Poland, Romania and Slovakia to appeal to the European Commission (EC). On January 30, during a session of the Agriculture and Fisheries Council, they called on the EC to mitigate the problems caused by Ukrainian grain imports (Farmer.pl, January 30). The EC did not respond to the appeal until late March, proposing an allocation of 56.3 million euros ($61.52 million) from the EU's agricultural reserves to Bulgaria, Poland and Romania, as well as allowing the three countries to complement this aid with up to 100 percent of their national funds (Agriculture.ec.europa.ec, March 20).
The support package was rapidly adopted; yet, some still felt it was insufficient. Hence, on March 31, the prime ministers of the same five countries sent a letter to EC President Ursula von der Leyen. The letter contained their proposals for measures to counteract the crisis, including the "reintroduction of custom duties and tariff rate quotas in imports from Ukraine" if market distortions could not be eliminated by other means (Gov.pl, March 31).
In Poland, the situation with agricultural markets led to a small political crisis, which eventually resulted in Henryk Kowalczyk's resignation as minister of agriculture and rural development on April 5. Polish farmers had been lobbying for a harsher government policy on imports for quite some time. And the inability to convince the EC to meet these expectations, including the partial reintroduction of duties on Ukrainian agricultural products, was specified as the direct cause for Kowalczyk's resignation (Gov.pl, April 5).
Nevertheless, there is more to the story here. Upcoming fall parliamentary elections are looming in Poland, and the countryside is the ruling Law and Justice party's bastion. In 2019, the party overwhelmingly outperformed its opponents and gained 56 percent of villagers' votes. Now, it is trying to not lose these votes with the Ukrainian grain crisis in mind.
In the days that followed, Slovakia, Bulgaria and Hungary joined Poland in their unilateral decisions to impose a ban on Ukrainian grain imports (Minagro.gov.ua, May 10). By making such a decision unilaterally, these countries upped the ante and, simultaneously, violated EU laws and procedures. By contrast, Romania restrained, waiting for the EC to act on its behalf.
This decisive step triggered a series of bilateral meetings held by Ukrainian Minister of Agrarian Policy and Food Mykola Solskyi with his European counterparts. The meeting with Robert Telus, the new Polish minister of agriculture, was of particular importance since the ban on imports of Ukrainian products cut Kyiv off from several alternative export routes via Poland.
Almost immediately, the two states reached an agreement. The agreed-upon transit deal became operational just five days after Poland imposed its ban on Ukrainian products. Importantly, the Ukrainian side seemed to understand the objective and political motives behind Warsaw's subsequent decisions (Eecouncil.com, accessed June 15). Even so, the ban put Kyiv in a difficult position. Hence, on May 9, during a conference with Von der Leyen in Kyiv, Ukrainian President Volodymyr Zelenskyy expressed his dissatisfaction from "neighboring countries' protectionism," which is "unacceptable" and has only "strengthened capabilities of the aggressor" (Twitter.com/ZelenskyyUA, May 9).
Simultaneously, EU commissioners also held meetings with representatives from Bulgaria, Hungary, Poland, Slovakia, Romania and Ukraine to introduce their proposals. From Brussels' perspective, this issue is problematic from both an economic and legal perspective. Thus, on May 2, the EC adopted temporary one-month-long preventive measures that banned the circulation of Ukrainian wheat, maize, rapeseed and sunflower seed in all five EU states, which should have led to the lifting of their unilateral bans (Ec.europa.eu, May 2). Following the deal, Brussels proposed to allocate another 100 million euros ($109.22 million) from the EU's agricultural reserves to these states and allow them to provide local producers with an additional 200 percent of aid from their national budgets (Agriculture.ec.europa.eu, May 3).
The multimillion support package was to be accepted on May 12 during a special meeting at the EU level. However, the decision was suspended as two out of five countries—Hungary and Slovakia—decided to maintain their unilateral bans (PolskieRadio24.pl, May 12). In truth, these bans and the EC's response to them led to the rise of intra-EU opposition in the form of 12 states led by France and Germany, whose representatives, in a joint letter to the EC, expressed their dissatisfaction with the unilateral national bans and the EC's submissiveness (Euronews, May 15).
Furthermore, the EC's reaction still did not meet the expectations of the five member states in question. As such, the respective ministers of agriculture from each state submitted another letter calling on Brussels to extend the restrictive measures on Ukrainian agricultural products before the regulation on suspension of duties could be prolonged for another year (TVPWorld, May 11). On May 6, Poland announced that all five countries would ask the EC to increase the support package (Agropolska.pl, May 6), while Bulgarian Minister of Agriculture Yavor Gechev declared that Sofia's share of the support package is inadequate and requested information from the EC on the methods used to calculate the distribution of funds for Bulgarian farmers (Radio Bulgaria, May 6).
Ultimately, these developments reveal the multidimensional nature of support for Ukraine. Unconditional assistance to Kyiv may be questioned by even the most supportive states if their governments face domestic pressure or difficulties related to the EU's decision-making process. On the other hand, such crises may improve the international mechanisms of assistance for war-torn Ukraine as well as help introduce other restrictive measures on Russia. For example, on May 6, Andrzej Sadoś, Poland's permanent representative to the EU, asserted that Warsaw demands more sanctions on Russian agricultural products (PAP.pl, May 6).
It seems that, overall, progress is being made to satisfy all parties in the grain dispute. Even so, on June 13, European Agricultural Commissioner Janusz Wojciechowski announced that the implementation of the support package has been postponed once again by the decision of Von der Leyen (Sweden2023.eu, June 13). Thus, the issue continues to loom over the CEE states and Ukraine.