Exercises Highlight PLA Amphibious Capability
Publication: China Brief Volume: 15 Issue: 15
By: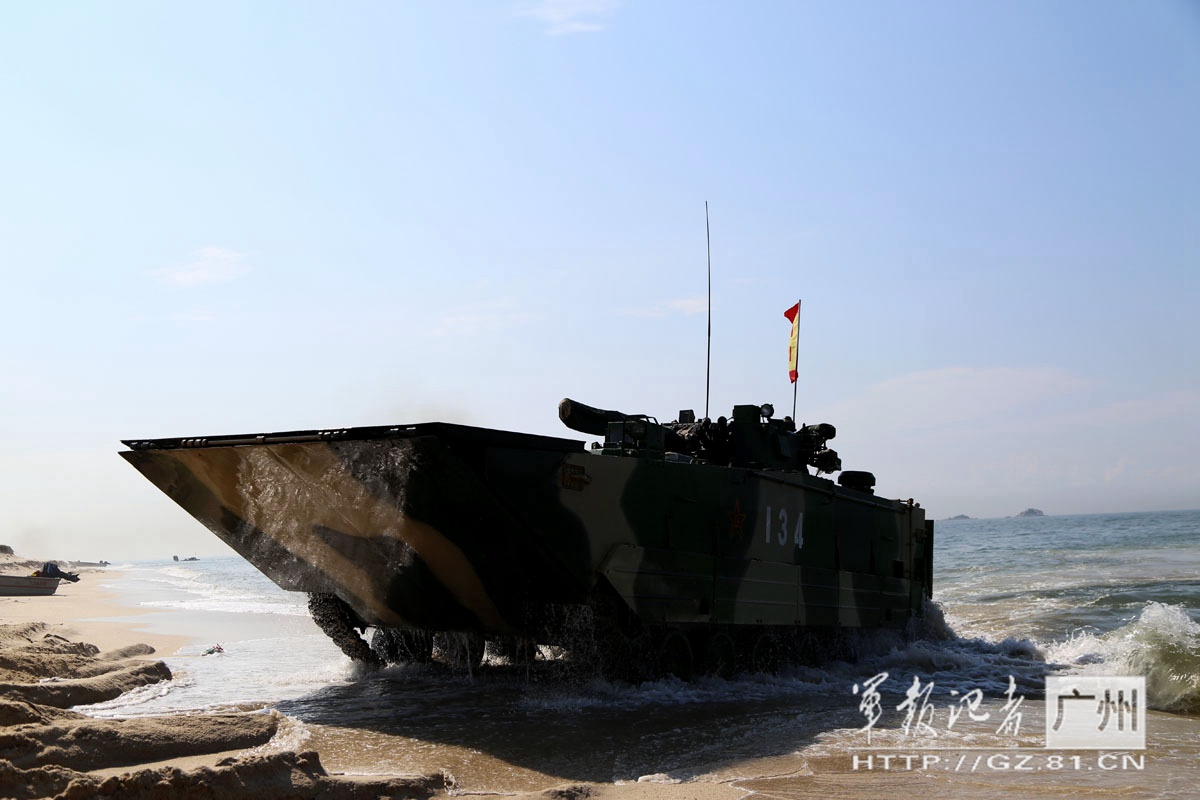 Immediately following the May release of its new maritime-focused National Defense White Paper, China is practicing "new type naval combat force" operations in the South China Sea (Xinhua, May 26; China Military Online, July 28). Several joint air-sea exercises involve "tens" of aircraft, hundreds of ships, several Second Artillery Force (SAF) battalions and informationized fighting elements. The exercises saw an emphasis placed on joint and combined tactics in complex electro-magnetic environments­ as well as on realism and accuracy in command and control (Xinhua, July 28; China Brief, March 6, 2015). The exercises used many of the elements laid out in the Defense White Paper, including operations to protect the "security of China's maritime and overseas interests" (China Brief, May 29). While "not directed at any particular country," these exercises nevertheless illustrate China's growing amphibious capability (MOD, July 30).
Reflecting the rising importance of China's maritime interests, the People's Liberation Army (PLA) used the exercises to practice a number of important naval power projection operations. A large number of ships from the PLA Navy's South Fleet took part, including the Type 071 class Jinggang Shan (井冈山), an amphibious assault ship from the 6th Landing Ship Zhidui. Additional reporting on the exercises showed amphibious tanks and the heavily armed "Zubr" (野牛) hovercraft (Guangzhou MR, July 14; People's Net, July 20; CCTV, July 20). Other elements of the Guangdong Military Region (MR) also participated in a number of related exercises­–including day and night amphibious landings in Eastern Guangdong province (PLA Daily, July 28; Guangzhou MR, July 14). These landing exercises were part of the larger national-level exercise Stride-2015, which began in early June and involves ten combined army brigades from all seven Military Regions (Xinhua, June 6). The multi-month exercise will continue with live-fire exercises through the beginning of August (China News Online, July 24).
While Stride-2015 and related exercises, such as Firepower-2015 (火力), offer the PLA a chance to practice long-distance overland movement and combat simulation, the introduction of new ships and capabilities into the maritime exercises make them particularly significant. The exercises marked the debut of the Zubr, which can carry a maximum of 130 tons, allowing it to carry several Type 96 main battle tanks (Global Times, April 9). The hovercraft is also capable of carrying large numbers of smaller vehicles and troops. Although currently operating in small numbers with China's other hovercraft and amphibious vehicles, the appearance of the Zubr reflects the PLA Navy's continuing focus on building a significant amphibious and maritime power projection capability. Further expanding these capabilities, in mid-July the Chinese navy commissioned the Donghaidao (东海岛), a semi-submersible ship that can carry the Zubr into the South Fleet (Phoenix News, July 13). This class of ship greatly extends the range of China's hovercraft and could be a "useful tool" to protect its territorial claims in the South China Sea, including a number of recently expanded islands (China Youth Daily, July 24).
These developments come at a time when a number of regional actors and neighboring countries are taking steps to respond to China's claims. For its part, the United States has staked out a firmer stance, with senior U.S. military leaders in the Pacific overflying Fiery Cross Reef and dismissing Chinese claims that facilities on newly constructed islands are purely civilian (MOFA, April 17; Global Times, July 20; People's Daily Online, July 27; Takungpao, July 20). Responding to Chinese government spokespersons' characterizations of the outposts, Assistant Secretary of Defense for Asian and Pacific Security Affairs David Shear told the Senate Foreign Relations Committee these statements were "not reassuring" (State.gov; U.S. Senate May 13). Japan, reliant on trade and energy passing through the area, also strengthened its objection to China's claims in the South China Sea with a report issued by its Ministry of Defense that systematically examined China's island building projects (Japanese MOD, July 28). China has not been moved by these reports or an international court case aimed at addressing the source of many territorial claims.
As China gains confidence in its ability to project maritime power, its boldness in fending off attempts at arbitration and a peaceful resolution to territorial disputes will rise. Moreover, with this series of exercises the PLA has further confirmed that it is committed to embracing joint air and maritime operations to protect its overseas interests. As the PLA Army Day editorial on August 1 points, the "possibility of chaos and war" near China's shores is increasing, and the "maritime security environment is becoming more complex" (PLA Daily, August 1). Continuing to develop and practice amphibious capabilities will be vital to China's ability to respond to threats to its territorial claims and other maritime security issues.