Fighting Corruption Russian Style
Publication: Eurasia Daily Monitor Volume: 9 Issue: 218
By: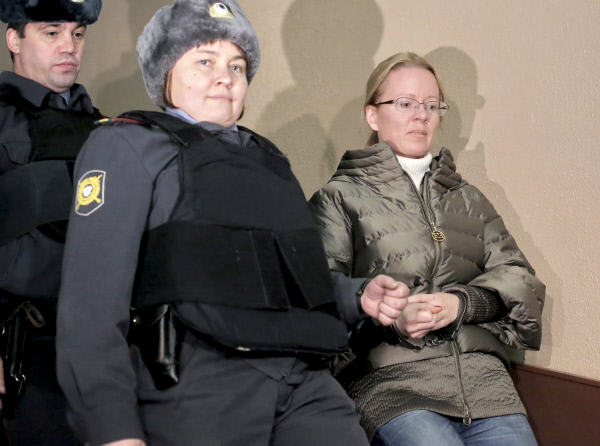 The dismissal of Defense Minister Anatoly Serdyukov by President Vladimir Putin earlier this month as a result of an investigation of corruption in the defense ministry–controlled holding company "Oboronservis" (see EDM, October 25, November 1, 8) has been followed this week by further state-sponsored disclosures of high-level fraud. Former agriculture minister in Putin's government from 2008 to 2012, Elena Skrynnik (51), has been accused by the state TV channel Rossya-1 of misappropriating 39 billion rubles ($1.26 billion) of state budget funds. In a special TV program aired on November 27, Rossya-1 accused Skrynnik—who before becoming agriculture minister was from 2001 to 2008 the CEO of the state-owned corporation "Agrolizing" that distributed state-sponsored loans to support agricultural production—of diverting money into her own pocket. Skrynnik, at present residing in France and having "recently given birth to twins," dismissed the accusation as lies and reportedly refused to return to Russia to be questioned by investigators. In turn, "informed law enforcement sources" in Moscow told Interfax news agency that "Skrynnik has been under investigation for some time" and "there is enough material to open a criminal case against her." According to the same "law enforcement sources," Skrynnik's foreign bank accounts and real estate has been traced "in a number of European countries" and "may soon be frozen" on request from Moscow (Interfax, November 29).
Eugenia Vasilyeva (33), a former top defense ministry official closely associated with Serdyukov, has been last week indicted on charges of corruption and placed under house arrest (ITAR-TASS, November 23). House arrest or bail are rarely granted to people accused of crimes in Russia: most are randomly held in pre-trial detention in extremely harsh, health-threatening conditions for years on end. Vasilyeva will be under house arrest in a spacious apartment she owns in a posh condominium in central Moscow where Serdyukov also owns a flat. The Moscow press is full of rumors that Serdyukov and Vasilyeva have an extramarital affair. Investigators had previously searched Vasilyeva's apartment and reportedly confiscated a bounty of jewelry, paintings and cash allegedly worth $10 million, with some of the confiscated valuables, reportedly "presents from Serdyukov" (see EDM, November 8).
Ekaterina Smetanova (33)—reportedly a close acquaintance of Vasilyeva (they graduated together from St. Petersburg State University's legal faculty in 2001)—has been in custody since last month, accused of involvement in corrupt "Oboronservis" schemes (Kommersant, November 1). Smetanova was reported to have at first cooperated with investigators and later refused, accusing the state investigators of promising to allow her bail and later backtracking. According to Smetanova, investigators demanded she turn state's evidence against Vasilyeva and that Vasilyeva's apartment that Serdyukov seemed to have often visited was wired: "They presented me with transcripts of intimate details of what was happening there." Smetanova told journalists she at present is refusing to cooperate with the investigation. In turn, "informed law enforcement sources" in Moscow told Interfax news agency that if Smetanova refuses to implicate Vasilyeva and "other top defense ministry officials," she may not expect leniency or a favorable plea bargain (Interfax, November 19).
This week, Russia's Investigation Committee (Slyedstvenny Kommitet Rossye—SKR) has announced that the possible misappropriation in the "Oboronservis" corruption schemes had reached 6.7 billion rubles ($216 million) and that seven arrests have been made. According to SKR investigators, Serdyukov authorized the sale of state property at knockdown prices, defrauding the state budget. But at present, the SKR does not plan to question the former defense minister (Interfax, November 28).
The Russian public clearly supports a sweeping anti-corruption cleanup, but misgivings are voiced that the present campaign is merely a show and that people close to Putin will be shielded from punishment. According to a public opinion poll published this week, 75 percent of Russians believe Russian society is "highly" or "extremely highly" corrupt (Kommersant, November 29). Putin's approval rating was reported to have grown in mid-November after the dismissal of Serdyukov, who was a highly unpopular defense minister (www.rbcdaily.ru/2012/11/15). But this did not last: last week Putin's rating fell back to one of its worst since 2000—42 percent approval (Kommersant, November 26). Prime Minister Dmitry Medvedev has this week publicly defended Serdyukov as well as the radical and highly unpopular military reform he was implementing, while the new Defense Minister Sergei Shoigu has promised to continue the reform with "minor corrections" (Kommersant, November 28, 29).
The origin of the present anti-corruption drive is unclear. The alleged installment of secret listening devices in Vasilyeva's apartment in a building that housed the defense minister himself and was guarded by the Federal Protective Service (Federalnaya Sluzhba Okhrany—FSO—the Russian equivalent of the US Secret Service) indicates an extensive security service operation aimed at Serdyukov, Skrynnik and possibly others. This operation may have been the result of serious internal conflicts within the top Russian ruling circle that apparently involve Putin's old-time associate and prime minister in 2007–2008 Victor Zubkov (71). Serdyukov, a businessman from St. Petersburg, entered the inner circle of power in Russia through his second marriage to Julia (42)—Zubkov's daughter, for whom this was also a second marriage. In 2001, Julia graduated from St. Petersburg State University legal faculty together with Vasilyeva, Smetanova and Serdyukov, who was studying to get a second university diploma. Apparently they all got to know each other during their education there: Julia married Serdyukov in 2002, while Vasilyeva made a spectacular career in the tax service and defense ministry under Serdyukov, whose alleged affair with Vasilyeva and breakup with Julia may have prompted his downfall (see EDM, November 8).
Skrynnik, on the other hand, had publicly clashed with Zubkov over agriculture spending. This week Skrynnik told journalists, speaking from France, that if billions have been indeed misappropriated in "Agrolizing" "it is Zubkov's responsibility" since he became board chairman of "Agrolizing" in 2009, when Skrynnik left the corporation. According to Skrynnik, Putin personally gave her permission to leave Russia for France (Nezavisimaya Gazeta, November 29).
The escalating disclosures of high-level corruption, regardless of whether Zubkov or someone else initiated the campaign, are undermining the credibility of the entire ruling Russian elite. It would seem prudent for the Kremlin to limit the damage right away. But an abrupt curtailing of the investigations and public media coverage could be even more damaging, possibly leading to serious political destabilization in Russia.