For Moscow, Talks Are About Sowing Discord, not Solving Conflicts
Publication: Eurasia Daily Monitor Volume: 13 Issue: 35
By: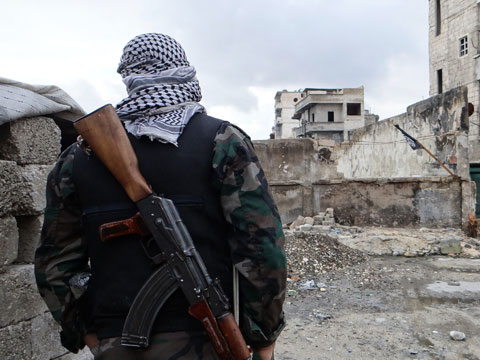 A ceasefire in Syria, which appeared possible if not probable in early February, has again turned out to be unreachable. And in hindsight, it is rather obvious that it never had a chance. The deal that was negotiated on the side lines of the Munich security conference between United States Secretary of State John Kerry and Russian Foreign Minister Sergei Lavrov was the high point of the high-level event. Though the Munich conference also registered a warning from Russian Prime Minister Dmitry Medvedev about the risk of a "third world war" (Nezavisimaya Gazeta, February 15). Medvedev's "New Cold War" address was generally discouraging, but the deal on Syria generated some positive expectations, despite the fact that it was not really a deal but rather a "memorandum of understanding" (Rbc.ru, February 12). No mechanism was created for enforcing the ceasefire and no real commitments were made, but many in the West were inclined to believe that, moving into its fifth month of risky intervention, Russia understood the futility of pursuing a military victory on the ground.
Moscow, however, had no intention of checking its offensive against Aleppo, whose fleeing inhabitants have added to the exodus of refugees flowing toward Europe. Russia sees the capture of the ruins of this major city as a possible turning point in the deadlocked civil war (Rbc.ru, February 8). The Russian high command hopes for a resonant victory, and in order to deflect accusations of heavy civilian casualties, it deployed to the Latakia airbase the most modern Tu-214R electronic surveillance plane, which should improve targeting (Nezavisimaya Gazeta, February 20). This operation perfectly complements Syrian President Bashar al-Assad's intention to continue the war until the complete victory over all rebels. Yet, Moscow has sought to distance itself from such an inflexible position (Polit.ru, February 17). It is far more beneficial for the Russian leadership to combine the relentless airstrikes with diplomatic maneuvering aimed at securing a major and, essentially, a deliberately disruptive role in any negotiations on the Syrian catastrophe (Novaya Gazeta, February 17).
The space for such maneuvering is created by the discord in the US-led coalition, which cannot reconcile the military goal of defeating the so-called Islamic State with the political goal of removing the al-Assad regime from power. This discord has escalated in the course of the battle for Aleppo, as Turkey had bombarded the forces of the Syrian Kurdish People's Protection Units (YPG) to the north of this city, and then was hit by terrorist attacks. Turkey is now coming quite close to making a decision on when to start a ground offensive across the border (Forbes.ru, February 19). Russia knows perfectly well that the US administration is caught between upholding the alliance with Turkey and supporting the YPG. Therefore, Moscow sought to exaggerate this dilemma by proposing a United Nations Security Council resolution that would preventively condemn Turkish intervention (Kommersant, February 20). The move was duly blocked, but as Turkey finds support in Saudi Arabia for more direct pressure on al-Assad, Syrian Kurds are working closer with al-Assad's government troops—and spreading stories about a possible "big war" alongside Russia in the region (Newsru.com, February 19).
Moscow almost certainly has no intention of starting such a war and, in fact, has no capacity for expanding its Syrian intervention and few good options for minimizing the accumulating damage to Russia's international status from its actions (Politcom.ru, February 19). Yet, President Vladimir Putin exploits every opportunity to push the coalition partners further apart, promising the king of Saudi Arabia not to increase Russian oil exports and impressing upon the concerned Europeans that only Russian interference makes possible the delivery of humanitarian aid to besieged Syrian cities (Rbc.ru, February 19). The most important of these connections is with the United States: and while President Barack Obama is deeply frustrated with Putin's games, he is still compelled to call him again and again (Slon.ru, February 15). Obama is right on target, stating—to much irritation in the Kremlin—that Russia is stuck in the Syrian quagmire (Vedomosti, February 17). Yet, Washington still has to communicate to the Russian top brass the exact locations of US special forces operating in Syria in order to prevent casualties from the consistently erratic Russian air strikes (Rossiiskaya Gazeta, February 18).
The goal of Moscow's multi-channel communications appears to be to create a situation where no external party (with the obvious exception of Iran) would be able to intervene pro-actively in the Syrian war. Some Russian experts argue that this dissuasion is perfectly in line with US interests because Washington has no inclination to do anything in this disaster zone (Gazeta.ru, February 19). Obvious similarities can be perceived in this Russian use of negotiations as a tool of manipulating conflicts in Syria and in Ukraine (Kommersant, February 16). The so-called "Minsk process" that produced an agreement one year ago did not stop the Debaltseve battle but pushed Germany and France to commit to a political format that was patently unworkable (Nezavisimaya Gazeta, February 16). None of the parties to the conflict had any expectations of a full implementation of the deal; yet, all sides are in agreement that there is no alternative to this arrangement. Meanwhile, the ceasefire is violated by 50–70 gunfights every day.
Undoubtedly, Russia is in dire economic straits, and Putin is firm set on a course that is driving the country deeper into this disaster. He is aware that Russians are becoming less and less interested in the Syrian adventure; a possible victory in Aleppo is unlikely to change this attitude. At the same time, the massive "patriotic" mobilization achieved with the annexation of Crimea is dissipating faster than would otherwise have been the case because domestic concerns about shrinking incomes deafen people to the drumbeat of propaganda. Putin cannot wait for his sky-high approval ratings to slip and needs to find another target for applying military force—increasingly the only reliable instrument of his survival policy. Talks with Western "partners" are not merely a means of camouflaging Russia's next proactive move, but also levers for widening the cracks in the transatlantic camp and tools for compromising US leadership. Containment is a costly and often unpopular strategy, and the Western allies' periodic shortcuts for opting out are legitimated by quite reasonable suggestions for "understanding" Putin's rationales. He counts on this Western timidity dressed as political realism.