Foreign Fighters Face Obstacles Joining the Somali Jihad
Publication: Terrorism Focus Volume: 4 Issue: 24
By: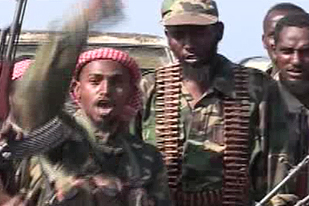 After their defeat in December 2006, Somalia's Islamic Courts Union (ICU) vowed to launch an Iraqi style insurgency against the invading Ethiopian forces. Al-Qaeda leaders supported their intentions. Both Osama bin Laden and Ayman al-Zawahiri issued statements calling on Muslims to help their Islamic brethren defend Somalis against the "crusader Ethiopians and Americans." In July 2006, bin Laden issued an audiotape, stating: "We warn all the nations of the world not to agree to America's request to send international forces to Somalia. We swear to Allah that we will fight its soldiers on Somali soil, and we reserve the right to punish on their own soil, or anywhere else, at the appropriate time and in the appropriate manner. I urge all Muslim youth and businessmen to contribute generously, and to supply all of the jihad fighters' needs through reliable intermediaries, especially in Palestine, Iraq, Somalia, Afghanistan and Sudan" (https://www.muslm.net).
Ayman al-Zawahiri corroborated bin Laden's call in a statement issued on January 5, 2007, just after the ICU was officially routed by Ethiopian forces. He said: "I speak to you today as the crusader invader forces of Ethiopia violate the soil of the beloved Muslim Somalia…I call upon the Muslim nation in Somalia to remain in the new battle field that is one of the crusader battlefields that are being launched by America and its allies and the United Nations against Islam and Muslims…Launch ambushes, land mines, raids and suicidal combats until you consume them as the lions eat their prey" (https://alfirdaws.org).
There is evidence that some foreign fighters have met al-Qaeda's orders with action. Last weekend, for example, Daniel Joseph Maldonado, a U.S. citizen and Muslim convert, was convicted in a Houston court of receiving terrorist training in Somalia alongside al-Qaeda members (The News, July 23; Houston Chronicle, July 21). According to the FBI complaint filed in February, Maldonado was living in Egypt when he decided to go to Somalia to fight jihad and help a legitimate Islamic government, the recently ousted ICU, to regain power. "I would be fighting the Somali militia, and that turned into fighting the Ethiopians, and if Americans came, I would fight them too," he explained.
Maldonado arrived on a flight from Egypt to Mogadishu airport where he was met by an intermediary. He was taken to the intermediary's home, given an AK-47 and set up in a training camp in Jilib, just north of the southern port city of Kismayo. Maldonado described the training in court documents and said that it included weapons, explosives and physical fitness training. He was issued a military uniform and taken to Kismayo, a southern Somali port city that has been targeted by U.S. military air strikes because of the presence of al-Qaeda elements. Maldonado stated that while at the training camps in Kismayo, he gradually became aware that al-Qaeda members were also residing and training in the same compound, including a Yemeni who claimed to personally know bin Laden. Others who were arrested alongside Maldonado stated that they had come across other Africans who professed that they had known and worked for bin Laden in Sudan (FBI Criminal Complaint, February 13).
Maldonado was not the only American to have gone to Somalia to fight jihad. Mohamed Meshal, a resident of New Jersey of Egyptian descent, was arrested while trying to cross the Kenyan border and appeared before an Ethiopian tribunal before he likely struck a deal with U.S. intelligence agencies and was taken back to the United States without charge (Han-Geeska Afrika Online, April 5). Meshal also admitted to undergoing training in Somalia much like the training received by Maldonado (Somaliland Times, March 23).
Maldonado and Meshal are two Americans who heeded bin Laden's and al-Zawahiri's calls. Yet, additional news reporting points to foreign fighters from Europe and the Middle East who are traveling to the Horn of Africa. Frequent suicide bombings, never before seen in Somalia despite the decades of fighting, surfaced as a new tactic just after the defeat of the ICU. Many say that this is a clear indication of al-Qaeda influence.
Yet, the extent of al-Qaeda's presence in Somalia and their training of foreign fighters are less clear. Intelligence officials say that al-Qaeda has had a presence in Somalia since the early 1990s and that it was associated with al-Ittihad al-Islami, a precursor to the ICU (Terrorism Monitor, February 10, 2005). The plotters of the East Africa embassy bombings are also reported to have used Somalia as a staging area. Although al-Qaeda's presence in Somalia appears to be long standing, it has not necessarily translated into a significant number of foreign fighters coming into the country, such as in Afghanistan and Iraq.
Despite al-Qaeda's appeals, the presence of foreign fighters in Somalia is decidedly less than the numbers present in Iraq, or even Afghanistan. As difficult as it has been for the Ethiopian and U.S. militaries to operate in the terrain, it is that much more difficult for foreign fighters who lack supply trains and logistical support. Somalia has been without a functioning government for more than 10 years. The landscape is harsh and the main cities lack necessary infrastructure. Iraq may be chaotic and dysfunctional, but at least there is a basic infrastructure from which to operate. Foreign fighters also have difficulty adjusting and fitting into Somali culture and navigating through a myriad of clans and local interests. For these reasons, successful penetration into Somalia by a significant number of foreign fighters remains unlikely. Nevertheless, a steady trickle of foreign fighters into the Horn of Africa continues.