In a Fortnight: In Maldives Standoff, China Looks to Safeguard Growing Interests
By: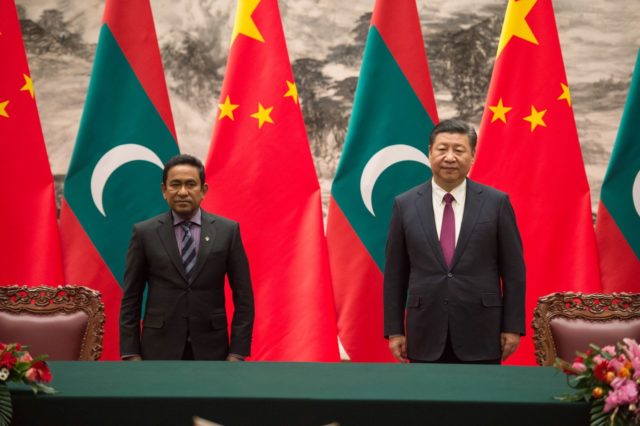 A deepening electoral crisis in the small island nation of the Maldives, located roughly 300 miles west-southwest of India's southern tip, has highlighted the growth of Chinese interests in a part of the world long considered India's strategic backyard, and points the way toward likely future Sino-Indian friction, both in the Maldives and elsewhere throughout the Indian Ocean. Although the Chinese government's public response has been muted, assertive PRC signaling around the presence of PLA Navy (PLAN) ships in the Indian Ocean may be sign that New Delhi should consider its next moves carefully.
Relations between Maldives President Abdulla Yameen and his political opposition, already fraught following his contentious election in 2013, reached a new low in early February, when the country's Supreme Court ordered Yameen to free a number of jailed opposition leaders and restore them to their seats in Parliament, a move which would restore the opposition's parliamentary majority. The court also vacated a conviction of exiled former president Mohamed Nasheed. Yameen responded on February 5 with a 15-day "state of emergency," seeking to annul the ruling. On February 20, he extended the state of emergency a further 30 days. As of this writing, the situation remains fluid.
Both China and India have significant equities in the Maldives. Geographical proximity has long given India a strong voice in Maldivian affairs, and former president Nasheed is strongly pro-India; his surprise loss to Yameen in 2013 came after a controversy involving his government's decision to award a lucrative contract to run the Maldives' primary international airport to an Indian company (Livemint, November 27, 2012). Yameen, however, has aligned himself with China since taking office.
His stance has coincided with a surge in Chinese engagement with the Maldives: after the tropical island nation, a popular travel destination for Europeans, scrapped visa requirements for Chinese tourists, visits by Chinese travelers climbed from 100,000 a year in 2010 to 400,000 in 2016 (Xinhua, May 9, 2017). Yameen's government has bought wholeheartedly into One Belt One Road, declaring it wants its participation in the initiative to drive inbound Chinese tourism to 1 million visits within five years. China's government has reciprocated, helping to fund a significant expansion of Velana International Airport in Malé, the country's capital, through the construction of a new runway. A Chinese company, CCCC Second Harbor Engineering, is also building a "China-Maldives Friendship Bridge" connecting Hulhulé Island, home to Velana International, with Malé proper (the crossing between the two islands was previously made via ferry).
CCCC won the $125 million tender to build the bridge, the country's first major inter-island bridge, through a bidding process run not by the government of the Maldives, but by the PRC government (Maldives Independent, December 31, 2015; Reference News, February 18). The two sides reached agreement on the bridge and the tender process following Xi Jinping's visit to the Maldives in September 2014, the first by a PRC president (Office of the Maldives President, September 14, 2014). The bridge is also instrumental to President Yameen's 2013 campaign promise to build a "Youth City" on Hulhulé Island, where he plans to rehouse 70 percent of the country's population of 400,000, currently scattered across 188 islands, in an effort to build economies of scale. Military ties have also grown: The PLA Navy (PLAN) Type 52C guided missile destroyer Changchun paid Malé a five-day port visit in April 2017 (Xinhua, April 17, 2017).
Chinese reaction to the unfolding crisis has been a mixture of official caution, with unofficial willingness to assert what it views as its prerogative as a rising Indian Ocean power. The Maldives lie square along the "Maritime Silk Road" half of the Belt and Road project, and since 2008 Chinese naval forces have transited the waters nearby on their way toward anti-piracy patrols off the coast of Somalia (China Brief, April 20, 2017), a key component of the PLA Navy's (PLAN) efforts to train a "blue water navy" capable of providing "open seas protection" in waters far from China's coast (PLA White Paper, 2015). The Chinese foreign ministry has refused to comment beyond expressing its view that "what happens now in the Maldives falls within that country's internal affairs and should be properly resolved by various parties in the Maldives through dialogue and negotiation," effectively giving the Yameen government free rein (PRC Foreign Ministry, February 9). At the same time, the semi-official newspaper Global Times, while declaring that "China needs to work hard to dispel, to some extent, Indian doubts about encirclement in Sino-Maldivian ties", notes that increasing Maldivian ties with China should naturally lead to a broadening of the former's diplomatic horizons—simply put, "in the age of globalization, it's impossible for India to  exercise complete control over the Maldives" (Global Times, February 14).
India's reaction to unfolding events has been one of barely disguised alarm. The Indian Ministry of External Affairs said it is "deeply dismayed" by the 30-day extension of the state of emergency, and expressed its hopes that "that Maldives quickly returns to the path of democracy and the rule of law" (Times of India, February 21). Former president Nasheed has called for Indian military intervention to "release judges [and political] detainees" (Twitter, February 6). As if to forestall this possibility, on February 21 Chinese state broadcaster CCTV released footage of ten PLAN ships, including two Type 052D guided missile destroyers and four Type 54A frigates, on patrol in the Indian Ocean (CCTV, February 21). The clip—partially titled "Where Is Our Sword Pointed?"—states that China "cannot support other countries' interference in Maldivian internal affairs", cut together with an image of ex-president Nasheed.
Despite the PRC's assertive signaling, it may well be that the Yameen government cannot afford for its standoff with the opposition to continue. Since the declaration of the state of emergency, many countries including China have advised their nationals to avoid travel to the Maldives, and tourist arrivals, the backbone of the Maldivian economy, have dropped off precipitously. However, while the current crisis may soon pass, it is likely that Sino-Indian jockeying in the Maldives has just begun.
Matt Schrader is the editor of the China Brief.