Fortress Crimea: Russia Shifts Military Balance in the Black Sea
Publication: Eurasia Daily Monitor Volume: 11 Issue: 219
By: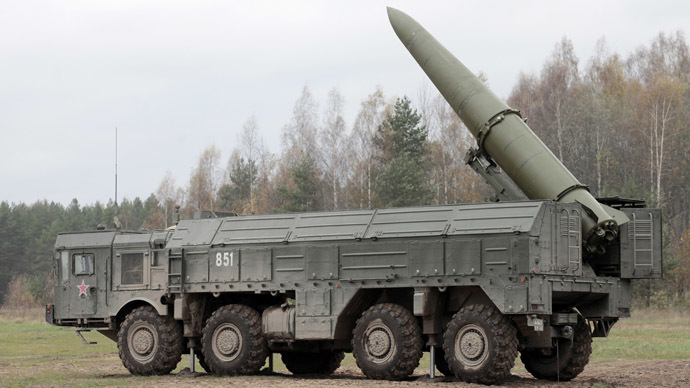 Since Russia's almost effortless annexation of Crimea in March 2014, the country's political-military leadership has promised an adequate defense reinforcement of the peninsula. This would build on existing Russian military infrastructure in Crimea, particularly associated with the basing of the Black Sea Fleet; since the Kremlin now regards this territory as part of Russia, the basing agreement is no longer inhibitive. Until now, the creation of the Russian military force groupings in Crimea have appeared sketchy in detail, but the future shape of the Armed Forces' build up is taking shape. This seems to hinge on boosting the deployment of airpower, especially at Belbek, adding coastal defense systems and introducing the Iskander-M operational-tactical missile system. Some aspects of these deployments have the potential to not only boost Moscow's grip on Crimea, but to extend its level of control in the Black Sea Region more broadly (Zvezda TV, December 3).
On November 26, modern Su-27s and Su-30s were transferred from Krasnodar Territory and deployed at Belbek airbase in Sevastopol. Colonel Yury Yarov, Deputy Commander in the 4th Air Force and Air Defense Command in Southern Military District (MD), said that 14 aircraft were sent to Belbek to bring the total at the base to 30: 24 combat and 6 training aircraft. The pre-deployed assets at Belbek included the Su-24 bomber, Su-24MR reconnaissance and Su-25SM attack aircraft, and transport aircraft and helicopter units. In mid-November, the Russian Ministry of Defense announced plans to introduce by 2016, Tu-22M3 strategic bombers; Defense Minister Sergei Shoigu justified this measure based upon the deterioration of the "security situation" in Ukraine and an increased "foreign military presence" close to Russia's borders (Kommersant, November 27).
General Philip Breedlove, the commander of the North Atlantic Treaty Organization (NATO), expressed his concern about what he described as Russia's "militarization of Crimea," which received widespread publicity in Moscow. He also noted the increasing numbers of weapons in Crimea and cruise missiles, which could affect the regional military balance. On the latter issue, the Russian cruise missiles are likely part of the K-300P bastion-P coastal defense system, which uses the P-800 Yakhont anti-ship cruise missile with a range of up to 300 kilometers (Kommersant, November 27).
The commander of the 4th Air Force Command and Air Defense of the Southern MD, Lieutenant-General Andrei Yudin, confirmed the additional platforms at Belbek. These were ten Su-27SMs and four Su-30M2s, reinforcing the overall strength of the 62nd Fighter Regiment. Yudin believes this will ensure "the creation of a self-contained air group in the Crimea Federal District," which will be further strengthened by "new equipment" to enhance air safety across the peninsula (Krasnaya Zvezda, December 2).
Indeed, on December 3, Russian television broadcast footage of air drills in Crimea featuring 24 Su-27 and Su-30 aircraft simulating low-altitude air combat. Belbek airfield has undergone minor repairs and its 3,000-meter runway is deemed suitable to receive civilian aircraft. Tagir Gadzhiyev, chief of staff of the combined air division, said: "We are ready to use the airfield as a joint base, that is, our military aircraft will be here to support and to cover, as expected, and to perform tasks facing the Air Forces" (Rossiya 1 TV, December 3). Although the vision is to create a joint civil-military airport, without sufficient investment in the facility this may take time to implement.
However, of much deeper concern within NATO is the possible deployment of Iskander-Ms in Crimea. On December 4, sources in the Ukrainian General Staff stated that the Russian Iskander system had been identified in Crimea, with users of social networks uploading photographs of an Iskander spotted in Crimea. The reason that the system evokes so much controversy is that it can carry tactical nuclear warheads with a range of up to 500 km (Korrespondant, Gazeta.ru, December 4).
In November, the defense ministry acquired a fifth Iskander-M brigade complement, prompting speculation that it could be moved to Crimea. In any event, the Russian General Staff has not ruled out their appearance on the peninsula before 2016. Accordingly, concerns were expressed by members of the United States Senate Armed Services Committee that the Iskander's arrival in Crimea violates the Intermediate-Range Nuclear Forces Treaty—as well as posing a threat to Europe. The system's designers claim that the Iskander can be fitted with up to ten different types of warhead. This renders the Iskander ideal in destroying missile systems, long-range artillery, missile defense and air defense systems, as well as Command, Control, Communications, Computers, Intelligence, Surveillance and Reconnaissance (C4ISR) infrastructure. Its brigade complement incorporates 51 vehicles in all: 12 launchers, 12 transporter-loaders, 11 command and staff vehicles, 14 life-support vehicles, 1 servicing and maintenance vehicle, and 1 information preparation vehicle, several sets of precision guided missiles as well as armory and training facilities (Zvezda TV, November 13).
Russian observers see a wider strategic implication in all this. "The availability of these systems is enabling us to build a national security support system in the context of the evolving international situation," explains Yury Baluyevskiy, the former chief of the General Staff. Baluyevskiy added: "The representatives of Poland, Romania, and the Baltic region have forgotten that our strategic missiles 'overflew' their territory. The missiles of the Iskander system will be targeting their cities. I hope this should cool the heads of the leaders of these states" (Zvezda TV, November 13). In order to have this level of "reach," Baluyevskiy perhaps inadvertently confirmed the presence of Iskanders in Kaliningrad; therefore, combined with a deployment of the system to Crimea, NATO's eastern flank is heavily exposed to the capabilities of the Iskander.
On November 26, a senior source in Russia's General Staff told Kommersant that the creation of inter-force groupings in Crimea "cannot be revised." It appears that a significant element in this military force mix to protect Crimea will include air assets, coastal weapons systems, cruise missiles and possibly the Iskander-M (Kommersant, November 27). The Iskander presence in Crimea, if confirmed, raises the prospect that such systems could be used to launch tactical nuclear warheads, which can be transported to Crimea in a matter of hours. The message appears to be that Crimea is under a Russian nuclear security guarantee, since it is viewed as part of sovereign Russia. However, these decisions seem less linked to "defending" Crimea and more focused on changing the military balance in the Black Sea while asymmetrically countering US missile defense plans.