Gazprom Seeks "Equal Profitability," Reluctant to Face Domestic Competition
Publication: Eurasia Daily Monitor Volume: 6 Issue: 208
By: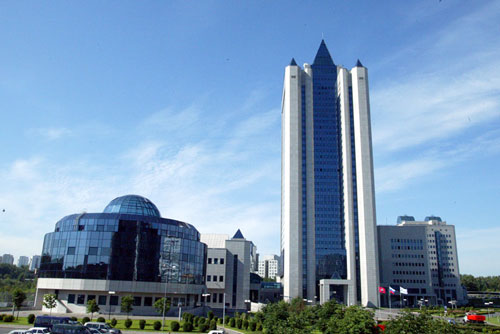 Russia's relatively low domestic gas prices have been seen as encouraging high consumption rates and hindering investments in gas production. The country's gas monopoly Gazprom has long complained about unprofitable sales and pressed the government to hike regulated domestic prices. Gazprom has insisted that its gas exports and domestic sales should be "equally profitable." On October 27, Gazprom's board said that the company suggested the domestic gas prices should become fully market-based from the beginning of 2011 (Interfax, October 27). In other words, the Russian gas giant appears keen to secure similar margins from foreign sales and domestic supplies.
Gazprom has argued it sells approximately half of its gas to domestic consumers, but it received only 18 percent of its revenue from the local market, while the rest came from exports. However, the proposed domestic gas price hike is expected to deal a blow to the country's many industries, especially the petrochemical and chemical sectors. Russia's major fertilizer producers, notably Akron and Eurochem holdings, have warned that "equal profitability" could make their exports uncompetitive.
Russian domestic gas sales still remain strictly regulated by the government. Natural gas accounted for 42 percent of its energy consumption in 1991, but the figure has exceeded 50 percent in the past three years. Gazprom has repeatedly blamed low domestic gas prices for encouraging higher consumption, claiming it had suffered losses due to domestic sales at regulated prices. Meanwhile, Gazprom's export earnings have declined. From January-August 2009, Russia's gas exports were around 50 percent down at 83.8 billion cubic meters (bcm), while gas export revenues dropped to $22.6 billion down from $44 billion last year, according to the Russian customs statistics.
However, in October Gazprom exported 16.6 bcm or 20 percent up year-on-year. Gazprom's gas output reached 45 bcm in October or 20 percent up as compared to September. From January-October, Russia produced 460 bcm of gas or 17 percent down year-on-year, according to Russian governmental statistics (Interfax, November 2).
Gazprom currently buys gas from independent gas producers (IGP's) at regulated domestic prices and sells it for export at higher international prices. Last year, the Russian Federal Anti-Monopoly Service (FAS) announced plans to draft amendments to the gas export law that would allow IGP's to participate in natural gas exports. The FAS was to submit the draft document to the government in May 2008 and later to parliament for approval in June. However, the draft was not approved by early November 2009, presumably due to Gazprom's continued opposition.
IGP's have long sought better access to Russia's gas transportation system. In January 2009, Prime Minister Vladimir Putin pledged to grant IGP's better access to the Gazprom-controlled pipeline system. However, the cabinet appeared slow to deliver on its earlier pledges. The Russian government once again delayed approval of regulations on non-discriminatory access to Gazprom's gas pipelines, the FAS head Igor Artemyev announced on October 29. He also said that the FAS had started a probe into Gazprom on Rosneft's request (Interfax, October 29).
Earlier this year, the FAS imposed a 158 million ruble ($5.45 million) fine on Gazprom for its failure to allow access to Gazprom's gas pipelines. However, a Russian court later backed Gazprom and annulled the FAS ruling. Russian IGP's increasingly account for a larger percentage of domestic output. Russia's second-largest gas producer, Novatek, as well as oil companies Rosneft, Lukoil, TNK-BP, and Surgutneftegaz are estimated to control nearly one third of Russia's gas reserves. IGP's share in total Russian output has increased from 6.4 percent in 1999 to 15 percent. The Russian governmental energy strategy until 2020 envisages raising IGP's share in the country's total production up to 17 percent by 2010, and 20 percent by 2020.
This year, Novatek, has reportedly increased its gas output. From January-September, Novatek produced 23.8 bcm of gas or 3 percent up year-on-year (Interfax, October 14). However, Novatek's output was understood to remain below the company's capacity as Gazprom reduced its gas off take from IGP's amid weakened demand.
Meanwhile, the Russian IGP's major sales venue, Gazprom's Mezhregiongaz (MRG) auction, still remains suspended. In September 2006, the Russian government allowed the gas auctions in a test mode, but in December 2008 the MRG halted them. In January, Rosneft reportedly claimed that the MRG auctions were blocked by Gazprom and requested the government to re-start the MRG auctions. However, the gas monopoly insisted that this was the government's decision. On October 27, Gazprom said the government was yet to allow the resumption of Gazprom's MRG auctions (Interfax, October 27).
Therefore, it remains to be seen whether the promised state support might help Novatek and other IGP's to secure non-discriminatory access to Gazprom's gas pipelines. Moreover, Gazprom insists that its gas exports and domestic sales should be "equally profitable" although the gas giant has proven reluctant to allow the domestic gas market to become more competitive.