Gazprom Tries to Seduce Georgia
Publication: Eurasia Daily Monitor Volume: 12 Issue: 203
By: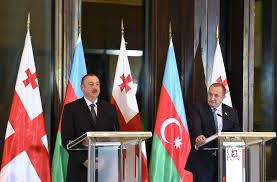 The leader of Azerbaijan, President Ilham Aliyev, arrived in Georgia, on November 5, for a two-day official visit (Vestnik Kavkaza, November 5). This was Aliyev's first trip to Tbilisi in a decade, and the talks he held there with Georgian officials were particularly tense.
Cooperation between Azerbaijan and Georgia has long been based on the two countries' energy interests, including the transit of Caspian-sourced oil and gas via Georgian territory to the West. However, this foundation of their bilateral relationship has become highly contentious in the past several weeks. Top Georgian officials, including Energy Minister Kakha Kaladze, have stated that Georgia must resume relations with the Russian natural gas monopoly Gazprom to "diversify [Georgia's] energy supply sources" (Sputnik News, November 9).
Kaladze has also declared that his country may not be able to receive enough natural gas from Azerbaijan and that Georgia needs to look for alternative sources of energy (Haqqin.az, October 20). Responding to such comments during a joint press conference with Georgian President Giorgi Margvelashvili, President Aliyev remarked: "Azerbaijan has enormous deposits of gas. We can supply gas not only to our neighbors, but also to all of Europe for a hundred years" (Vestikavkaza.ru, November 5). Yet, Kaladze insisted, "During the presidents' meeting, the topic of Gazprom was not discussed at all" (Netgazeti.ge, November 5).
The Georgian minister of energy voiced his government's plans for restoring relations with Gazprom several weeks ago, after his meeting with the Russian company's CEO, Aleksei Miller. Then, Kaladze emphasized: "Every country cares about diversifying its energy supplies. Buying commercial gas from Gazprom does not mean that Georgia halts cooperation with Azerbaijan" (Kvira.ge, October 9). In turn, Miller said after the meeting with Georgian officials that his company was interested in increasing supplies of gas to Armenia via Georgia. However, Miller also said that Gazprom was prepared to sell gas to consumers in Georgia itself (Gazeta.ru, October 26).
Many Georgian experts are unconvinced by the government's arguments about the need to diversify gas sources. Giorgi Khukhashvili, a former aide to Georgia's previous prime minister and billionaire founder of the ruling Georgian Dream, Bidzina Ivanishvili, told this author that "cooperation with Gazprom is tied to many political risks. Those risks are far larger and more dangerous than any benefits in the energy sphere that Georgia might receive" (Author's interview, November 6).
The opposition believes the resumption of relations with Gazprom was a political decision made by the authorities—most of all by Ivanishvili, who is widely considered to be the de-facto head of the country's government. Sergo Ratiani, a parliamentarian from the opposition United National Movement (UNM) party, noted: "It is unclear what kind of arguments the Georgian authorities will use during their negotiations with the president of Azerbaijan to explain why Georgia unexpectedly decided to refuse to buy the cheap [Azerbaijani] gas […] and instead purchase expensive gas from hostile Russia, which occupies 20 percent of Georgian territory." Meanwhile, Ratiani's colleague in UNM, Nugzar Tsiklauru, again raised the belief that Ivanishvili continues to own 1 percent of Gazprom's shares—thus claiming that the Georgian government's negotiations with the Russian company are marred by a conflict of interest (Author's interviews, November 6).
Georgia stopped buying gas from Russia after 2006, when a terrorist attack on a North Ossetian section of a trans-border gas pipeline halted Russian exports to Georgia in the middle of a cold winter. Then-president Mikheil Saakashvili repeatedly stated that Moscow had used that terrorist attack to punish Georgia for its desire to join the North Atlantic Treaty Organization (NATO) and for its independent foreign policy (Lenta.ru, January 23, 2006).
In 2006, Azerbaijan promised to supply Georgia with natural gas. Currently, Georgia receives more than 70 percent of its gas supplies from Azerbaijan (Georgianjournal.ge, October 2). Russian gas comes to Georgia only as a payment for the transit of Gazprom's gas to Armenia. The volume of Russian gas in Georgia is about 300 million cubic meters per year, or about 10 percent of the gas that Armenia buys from Gazprom (Newsgeorgia.ge, October 9).
Around 5 percent of the natural gas Azerbaijan extracts from its offshore Shah-Deniz field is provided to Georgia as payment for transit of that resource to consumers further downstream. Georgia buys another 500 million cubic meters of the transited Azerbaijani gas for a deeply discounted price of $55 per 1,000 cubic meters. Additionally, Azerbaijan provides limited volumes of so-called "social gas" to several Georgian regions for a deep discount of $189 per 1000 cubic meters. Georgia also has the option of buying unrestricted volumes of gas from Azerbaijan at $250 per 1,000 cubic meters (Bizzone.info, October 23).
Yet, the Georgian Ministry of Energy asserts that the supplies of Azerbaijan's natural gas will soon be insufficient to cover Georgia's needs. In particular, energy expert Revaz Arveladze has argued, "We still need about one million cubic meters [more] of natural gas per day in order to produce enough electricity using [Georgia's] new electric power stations." Arveladze is evidently convinced that Azerbaijan will not be able to supply the necessary gas volumes in the next several years (Bizzone.info, October 23).
Gazprom is clearly gearing up to take this opportunity to again vastly expand its presence on the Georgian market (see EDM, October 21). Gela Kalandadze, an experts for the independent news agency GHN, recently told this author: "Gazprom is trying to seduce the Georgian leadership with relatively low gas prices to establish itself on the market and oust the Azeri company SOCAR. Next Gazprom will demand the construction of a strategic Russia–Georgia–Armenia gas pipeline and establish itself as a monopoly in Georgia. This is especially important to Russia, given the imminent lifting of sanctions on Iran." Such moves by Russia would be particularly dangerous for Georgia because of Moscow's habitual use of Gazprom as a geopolitical tool, as noted by Nika Imnaishvili, a columnist for Prime News Georgia. "It is impossible to achieve an agreement about gas supplies with Gazprom without making a political deal with the Kremlin. Any important agreement with [Gazprom CEO] Aleksei Miller is possible only after a political deal has been reached with [Russian President] Vladimir Putin himself," he asserted (Author's interviews, November 6).
Many observers and analysts in Georgia regard the government's talks with Gazprom to be an important indicator of possible changes in the foreign policy orientation of the ruling Georgian Dream coalition and the government of Irakli Garibashvili. Thus, the domestic opposition and expert community are sure to be following the government's ongoing negotiations with Gazprom particularly closely for the coming weeks and months.