Georgia: A Pillar of NATO's Wider Black Sea Strategy?
Publication: Eurasia Daily Monitor Volume: 18 Issue: 174
By: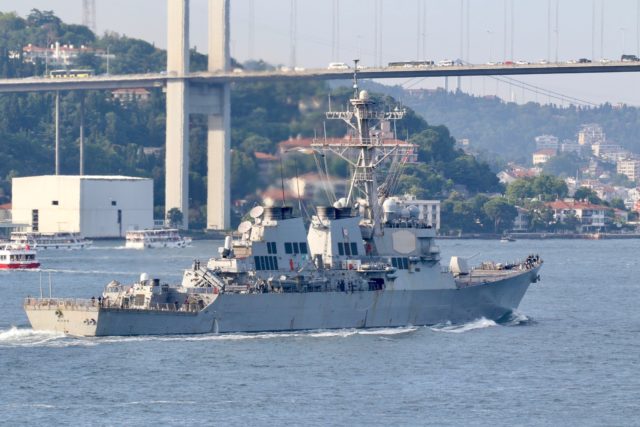 On November 8, the Blue Ridge–class command-and-control ship USS Mount Whitney (LCC 20) and the Arleigh Burke–class guided-missile destroyer USS Porter (DDG 78) arrived in Batumi, Georgia (1tv.ge November 8). According to a statement released by the North Atlantic Treaty Organization (NATO), "The port visit highlights an important relationship between NATO allies and vital Black Sea partner Georgia. Georgia has been a consistent and steadfast partner in promoting peace and stability in the region" (Civil.ge, Sfn.nato.int, November 8).
The United States' ambassador to Georgia, Kelly C. Degnan, who personally attended the docking ceremony in Batumi, reminded journalists that USS Mount Whitney, the current flagship of the US Navy's Sixth Fleet, was in Georgia 13 years ago, in September 2008, to deliver essential relief aid following the Russian invasion. "This is a concrete example of the kind of security and defense cooperation that Georgia and the United States have built over the years," Ambassador Degnan underscored. She further argued, "This is not just an opportunity to improve interoperability and joint coordination. It is a sign of our commitment to this vitally important geographic region and our unwavering support for Georgia's sovereignty and territorial integrity." Washington's top diplomat in Georgia noted, "Vessels like this allow the United States Navy to have over-the-horizon projection of force when we need it and wherever we need it. It's not easy to host a big vessel, two big vessels like this, and they [the Georgian side] did it with such flexibility and generosity" (Ge.usembassy.gov, November 9).
Port calls to the Georgian coast by warships of the US fleet and those of other NATO countries are fairly regular occurrences. On June 26, the British destroyer HMS Defender docked in Batumi on the heels of a potentially dangerous incident in the waters near Russian-occupied Crimea (Civil.ge, June 26). In addition to hosting multiple visits by US and allied ships to its Black Sea ports, Georgia annually participates in several multinational naval exercises with Euro-Atlantic forces (Civil.ge, June 26).
Just this year, as early as January, Georgian personnel joined together with detachments from 30 NATO member and partner states to conduct naval exercises aimed at improving the interoperability of allied units in the Black Sea region (Navy.mil, January 23).
Then, on March 19, four vessels of the Standing NATO Maritime Group 2 (SNMG2), a rapid reaction force of the Alliance, carried out drills in Georgia's territorial waters alongside the Georgian Coast Guard service. The SNMG2 ships consisted of the Spanish flagship Cristobal Colón (a frigate) along with its counterparts Regina Maria of the Romanian Navy, the Turkish fleet's Kemalreis and Bulgaria's Smeli. The Georgian Ministry of Internal Affairs, to which the Coast Guard department belongs, called these maneuvers a "clear message of support" for Georgia from NATO (Police.ge, March 19; 1tv.ge/news March 19). SNMG2 vessels visited Georgia last year as well, when the port of Poti hosted ships from Bulgaria, Canada, Italy, Romania and Turkey (Agenda.ge, April 8, 2020).
And in June 2021, land and sea assets as well as staff from the Georgian Defense Forces participated in Sea Breeze 2021—multinational drills led by Washington and Kyiv, hosted annually in the Black Sea areas in and around Ukraine. Georgia has participated in these marquee regional naval maneuvers since they launched, in 2001 (Civil.ge, June 29, 2021; see Monitor, July 10, 2001).
The editor-in-chief of the military-analytical journal Arsenali, Irakli Aladashvili, stressed that Georgia's lack of a standing military fleet has not hampered the intensive, routine cooperation between NATO and Georgian forces. "After the 2008 war, when the Russian aggressor destroyed several [of Georgia's] warships in the port of Poti, the Georgian authorities decided to turn over the remaining naval vessels to the Coast Guard of the Ministry of Internal Affairs," Aladashvili pointed out. According to him, "Western friends did a lot to help the country build a new defensive infrastructure in its territorial waters. […] At the same time, we did not put all of our eggs in one basket: Georgia received naval boats and military equipment not only from our main strategic partner, the United States, but also from Turkey, Greece and other countries, with which our cooperation in the Black Sea is developing very successfully" (Author's interview, November 13).
In turn, Dr. Vakhtang Maisaia, a scholar in political and strategic studies, is confident that Western countries "highly appreciate" Georgia's readiness to take part in common efforts to "contain Russian aggression" in the Black Sea. "That is why, over the past ten years, NATO members, primarily the United States, annually carry out six to seven different military actions related to Georgia, including visits to Georgian ports and joint maritime exercises or maneuvers," Maisaia contended. The expert also drew attention to another external factor: the number of US and NATO activities on the Black Sea with the participation of Georgia has especially increased in the past six years, after the annexation of Ukrainian Crimea by Russia. "Just look at the map to understand. Having occupied Crimea, Russia is trying to control the entire Black Sea, turning it into a 'Russian lake,' which poses a threat to NATO members. That is why the Black Sea is becoming no less important for the Alliance than the Baltic Sea," the expert said, adding, "it is no coincidence that as early as 2004, at the Istanbul Summit, the term 'Black Sea dimension of security' appeared in Alliance documents" (Author's interview, November 14).
This thesis of the Georgian military scholar is confirmed by the fact that at the successive Wales (2014), Warsaw (2016) and Brussels (2018) summits, the North Atlantic Alliance members collectively showed increasing concern and readiness to act in the Black Sea region (Usni.org, May 2020). That said, this readiness has not yet precipitated into political will to grant Ukraine and Georgia either a Membership Acting plan (MAP) or the status of Major Non-NATO Ally (MNNA)—despite continued destabilizing Russian military actions and strong indications of the Kremlin's readiness for even more aggressive steps going forward (see EDM, October 21).