Georgia Is Reeling After President Obama's NATO Statement
Publication: Eurasia Daily Monitor Volume: 11 Issue: 69
By: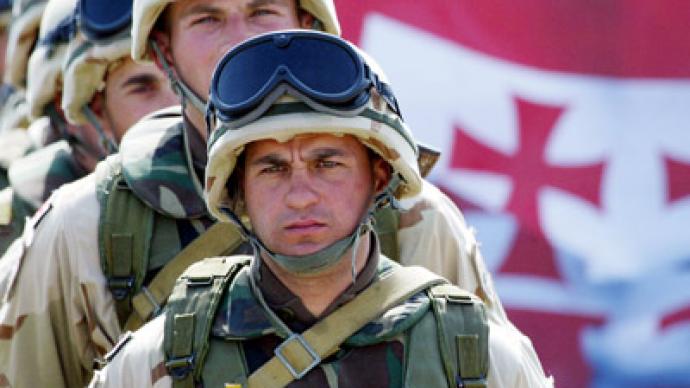 Statements and declarations about Georgia made by Western countries and especially the United States carry big weight in Tbilisi. Every one of them is read, re-read, analyzed, and scrutinized by Georgian politicians, experts and ordinary citizens alike. US President Barack Obama's March 26 statement in Brussels had even greater importance for Tbilisi as it directly touched on the issue of Georgia's possible membership in the North Atlantic Treaty Organization (NATO). Obama stated that Georgia (along with Ukraine) is not on the path to joining the North Atlantic Alliance and "there has not been any immediate plans for expansion of NATO's membership" (civil.ge, March 27). In other words, Obama clarified that NATO was not going to grant Georgia either membership or even a Membership Action Plan (MAP)—considered to be a formal path to NATO—any time soon.
Although, President Obama's remarks simply reiterated what most Georgians already understood well, it still sent shockwaves across Georgian society. To assess the impact of the US leader's statement on the Georgian public, on April 4–5, the author reached out to people of various professional backgrounds in Georgia, including academics, writers, civic society leaders and entertainers—11 residents of Tbilisi in total—asking them what they thought this statement meant for the country and its Euro-Atlantic prospects. The overwhelming majority responded that they felt deeply disappointed and betrayed, stating that Georgia's military efforts and sacrifices in Iraq and Afghanistan were ignored or unnoticed by the United States. They all asserted that President Obama was simply appeasing Moscow by sidelining small Georgia. His remarks confirmed the fears of many Georgians that the West, weary of conflict with revanchist Russia, will never accept Georgia as a NATO member (Author's interviews, April 4–5).
The Georgian leadership, however, tried to downplay the importance of Obama's statement and issued somewhat mixed and incoherent declarations. President Giorgi Margvelashvili expressed his regret but added that Georgia's NATO membership was not on the agenda of the Alliance's upcoming 2014 summit anyway (tabula.ge, March 29). Moreover, Foreign Minister Maia Panjikidze insisted that the US president did not really say that Georgia was not on a path to NATO membership (civil.ge, March 27). In a similar fashion, parliamentary speaker David Usupashvili even blamed journalists for misinterpreting the US head of state (medianews.ge, March 31), although, Obama very clearly stated that NATO was not going to give Georgia either membership, or a path to membership in the near future. Meanwhile, Prime Minister Irakli Garibashvili declared that Obama's statement was adequate and reflected reality (ghn.ge, March 27). The opposition, however, deemed Obama's statement "unfavorable" for Georgia and harshly criticized Prime Minister Garibashvili and his government's position and work toward the country's NATO integration, calling it "unmotivated" (news.ge, March 27).
If the Georgian government failed to realize what president Obama's statement really meant, Georgia's pro-Russian political groups certainly did not. These groups quickly reacted, seeing an opportunity to assert their support for Georgia's integration with Russian President Vladimir Putin's pet geopolitical project: the Eurasian Union. On March 27, pro-Russian groups staged a demonstration on Tbilisi's central Freedom Square, urging Georgia to establish a close alliance with Russia. One demonstrator even displayed a Russian flag during the rally, inciting scuffles with those opposed to the pro-Russian rally (Rustavi 2, March 27). This demonstration was a follow-up to an earlier anti-NATO gathering by another pro-Russian organization "Eurasian Institute," which commemorated the 1999 NATO bombing of Yugoslavia by screening a Russian propaganda documentary about this event at the Tbilisi-based "House of Cinematography" (pia.ge, newposts.ge; for.ge, March 24; see EDM, April 3).
Importantly, another heavy-weight pro-Russian politician, Nino Burjanadze, the leader of the Democratic Movement–United Georgia (DMUG) party, also reacted. Burjanadze said she has been telling people for years that NATO and the European Union would never accept Georgia as a member. Subsequently, she urged the Georgian public to become more realistic and to try harder to find common ground with Russia (civil.ge, March 27). Burjanadze is gaining strength. Her DMUG formed a single electoral bloc with the Christian-Democratic Alliance and drew additional forces from other political parties, including from Georgian Dream (newposts.ge, April 1, 4; topnews.mediamall.ge, March 19). Notably, Burjanadze gained over 10 percent of the total votes in the 2013 presidential elections (https://www.results.cec.gov.ge/). She may further increase her electoral base during the upcoming municipal elections in May 2014.
It is highly likely that, as the number of Georgians disappointed with the country's fleeting prospects for NATO membership continue to grow, pro-Russian forces in Georgia will in turn become more active and gain further strength. The aftermath of President Obama's recent statement dismissing Georgia's future in the North Atlantic Alliance is just one of the first strong signs of this. Certainly, a single statement, even from the US President, cannot alienate all Georgians. However, this kind of rhetoric provides marginal pro-Russian groups in Georgian society with a precedent to which they can point to and use to persuade increasing numbers of Georgians that NATO will truly never accept the country as its member. Consequently, they will be able to advocate a close alliance with Russia. Those groups will find doing this progressively effortless as NATO delays granting MAP to Georgia. And as these delays continue against the background of Russian revanchist behavior, the near future holds only uncertainty for Georgia.