Georgian Dream Coalition: Fragile Unity
Publication: Eurasia Daily Monitor Volume: 10 Issue: 9
By: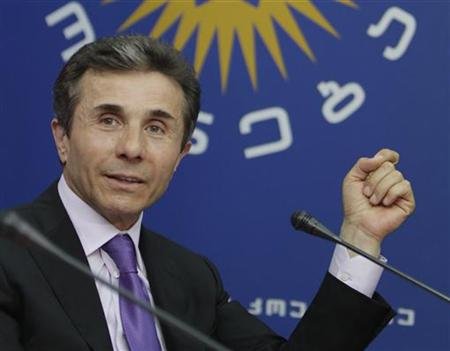 On January 4, parliamentarian Levan Berdzenishvili, one of the leaders of the ruling Georgian Dream (GD) coalition and a high ranking member of the Republican Party (RP), stated that the parties making up the coalition will run separately in the 2014 local elections. Prime Minister Bidzina Ivanishvili was quick to downplay these remarks, among the first evidence of a possible split in the coalition. He declared that it was too early to talk about the coalition splitting up and added that there has been no discussion about parties participating separately in local elections (The Messenger, January 9).
Another issue of contention within the coalition has been the pick for GD's presidential candidate who will run in the October 2013 elections. Although, according to the new constitution, the next president of Georgia will have greatly reduced powers, who it will be still matters to the strong prime minister to ensure smooth rule. Prime Minister Ivanishvili's preferred candidate is Vakhtang Khmaladze (www.civil.ge, December 24, 2012), a largely colorless political figure. Irakli Alasania, the leader of GD member Our Georgia–Free Democrats Party (OGFD) and the current minister of defense, stated that it was too early for the coalition to decide who the candidate would be (www.opinion.ge, December 24, 2012). Alasania may harbor presidential ambitions of his own, and his party actually stated that Alasania could be their candidate (www.24saati.ge, January 9; www.live.ge, January 8). Some rumors even persist that GD may put forward several presidential candidates (www.interpressnews.ge, January 7; www.versia.ge, January 11).
Although so far Georgian Dream has kept up the outward appearance of unity, the coalition is hardly a monolith. It consists of six political parties and a number of unaffiliated figures, including some Eduard Shevardnadze–era (1992–2003) leftovers. Among the coalition members, the main party is Georgian Dream–Democratic Georgia (GDDG), established and led by billionaire Bidzina Ivanishvili himself (www.civil.ge, April 21, 2012). It is a hybrid party, uniting former Georgian soccer player of the Italian club A.C. Milan Kakha Kaladze, chess grandmaster Zurab Azmaiparashvili, Shevardnadze-era diplomat Tedo Japaridze, as well as a number of other well-known—some even odious—figures. GDDG's declared program includes: the revival of the agricultural sector through state intervention, democratization, Euro-Atlantic integration and the normalization of ties with Russia.
Two of the coalition members—RP and OGFD—are formally liberal parties, with declared pro-Western foreign policy orientations. RP is led by Speaker of the Parliament David Usupashvili. OGFD is led by Minister of Defense Irakli Alasania. Regardless of their ideological closeness these two parties tried but failed to establish an enduring political coalition in the past (www.interpressnews.ge, June 16, 2010).
GD also includes the nationalist Conservative Party, led by Zviad Dzidziguri, a former loyalist of the overthrown Georgian President Zviad Gamsakhurdia (1991–1992). The coalition's other members include National Forum (NF), led by Kakha Shartava. The NF leader is the son of Zhiuli Shartava, the head of the government of the Autonomous Republic of Abkhazia, who was killed by Abkhaz separatists during the Russian-supported secessionist war and accompanying ethnic cleansing in 1992–1993. The party also includes some well-known political figures, such as Gubaz Sanikidze, Irakli Melashvili and several Shevardnadze-era former high-ranking bureaucrats. NF opposes Georgia's NATO membership, advocating neutrality. The coalition's sixth member, Industry Will Save Georgia (IWSG), led by the beer magnate Gogi Topadze, also resists Georgia's NATO membership.
The coalition is ideologically quite eclectic. However, political coalitions and parties in Georgia rarely, if ever, are formed or fractured because of ideological similarities or differences. Ideologies matter little. Parties and coalitions in Georgia are formed around influential personalities to help them take power. Once a ruling regime is defeated and power is acquired, the winners must act to satisfy allies, their patron networks, and sometimes their family members and relatives, appointing them to various government positions. If most of the important political players are not satisfied, a coalition may split. This is how different factions within a coalition gain and maintain political influence. GD is no exception to this notorious rule. One of the cleavages that may split GD in the future lays in the issue of such redistribution of government positions.
So far, the GD-led ruling team continues this highly damaging tradition of previous Georgian governments: distributing government positions to family members and close relatives. For instance, defense minister and OGFD leader Irakli Alasania's sister-in-law Maia Panjikidze has been appointed minister of foreign affairs. Speaker of the parliament and RP leader David Usupashvili's wife Tinatin Khidasheli has been put in charge of a powerful parliamentary commission, tasked with investigating the activities of previous government members. Family members and close relatives of high-ranking GD members also began to receive important executive positions in regional municipalities (www.iveroni.com.ge, January 8), replacing family members and relatives of now defeated United National Movement (UNM) members. So far, GD seems to be satisfying its members' ambitions. If this trend changes, however, the coalition may begin to split.
Another reason for the split can be a (dramatic) change in the country's foreign policy orientation. Foreign policy orientation for Georgian political parties is more a means for self-legitimization and international support rather than the illustration of their real belief in certain values. If some GD member parties see that the coalition government is moving sharply toward either geopolitical power center (the West versus Russia) and they feel they are losing out politically, the coalition may start to disintegrate.
The coalition may also split when the danger of the UNM's return to power recedes. After all, GD was formed not for ideological closeness of different parties, but to defeat UNM and Mikheil Saakashvili. Although, UNM is defeated and weakened, it is still in quite a strong position to stage a comeback if GD disintegrates. Therefore, GD is forced to stay together. Once UNM weakens further or disintegrates altogether, GD may follow, seeing no need to maintain unity. Finally, GD may also split if some major scandal hits the coalition, inducing members to distance themselves quickly. For now, GD remains united, but its eventual disintegration is unavoidable. It is not a question of if, but rather of when.