GEORGIAN OFFICIALS ADMIT THEY MISREAD RUSSIAN INTENTIONS
Publication: Eurasia Daily Monitor Volume: 5 Issue: 208
By: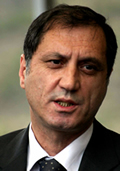 The State Duma unanimously ratified treaties with the Georgian breakaway regions of South Ossetia and Abkhazia that will formalize military, diplomatic, and economic ties and allow Moscow to deploy thousands of troops there. Russian officials say that Abkhazia and South Ossetia may soon join the Union State of Russia and Belarus, while Russian military bases in the separatist regions will become an integral part of Russian defense organization (Interfax, October 29).
During the ratification procedures in the Duma, Deputy Foreign Minister Grigory Karasin announced that Russia would deploy two army brigades "of approximately 3,800 men each" in Abkhazia and South Ossetia. According to Karasin, the situation in the region continues to be tense, "with Georgian special forces deploying close to Abkhazia and South Ossetia" (RIA-Novosti, October 29). Abkhaz "foreign minister" Sergei Shamba has stated that the number of Russian solders may in fact be bigger—"as much as is needed." Shamba confirmed that Russian border guards would be stationed on the separation line with Georgia and that the Abkhaz military would be integrated with the Russian armed forces. Russia would provide training, weapons, and commanding officers (Nezavisimaya Gazeta, October 30).
Additional Air Force and Naval units will be permanently stationed in Abkhazia and South Ossetia. The Russian border guards, while being an armed force with its own air force and navy, belong to the FSB security service; and their deployment will be in excess of the announced 7,600-strong Russian army contingent. The overall strength of Russian troops and Russian-lead local separatist forces in Abkhazia and South Ossetia is estimated at over 30,000, with hundreds of tanks and other armor, heavy guns, ships, and military aircraft. Massive reinforcements may be sent in anytime from the north by Moscow. These forces grossly outnumber and outgun the Georgian regular military, but precise figures are unavailable, because of the typical Russian obsession with secrecy and because foreign observers are not allowed unimpeded access to inspect Abkhazia or South Ossetia.
While Russia is consolidating its control, a parliamentary commission in Tbilisi began investigating the war with Russia in August. Georgian ministers and military and security officials have testified, with part of the hearings public and others behind closed doors for security reasons. There are no plans to have any hearings in the Russian parliament or any other official public investigation there of the events that led to war with Georgia in August.
The secretary of Georgia's National Security Council, Alexander Lomaia, testified that Russia had used about a third of its combat-capable land forces in the operation against Georgia, and "neither we nor any foreign intelligence service had any information about Russia's expected full-scale invasion and occupation of a large part of our territory; it was a shock and a surprise." According to Lomaia, it was known that several thousand Russian troops were on the border of South Ossetia during the Kavkaz-2008 military exercises and had apparently begun moving in on August 7; but the Georgian leaders believed they had enough troops to deal with such a force (Civil Georgia, October 28). Apparently, the Georgians did not notice a statement by General Yuri Netkachev that the number of troops involved in Kavkaz-2008 exercises (8,000) "was officially underestimated" (Nezavisimaya Gazeta, July 18).
Georgian foreign intelligence service chief Gela Bezhuashvili testified, "We were expecting that Russia would escalate tension in September, October, or in November 2008." There was no information that Russia was planning an attack out of Abkhazia to occupy Western Georgia (Civil Georgia, October 25). Apparently, the Georgians did not take a statement by Shamba seriously—"It will take us two days to go on the offensive into Western Georgia and create a security buffer zone" (Kommersant, May 5).
Minister for Reintegration Temur Iakobashvili testified that on August 7 in Tskhinvali the commander of the Russian peacekeepers in South Ossetia General Marat Kulakhmetov had told him that they could not control the Ossetian forces; they had deployed guns near his headquarters (Kommersant, October 28). Indeed Kulakhmetov told Russian journalists that he needed more troops to control the situation (RIA-Novosti, August 7). For the Russians this was a signal to begin the invasion, while the Georgians may have considered this a tacit endorsement of a limited operation against the "uncontrollable Ossetians."
The chief of staff of the Georgian armed forces Zaza Gogava testified that on August 7 he was ordered by President Mikheil Saakashvili "to stop all types of military forces coming into Georgia from Russia" and to suppress the firing positions of the Ossetian separatists (Civil Georgia, October 28). The Georgian forces moved in and only by August 10 understood the scope of the Russian invasion. An overall retreat was ordered.
The massive invasion indeed caught the Georgians off guard and unprepared. Russia, lead by former KGB spy Vladimir Putin, managed to cover its preparations and intentions not only from the Georgians, but also from Western governments and intelligence services.