Georgians Support Euro-Atlantic Integration and Want Visa Regime for Russians
Publication: Eurasia Daily Monitor Volume: 19 Issue: 62
By: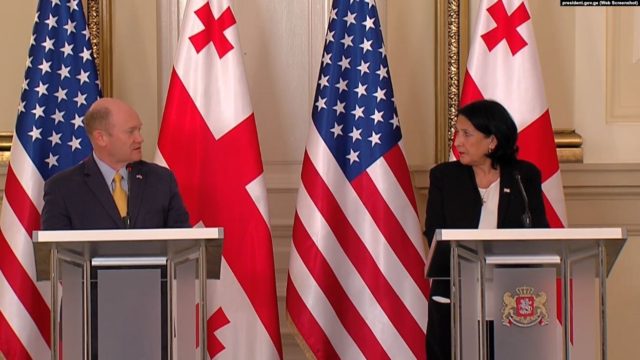 On April 21, a United States Congressional delegation arrived in Georgia, as part of a wider European trip, to "discuss the strengthening of the Transatlantic alliance." In addition to the South Caucasus country, the US lawmakers, all members of the Democratic Party, also visited France and Italy. The Congressional delegation was headed by the chair of the Appropriations Subcommittee on State and Foreign Operations, Senator Christopher Coons (Delaware). Other participants included Michigan Senator Gary Peters (the chairperson of the Homeland Security and Governmental Affairs Committee), Senator Robert Casey (Pennsylvania), as well as Representatives Stephanie Murphy (Florida), Kathleen Rice (New York), David Cicilline (Rhode Island), and Theodore Deutch (Florida). They met in Tbilisi with Georgian government officials, the opposition and civil society leaders (Formulanews.ge, April 22).
"We are here intentionally, we are here because we know Georgia is important… We see the critical steps Georgia is taking in this region and on the world stage," Senator Coons said during the joint press briefing with Georgian President Salome Zurabishvili. The US lawmaker also spoke of Russia's aggression against Ukraine and the Georgian response to the conflict. "We are so grateful for your clear and forceful statement, for your nation's votes at the United Nations, for the assistance you are providing, both as individuals, as Georgian families, and churches, and communities and as a nation," he underscored (Civil.ge, April 21).
Indeed, despite the great caution of the Georgian government toward Russia, Georgia has voted against Russian aggression at all major international platforms, including the UN General Assembly and the Parliamentary Assembly of the Council of Europe. It also co-sponsored the UN Security Council resolution (vetoed by Russia) in support of Ukraine, and it backed the initiative of the United States and European countries for the International Criminal Court to investigate alleged Russian war crimes in the Ukrainian city of Bucha (Agenda.ge, February 26; see EDM, February 9, March 7). Finally, Tbilisi adopted Western financial restrictions on Russian individuals and legal entities residing inside Georgia.
But Georgia expects more security guarantees from the West because Russian occupying troops stationed in South Ossetia are only 40 kilometers from the Georgian capital. "Today, as never before, Georgia needs your support and the strong relationship between our two countries," President Zurabishvili pointed out following her discussion with the visiting US Congressional delegation. She further argued, "By coming here, you corroborate that the strategic partnership between Georgia and the United States is not [just] a word, but a reality. Our standing here today is yet another strong signal that no one will give up [Georgia's] freedom and independence." Zurabishvili also asserted that the US and Georgia are working together to ensure the security of the Black Sea and the stability of the South Caucasus region. "Now, Ukraine fights not only for its sovereignty and freedom, against the total aggression of Russia, but also for our freedom and peace and those of the whole of Europe," she declared (Radio Tavisupleba, April 21).
The following day, on April 22, during his meeting with the US lawmakers, Georgian Prime minister Irakli Garibashvili reaffirmed his government's readiness for "close cooperation" in order to further strengthen the bilateral partnership in defense, trade, economy and investment. Georgia "was and remains a strong and reliable partner of the United States in the [Black Sea] region and abroad," Garibashvili assured his guests. The two sides also spoke about the ongoing hostilities in Ukraine and the impact of the war on the regional security environment. The head of government regarded as "very important" bipartisan support for Georgia on Capitol Hill; while the visiting Congressional members reaffirmed the US legislative branch's "unwavering support" for the sovereignty and territorial integrity of Georgia (Agenda.ge, April 22).
Concurrently with the US delegation's visit, James Appathurai, the deputy assistant secretary general of the North Atlantic Treaty Organization (NATO), arrived in Tbilisi to discuss Alliance support to Georgia amidst Russia's war on Ukraine as well as to reaffirm the NATO's open door policy. Appathurai is a key figure in determining the Alliance's policy toward Georgia and the South Caucasus. "NATO countries decided to do more to support our closest partners, including Georgia, and that is why I am here," Appathurai stated (Euronewsgeorgia.com, April 20). "We want to be involved in Georgia as well, which is already clearly experiencing big difficulties from Russia. There is already a lot of NATO in Georgia, but we want to bring more NATO to Georgia and more Georgia to NATO," he added (Interpressnews, April 20).
Gocha Mirtskhulava from the independent news agency Nation.ge, cautioned, in an April 24 interview with this author, that statements in support of Georgia by influential US and European politicians as well as NATO officials do not mean that Georgia will soon receive a Membership Action Plan (MAP) to join the Transatlantic alliance or become a member of the European Union. But against the backdrop of the Ukrainian tragedy, the West's interest in Georgia has grown significantly because Georgia occupies a key geographical position near the Black Sea and in the South Caucasus.
Meanwhile, polling results released on April 21 by the National Democratic Institute (NDI) show that the Russian invasion of Ukraine has amplified Georgian citizens' views that Georgia should strengthen its pro-Western course. For example, according to NDI's findings, in March (after the start of the full-scale Russian aggression, which began on February 24), the number of those advocating for close ties with the EU grew to 42 percent from 29 percent in February. And those supporting the idea of cooperation with the Russian Federation decreased to 13 percent from 16 percent (Ndi.org, April 2022).
Almost two-thirds of Georgian citizens (66 percent) answered positively to NDI's question formulated as follows: "Now citizens of the Russian Federation do not need a visa to come to Georgia. In your opinion, should the Georgian government introduce a visa regime for Russian citizens?" Only 23 percent of respondents responded negatively (Ndi.org, April 2022).
During March and April, tens of thousands of Russians arrived in Georgia seeking temporary residence (see EDM, March 30). Georgian Institute of Public Affairs (GIPA) professor Tornike Sharashenidze believes Georgians are afraid of the rapid growth of Russian residents in their country. Moscow could try to use this situation to carry out new aggressive provocations against Georgia (Author's interview, April 24). The latest opinion surveys show that Russia's war against Ukraine has become a "turning point" and a "moment of truth" for many Georgians. Earlier beliefs in the possibility of good neighborly relations with Russia are dissolving with each passing week.