Georgia's Hyper-Competitive Presidential Election: Prelude to Political Turmoil?
Publication: Eurasia Daily Monitor Volume: 15 Issue: 162
By: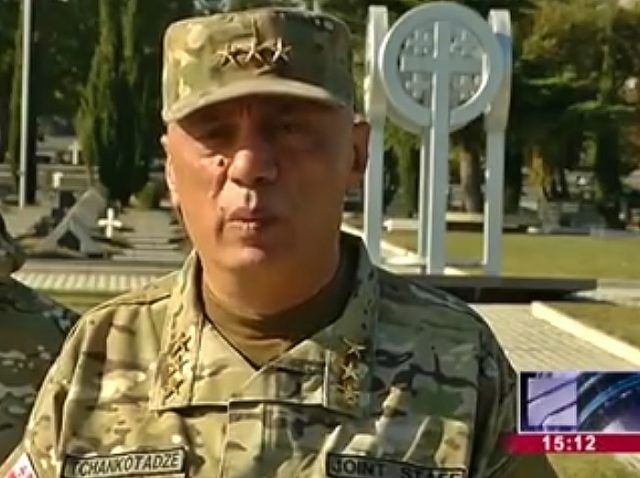 The second round of presidential elections in Georgia is scheduled to take place in a few weeks. The first round of voting, on October 28, did not reveal an outright winner. The candidate from the ruling Georgian Dream (GD) party, former French ambassador to Tbilisi Salome Zurabishvili, and Grigory Vashadze, the representative of former president Mikhail Saakashvili's United National Movement (UNM), each scored an almost equal number of votes—roughly 38 percent (see EDM, October 31).
These have been the most competitive elections in Georgia since the country regained its independence, on April 9, 1991. Each of the previous four Georgian presidents won their elections in the first round. But the election of the fifth head of state is occurring against the background of the tough political struggle between the country's two largest parties, which are gradually becoming irreconcilable enemies.
Speaking with reporters on November 12, Zurabishvili said that a number of former Georgian military service members, allegedly associated with Saakashvili and who are fighting against pro-Russia forces in Ukraine, have sent her and her children menacing text and voice messages (Agenda.ge, Civil.ge, November 12). These threats on her and her family's lives were apparently prompted by statements she made during the campaign, "blaming" Georgia for the 2008 Five-Day War against Russia (see EDM, October 31). Former Georgian military members, including high-level officers, fear that if Zurabishvili becomes president, they will be extradited to the Hague Criminal Court on charges of committing war crimes in South Ossetia (Agenda.ge, September 27).
Earlier this month, the former chief of the General Staff of the Georgian Armed Forces, three-star General Devi Tchankotadze, who commanded Georgian artillery forces during the Five-Day War, openly declared that the president should not be a person "who accuses her country of beginning an aggressive war." The general made his statement in military uniform, at a military cemetery, where soldiers who died during the 2008 Russian-Georgian conflict are buried (Kvira.ge, November 8).
Immediately after General Tchankotadze made his remarks, dozens of former soldiers wrote on social networks that they consider Zurabishvili a "traitor to the motherland." Many were dressed in a military uniform on their profile pictures (Rustavi 2, November 13).
Meanwhile, the political opposition and non-governmental organizations set up tents on Rustaveli Avenue, in front of the parliament building. All the most important events in modern Georgian history began there, including the military coup and civil war of 1991–1993 as well as the 2003 "Rose Revolution." The police tried to prevent the opposition from setting up this tent city, but did not dare to use force. "We are trying to avoid an escalation in violence," Minister of the Interior George Gakharia explained (Kommersant, November 11).
Many pro-government politicians and public figures believe that former president Saakashvili and his team are preparing an illegal seizure of power, if Grigory Vashadze does not win the second round of presidential elections. In a November 12 interview with this author, the leader of the social movement "Stop Saakashvili," film director George Khaindrava, noted, "Moscow sent its envoy, Mr. [Vitaly] Shklyarov, to help the KGB agent [sic] Vashadze." Vitaly Shklyarov is a famous US-Russian political operative who has been advising the opposition in this year's presidential elections (Ekho Kavkaza, November 2). "Mr. Shklyarov does not hide that Saakashvili and Vashadze are planning a so-called 'revolution' under the pretext of falsifying the election results and bringing hundreds of thousands of supporters to the streets to overthrow the legitimate government," Khaindrava warned. The pro-government film director expressed confidence that the opposition presidential candidate will not be able to honestly win the election, because "the Georgian people will not allow the return of autocrat Saakashvili" (Author's interview, November 12).
But one of the opposition leaders, Republican Party founder Levan Berdzenishvili, called all such statements about purported plans to organize a revolution or a military coup "stupid." "We will honestly win these elections, because about a million voters cast ballots for all the opposition candidates in the first round and 600,000 [voted] for the candidate from the ruling party," Berdzenishvili pointed out (Author's interview, November 12).
According to him, the current political crisis in Georgia is the result of the incompetent rule of billionaire Bidzina Ivanishvili and his GD party. "Ivanishvili could not solve a single problem. Complete chaos ensued. Finally, Ivanishvili nominated presidential candidate Salome Zurabishvili, who speaks bad Georgian and accuses her country of starting the war with Russia. We, the 'Georgian Republicans,' are not fans of Mikhail Saakashvili and were in opposition to him, but now the time has come when we realized that the oligarch can be defeated only with Saakashvili. Only he and his party have the strength to do it," Berdzenishvili stressed (Author's interview, November 12).
Ilya University Professor Ghia Nodia argues that the time is ripe for changing the regime through elections. "Many believed that the government of Georgian Dream was incompetent. But in the past few months, a lot of evidence was published indicating that this is not just an incompetent government, but it is corrupt and criminal," Nodia, declared, referring to several scandals pertaining to leaked secret recording of influential persons affiliated with Ivanishvili (Author's interview, November 12).
One of the leaders of the ruling party, parliamentary chairperson Irakli Kobakhidze, recently alleged that the "revolutionary scenario" is not an exaggeration. "Saakashvili and his team are really preparing for a revolution, but we will not allow this," the speaker warned. (Marshalpress.ge, November 13).
The election campaign is occurring against the background of increasingly radical polarization of society, including in the media. Human rights activist Elena Tevdoradze, who has participated in all election campaigns over the past 25 years, made this point in an interview with this author. "Imedi TV Company supports the authorities and TV Rustavi 2—the opposition. I am sometimes scared to watch their programs because there has never been such hostility," Tevdoradze asserted. She claimed she often talks with people who are afraid to go to the polls and fear for the fate of their children (Author's interview, November 12)
Georgia's Western partners are closely watching the emotional election campaign that has unfolded, but so far they see no reason to actively intervene. Only the European Union's ambassador to Georgia, Carl Hartzell, has warned that "hate speech, negativity and threats are unacceptable" (Marshalpress.ge, November 13).
The coming weeks will demonstrate whether Georgian democracy can peacefully overcome the crisis and prove to the world that Georgia is not a failed-state, where revolutions and coups happen once a decade.