Georgia's Once Powerful Former Ruling Party Is in Danger of Fragmentation
Publication: Eurasia Daily Monitor Volume: 12 Issue: 219
By: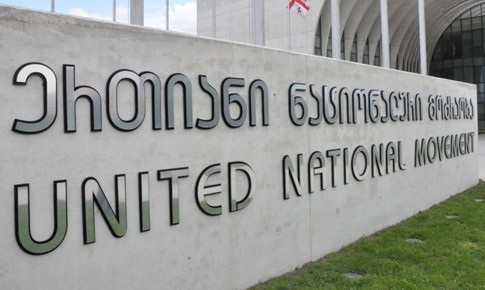 United National Movement (UNM), Georgia's once powerful political party, which spent nine years (2003–2012) in power, is in serious trouble. The start of December 2015 brought new revelations of the party's internal power struggle and fragmentation, which turns out to be much deeper than previously believed. On December 3, the Ukrainian website Uarevo published a wiretapped phone conversation between Goka Gabashvili, one of the highest ranking UNM members and a confidante of Georgia's former president Mikhail Saakashvili, and his brother Lado Gabashvili. In a seven-minute phone conversation, Goka Gabashvili, using highly expletive language, allegedly calls Saakashvili "power crazed" and accuses him, as well as Georgia's former attorney general Zurab Adeishvii and the former minister of interior Bacho Akhalaia, of trying to sideline himself as well as former secretary of national security Giga Bokeria and former Tbilisi mayor Gigi Ugulava. In this brief conversation, Goka Gabashvili reveals an apparent intense power struggle happening within the party between two major clans: that of Saakashvili versus Bokeria-Ugulava. As Gabashvili implies, this struggle seems set to continue because Saakashvili is allegedly trying hard to quell dissent in the party and consolidate power for himself and a narrow circle of his allies (Uarevo, News.ge, December 3).
UNM's fall from power after the October 2012 parliamentary elections had a highly negative impact on party cohesion and discipline. This electoral defeat brought to the surface all the existing cleavages within the organization as its members had lost their incentive to stay in the party. Just from October 2012 to March 2013, 12 out of 65 UNM parliamentarians left the party, thus shrinking UNM's presence in the Georgian parliament to 53 in the 150-member legislature (Civil Georgia, March 20, 2013). Moreover, in May 2015, four high-ranking members of parliament left UNM (Sazogadoeba.ge, May 25, 2015). Several months later, this splinter group formed a new political party, "Pine Cone" (Interpressnews.ge, November 5; see EDM, November 19). In November 2015, yet another top UNM member and President Saakashvili's former chief of staff (2012–2013), Andro Barnov, abandoned the party, citing an ongoing standoff within the political faction (Medianews.ge, November 11).
The rapid defection of its members is not the party's only problem. With Saakashvili out of the country as of 2013, UNM remains largely leaderless. Although the former president is still UNM's formal head, his physical absence from Georgia certainly contributed to the power vacuum and subsequently to the internal power struggle that was revealed by the released audio tape of the Gabashvili brothers. Saakashvili's grasp over UNM thus appears to be slipping away.
This was further underscored by recent events surrounding the opposition Rustavi 2 TV channel, which the ruling Georgian Dream government has tried to take over. In a previous wiretapped phone conversation, Saakashvili allegedly instructs two of his high-ranking confidants in Georgia—Rustavi 2 Director Nika Gvaramia and Giga Bokeria, the former secretary of national security—to prepare for and actually provoke a violent confrontation with government forces in order to orchestrate a takeover of power in the country (Uarevo, October 29; see EDM, November 5). But the streets in Tbilisi remained calm after these conversations. Assuming the tape was in fact genuine, this lack of public protests suggests either that both of these men disobeyed or, at the very least, that they were incapable of implementing their party leader's purported plan. Such disobedience or ineptitude by UNM members would have been unthinkable or intolerable while Saakashvili still exercised full and resolute power and authority over this political group. Moreover, the party's high-ranking members increasingly use critical and sometimes even derogatory language to express their displeasure against the UNM's leader (Marshalpress.ge, June 13).
UNM's dismal popular support adds to its internal problems. The party that ruled Georgia with a constitutional super majority for nine years now enjoys a mere 13 percent of the public's support, according to the latest polls (Ndi.org, August 2015). With such low popularity numbers, the party may find it difficult to stay in Georgian politics, let alone fight its way back to power. The UNM failed to acknowledge or apologize for the past abuses of power it has been criticized. In addition, it has not been able to attract any new faces within its ranks. Consequently, it is unclear how it can improve its public support in the months and years to come.
The most recent blow to UNM to date was President Giorgi Margvelashvili's decree, on December 4, which stripped Saakashvili of his Georgian citizenship. The former head of state, now the governor of Ukraine's Odesa region, automatically lost his Georgian citizenship when he was granted Ukrainian citizenship in May 2015. President Margvelashvili's decree merely finalized this procedure. The political significance of the loss of Saakashvili's Georgian citizenship is much bigger, however. According to the country's law on political parties, only Georgian citizens can participate in elections (Civil Georgia, December 4). Hence, Saakashvili lost the ability to run in the 2016 (and further) elections, which effectively deprives UNM and the party's remaining supporters of a strong personality for whom they could vote on election day.
During his presidency, Saakashvili many times asserted that UNM, which he established in 2001 and turned it into a powerful ruling party, would outlive him. But as the events since 2012 show, that may no longer be the case. UNM seems to be on a path of disintegration; and so far, it is not clear how this process can be stopped. Another question is which party will take the elusive role of the main Georgian opposition party if UNM further weakens politically and organizationally. Like never before, this spot now appears ripe for the taking.