Georgia's Ruling Coalition Delivers Coup de Grace to Salvage Its Electoral Support
Publication: Eurasia Daily Monitor Volume: 13 Issue: 4
By: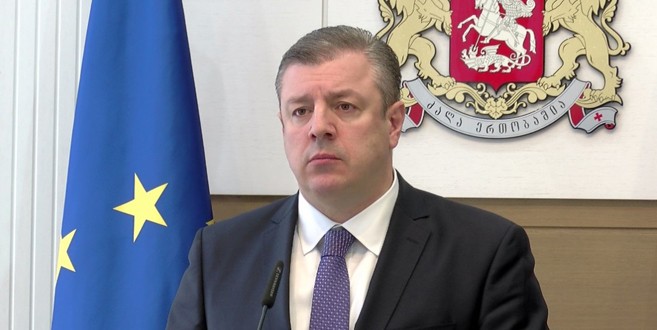 On December 23, Irakli Garibashvili resigned from his post as prime minister of Georgia (Channel 1 TV, Rustavi 2 TV, Imedi TV, December 23, 2015). The decision came as a surprise to Georgian society since, just two days earlier, Prime Minister Garibashvili boasted that his government was highly successful (Rezonansi, December 24, 2015). His statement was hardly believable against the background of Georgia's profound economic crisis and continued geopolitical vulnerabilities. Nevertheless, a head of government who so publicly praises his cabinet is rarely expected to resign so abruptly.
No less puzzling was the stated cause of the resignation. As Garibashvili declared, for Georgia's young democracy it was of huge importance what kind of examples they (Georgian politicians) set for future generations. "Official posts are temporary, God and homeland are eternal. Therefore today I took a decision to leave the post of prime minister," Garibashvili announced on the day he was stepping down (Civil Georgia, December 23, 2015). However, the prime minister never explained why he felt a need to set this example now. Moreover, he gave no hints until that point that he had been contemplating a decision of such political magnitude.
The overwhelming belief is that Georgian billionaire Bidzina Ivanishvili, a former prime minister (2012–2013) and the founder of the ruling Georgian Dream (GD) coalition, was behind the ouster of his former protégé, Garibashvili, discarding him with ease when the political circumstances demanded it (Rustavi 2, December 2, 2015). With the November 2016 parliamentary elections less than a year away, GD's position is shaky at best. Its popularity stands at a mere 14 percent, as the devaluation of the Georgian lari since early 2015 sent hundreds of thousands more Georgians into poverty, and nepotism and oversized financial bonuses, assigned to high- and medium-ranking bureaucrats, added to the anger of the disappointed and impoverished public (NDI, August 2015). Evidently, GD needed a scapegoat on which the ruling team could blame all of its blunders. Subsequently, it cut short the ineffective prime minister's tenure in a bid to save Ivanishvili's party and give it a chance to win in the upcoming elections.
The founder of Georgian Dream strongly objected that he had anything to do with Garibashvili's resignation. As he stated, it was Garibashvili's personal decision, and he (Ivanishvili) had "no means and mechanisms to force him to resign" (Vestnik Kavkaza, December 31, 2015). He even dubiously praised Garibashvili for leaving the post "at the peak of his successful tenure" as prime minister (News.ge, December 30, 2015).
With Garibashvili safely out of the way, the Georgian parliament quickly confirmed Giorgi Kvirikashvili, who served as foreign minister since September 2015, to head the government (Businesscontact.ge, December 30, 2015). Kvirikashvili leaves an impression of a balanced, respectable manager, who looks quite professional compared to his 32-year-old predecessor. However, it is difficult to imagine him as an independent political figure capable of leading the country according to his own political vision. Just like Garibashvili, Kvirikashvili also lacks his own political base—a political party—something which is an absolute necessity for a politician and a ruler to keep power in a country like Georgia. Thus, Kvirikashvili will most likely be entirely dependent on GD's parliamentary majority, which itself is controlled by Bidzina Ivanishvili.
Overall, the replacement of the head of government increasingly looks like little more than a cosmetic measure, an illusion of positive change during this election cycle. Notably, the new prime minister has not replaced a single cabinet member (except for filling the foreign minister's seat, left vacant by him). The parliament, thus, approved a new government that was essentially unchanged (1tv.ge, December 30, 2015). Had the ruling coalition aimed at fundamental changes—rather than just the illusion of such—it would have introduced sweeping cadre swaps within the cabinet to revamp the government's entire policy direction.
The irony is that this step might actually work for Georgian Dream. With the United National Movement (UNM) still widely unpopular and other mainstream opposition parties struggling in the polls, the change of prime minister could, in fact, create the sense of much-needed renewal and fresh expectations among the Georgian public, at least for the next 9–10 months, in time for the upcoming election season. This is not to say that GD will find it easy to win the parliamentary elections in November. It still faces an uphill battle to this end. However, Garibashvili's resignation certainly provides an opening to the ruling coalition to repackage and remarket itself.
Overall, this coming year promises plenty of drama and political spectacle but probably little policy substance as Georgia's increasingly dysfunctional political elites vie for power. For now, it seems that GD already has a good head start in this direction. However, as the election campaign enters full swing, others will seek to boost their profile as well.