Germany Is Real Target of Italy's Opposition to Russia's Planned Nord Stream Two
Publication: Eurasia Daily Monitor Volume: 13 Issue: 11
By: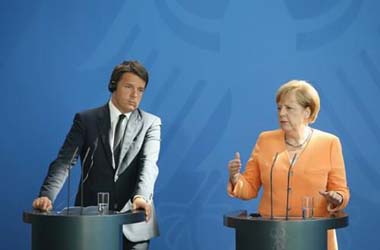 A unique coalition is taking shape in Europe against German-Russian plans to double the Nord Stream natural gas pipeline. Italy has joined a group of countries, mostly from Central-Eastern Europe, in opposing the implementation of this energy project, which is spearheaded by Russia's state-run gas monopoly Gazprom. Until now, some eastern European Union members states, including the Baltics (Lithuania, Latvia and Estonia) and Poland—countries particularly sensitive to Russian moves to reassert geopolitical influence over the former Soviet space—had frequently accused Rome of not standing firmly enough against Moscow's aggressive foreign policy.
Nord Stream runs under the Baltic Sea and connects Vyborg, in Russia, with Greifswald, in Germany. Its projected expansion (also known as Nord Stream Two) should be completed by 2019, doubling the existing pipeline network's current capacity of 55 billion cubic meters (bcm) of gas. Opponents to Nord Stream's upgrade, including the United States, argue that the initiative may be geopolitically dangerous for Europe. With Nord Stream Two up and running, Russia might, in fact rely, on the Baltic Sea corridor to circumvent politically unfriendly neighbors in Eastern Europe—not least Ukraine—and supply gas directly to Germany and Western Europe (see EDM, September 15, 17, 21, 2015).
During the last EU summit, in mid-December 2015, European Council President Donald Tusk bluntly stated that Nord Stream Two posed a problem for Europe's energy policy (Reuters Italia, December 18, 2015). According to data from the European Commission, which Tusk cited at the time, if Nord Stream Two were to be developed, it would increase the continent's dependence on one supplier and concentrate 80-percent of Russian gas imports into one Europe-bound route (Ansa, December 21, 2015).
Italy and other EU countries contend that Germany is opportunistically breaching the rules of the EU's Third Energy Package, which maintains that one company—in this case Gazprom—cannot own both the pipeline and the gas being piped through it. Italian Prime Minister Matteo Renzi raised the issue at the EU meeting last December. On that occasion, he highlighted that the doubling of Nord Stream would undercut Europe's much-trumpeted quest for energy security—in particular, the diversification of suppliers and routes (Ansa, December 19, 2015).
Apart from the legal basis of the Nord Stream Two initiative, Renzi also warned of its geopolitical implications. In the Italian prime minister's words, the expansion of Nord Stream contradicts Europe's current sanctions policy against Russia. Yet, Italy's protests against Nord Stream Two are not really about Rome's relations with Moscow, which remains an important political and economic partner for the Italian government. Rather, it is all about the balance of power within the EU. Prime Minister Renzi is trying to challenge Berlin's excessive power in the European bloc, notably over the handling of the continental economy and the immigration crisis. And Italy's allegations of Germany's self-interested double standards toward Russia have soured relations between the two European countries (Corriere della Sera, December 18, 2015).
Germany was at the forefront of a group of EU countries that pushed against the construction of the South Stream pipeline, a Gazprom-led initiative to transport Russian gas from the Black Sea coast to Europe by outflanking Ukraine, which the Kremlin scrapped late in 2014. Italy believes that Germany exploited the EU Third Energy Package to derail South Stream because, at its core, this project was a product of the partnership between the Italian state-owned oil and gas producer ENI and Gazprom (RT, December 16, 2015). Some Italian observers believe that the realization of South Stream could have turned the Italian Peninsula into a key transit point for Russian natural gas, something that would have collided with Germany's efforts to become the only energy hub in Europe for gas coming from Russia (Corriere della Sera, December 19, 2015).
Italy is currently working to transform itself into a transit country to redirect to Northern and Western Europe gas supplies coming from the Caucasus and the Mediterranean. In this regard, Rome is increasing its participation in the Southern Gas Corridor (SGC), a planned system of pipelines to bring natural gas from the Azerbaijani gas field of Shah Deniz to Italy via Georgia, Turkey, Greece and Albania. And the SGC could be potentially extended to channel Iranian and Turkmenistani gas.
Italy's southern border is expected to be the entry point of gas piped to Western Europe through the SGC's westernmost section, the Trans-Adriatic Pipeline (TAP). Last December, Italy's energy firm SNAM, which is controlled by the Italian Treasury, bought from Norway's Statoil a 20-percent stake in the TAP consortium. TAP will carry 10 bcm of Azerbaijani gas to Europe by 2018, with the probability of doubling supplies in the future (Repubblica, December 17, 2015).
Germany's Chancellor Angela Merkel has been defending her government's energy policy, asserting that the doubling of Nord Stream is simply an economic opportunity for German and Russian enterprises: an initiative that does not harbor any underlying geopolitical designs (RT, December 18, 2015). According to Russia's permanent representative to the EU, Vladimir Chizhov, the Third Package does not legally apply to Nord Stream Two because it will be an offshore pipeline running through international waters (TASS, December 24, 2015).
It seems that the Kremlin is working hard to paper over Italy and Germany's disagreement over the expansion of Nord Stream. Russia blames the attempts to sink Nord Stream Two only on the Baltics, the Visegrad Four (a loose political grouping of the Czech Republic, Hungary, Poland and Slovakia), Ukraine and the US, while never mentioning Italy (Sputnik News, January 4). Meanwhile, Rome has repeatedly called for an easing of sanctions on Russia, with Prime Minister Renzi questioning their automatic renewal, albeit in vain (see EDM, December 17, 2015).
As such, Moscow could be expected to favor Rome's entry into the project, whose current European participants include Germany's E.ON and BASF, Royal Dutch Shell, Austria's OMV and France's Engie (Corriere della Sera, January 10). However, ENI has immediately denied reports about its possible participation in North Stream Two, conceding only that Saipem, its pipe-laying subsidiary company, could join the project as a simple contractor for the undersea pipeline construction work (Eastonline, January 15). Furthermore, the Italian government has reiterated that it has no plan to encourage the expansion of North Stream and that it is instead focused on setting up a Mediterranean gas hub (Reuters Italia, January 14).
Thus, despite any Russian attempts to bridge the gulf between Rome and Berlin over the doubling of Nord Stream, the Italian cabinet appears determined to carry out its confrontational stance vis-à-vis Germany.