Going to Beijing, Putin Opted for Backing off in Ukraine
Publication: Eurasia Daily Monitor Volume: 11 Issue: 93
By: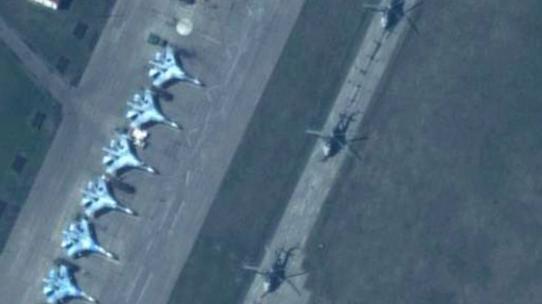 A week ago, after the boost of patriotic emotions in the Victory Day celebrations and the blatantly fake quasi-referenda in the Donetsk and Luhansk regions (see EDM, May 12, 14), Russia appeared ready to make a decisive move into eastern Ukraine. The procedure of voting was, after all, much the same as in Crimea on March 16, and the Kremlin immediately declared its "respect" for the expressed public will and insisted that the implementation of the results should proceed in a "civilized way" (https://ria.ru/world/20140512/1007447831.html). Russia's commitment to maintain this policy course was emphasized by the 40,000-strong grouping of troops deployed along Ukraine's border, despite President Vladimir Putin's promise to withdraw them several times (https://newsru.com/world/14may2014/natophoto.html). Today (May 19), Putin once more declared that the Russian forces would withdraw to their bases (Kyiv Times, May 19). Yet, during this past week, which was described by Russian mainstream experts as the most dangerous period of the Ukraine crisis so far, minor clashes continued non-stop. Nevertheless, Moscow remained absolutely indifferent to the plight of its "compatriots" in Slovyansk and other flash-points (https://www.gazeta.ru/comments/column/lukyanov/6034113.shtml).

Acute Russian propaganda has failed to produce any explanation for this self-restraint. Rather the media included debates on the proposal to block the micro-blogging service Twitter, which invited objections even from Prime Minister Dmitry Medvedev (https://echo.msk.ru/blog/ganapolsky/1321584-echo/). Some experts are inclined to interpret Moscow's procrastination with launching an intervention as a result of Western pressure centered on the threat to impose a new set of sanctions (https://ej.ru/?a=note&id=25138). The Russian economy is indeed struggling with stagnation, which is turning into a recession, and last Friday's failed launch of a Proton-M rocket carrying a communications satellite served as a reminder of the scope of Russia's technological dependency on the West, including in the space industry (Kommersant, May 17). Yet such economic rationale is now being firmly subordinated to political imperatives, and the urge to defy the United States' warnings and condemnations is a factor prompting rather than containing the Kremlin's over-stimulated interventionism.
What may have actually convinced Putin to put the military machine on hold was the Chinese leadership's agreement to see him in Beijing with an official visit on May 20–21, which was announced last Tuesday (https://president.kremlin.ru/news/21015). China has taken a particularly cautious line on the Ukrainian crisis, refraining from direct criticism of Russia's actions but indicating a deep dissatisfaction with Moscow's recklessness in violating the key principle of state sovereignty. Putin is wary to irritate Russia's key strategic partner any more, particularly since he cannot openly express any support to China in its newly-escalated South China Sea conflict with Vietnam—Russia's old and valued Southeast Asian friend (https://echo.msk.ru/blog/golovnin/1321942-echo/). The only thing Putin can do is to finalize the deal on exporting Russian gas to China (https://ria.ru/economy/20140517/1008159516.html).
Seeking to preserve pristine conditions for this sensitive energy business, Moscow has postponed the execution of its numerous warnings to Ukraine concerning the accumulating debt for imported gas and now demands pre-payments from June 1 (Vedomosti, May 14). The European Commission, meanwhile, is preparing a response to this demand. But in trying to avert a renewed "gas war," the European Union has excluded Gazprom's CEO Alexei Miller from the list of officials subjected to sanctions (RBC Daily, May 16).
Nobody in Ukraine is able to formulate a useful negotiating position on the gas problem because the political elites are torn between suppressing separatism in the eastern regions and staging the presidential elections this coming weekend. By their nature, the May 25 elections will produce only one winner (Petro Poroshenko remains the frontrunner) and many losers, and most of the ministers in the present government will probably find themselves among the latter (https://polit.ru/article/2014/05/15/al150414/). The controversial "counter-terrorist" operation has succeeded only in isolating the violent turmoil in the easternmost Luhansk and Donetsk regions, where there is little hope of organizing valid voting for a new Ukrainian president (https://echo.msk.ru/blog/echomsk/1322460-echo/). Moscow may yet be able to exploit this political void for fostering separatism, but its central propaganda thesis that Ukraine is run by an illegitimate "junta" will be undermined by the expected high turnout across all other regions of the crucially weakened but not failed and undeniably European state.
Putin may have recognized that playing with a chaotic civil war involves not only the risk of becoming hostage to the racketeering of maverick warlords but also the direct danger of spill-over into the critically unstable North Caucasus. Last week, he suddenly relieved Aleksandr Khloponin, his authoritative special envoy to the region, of his duties and created a new ministry for the North Caucasus similar to the one for Crimea established a few weeks ago (Novaya Gazeta, May 16). Most of the new appointees come from the military or Ministry of Interior, which indicates a change of strategy to a more forceful "pacification" of Dagestan and other "hot spots," necessitated by the fact that resources for investing in far-fetched tourism projects and for buying the loyalty of local elites are becoming limited (see EDM, May 16; Nezavisimaya Gazeta, May 13). Simultaneously, a series of resignations (including Vladimir Kozhin, who served as the head of the Presidential Property Management Department since 2000) and criminal cases in the top echelons of law enforcement in Moscow showed that Putin has launched a severe reshuffling of the key elites (https://www.gazeta.ru/social/2014/05/12/6027941.shtml).
Back-pedaling on the Ukrainian crisis may indeed be the most reasonable course for the politically censured and economically vulnerable Russia, but it goes against the wave of wide-spread jingoism. Putin's approval rating has sky-rocketed, but it can easily follow the trajectory of the unfortunate Proton-M and come crashing down as patriotic disillusion follows the pains of shrinking personal incomes. Caution can perhaps secure against really punishing sanctions, but key European states have acknowledged the risks associated with Russia's export of corruption and will continue to put a squeeze on it. Large segments of the Russian middle classes have rallied around Putin's counter-revolutionary flag. But as the heat of emergency dissipates, they are set to rediscover the lack of perspective in the environment of bureaucratic predation. On the road to Beijing, Putin has to come to some senses, but those can hardly help in restoring viability to his exhausted enterprise.