Gorbachev Warns of Explosive Problems With Medvedev's "Modernization"
Publication: Eurasia Daily Monitor Volume: 7 Issue: 143
By: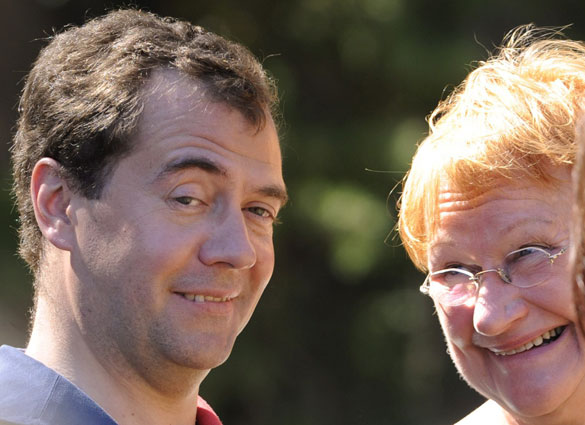 Russian President, Dmitry Medvedev, concentrated on the European direction of his modernization-focused foreign policy last week, making working visits to Finland and Italy. Both countries are Russia's close partners and the trips were problem-free, with a healthy sweat in a sauna with Finnish President, Tarja Halonen, and a personal tour around the Milan cathedral by Italian Prime Minister, Silvio Berlusconi. The only question about these visits related to defining the precise nature of their agendas. Official reporting indicates that Medvedev wanted to discuss his ideas about reshaping the European security architecture, but his counterparts showed scant interest and the only achievement in this area was the agreement reached in Astana by 50 foreign ministers to stage an Organization for Security and Cooperation in Europe (OSCE) summit in the Kazakh capital by the end of the year –which is a matter of great prestige for Kazakhstan (Rossiyskaya Gazeta, July 19).
Medvedev kept pushing the issue of a visa-free regime between Russia and the EU and received some reassurances that amounted to little, since in Brussels serious questions remain over Moscow's policy of issuing passports to ethnic Russians residing elsewhere in the former Soviet Union (Kommersant, July 24). One high-impact European issue that Medvedev clearly did not want to discuss was Kosovo, so the decision of the International Court of Justice was politely bracketed out (Nezavisimaya Gazeta, July 23). The economy was the main theme for small talk about overcoming the recession, consequently the symptoms of new troubles were consensually ignored and Medvedev even argued that 5 percent "is not quite the level of growth that we need" (RIA Novosti, July 23). He was particularly eager to invite his European partners "to participate in the process of modernizing and creating the foundation for a high-tech economy' in Russia, advertising his pet-project of a special economic zone in Skolkovo, while avoiding the plain fact that the demand for innovations in the resource extraction based Russian economy remains objectively low (www.gazeta.ru, July 22; Ekspert, July 19).
Even lower was the enthusiasm for modernization among the corrupt and cynical political elite, and this uncomfortable question was taken up by Mikhail Gorbachev in his recent interviews (Novaya Gazeta, July 14; Ekho Moskvy, July 20). He pointed to a deepening disconnect between the authorities and society, so that the accumulating discontent prompts the panicking power-holders to rely on quasi-institutions, like the United Russia party, and to resort to brutal force. He expressed support for the idea of modernization, but argued that the conformist elites would talk it into irrelevance and dismissed Medvedev's initiatives for preserving stability by extending the presidential term to six years and allowing smaller parties to sit in the State Duma as nonsense. He suggested organizing a Civic Forum without any "appointees" from the Kremlin to address the problems that threaten to split and explode society, and this proposal is generally congenial to Medvedev's discourse on developing democracy, which he spun in a recent foreign policy speech –but preferred not to elaborate on in his European tours (Ezhednevny Zhurnal, July 14).
It might seem that Gorbachev is exaggerating, seeking to arrange his own return from political limbo, but his concern about the self-isolation of the government from public demands finds much corroborating evidence, and primarily in the North Caucasus. The escalation of armed attacks in this region is partly caused by local clan infighting, but as Nikolai Petrov, one of the leading experts on Russian regionalism argues, it is also driven by a degradation of institutions in the state (www.grani.ru, July 13). The assassination of three senior military officers in Dagestan last Friday passed mostly unnoticed, but the explosion at the Baksan hydropower station last Wednesday produced a heavy media resonance (www.newsru.com, July 23; Nezavisimaya Gazeta, July 22). Material damage was not significant, and only two policemen were killed, but the well-prepared attack hit many raw political nerves. In society, reflections on the catastrophe at the huge Sayano-Shushenskaya hydropower station in Siberia last August are still fresh, and in the government, any incident reflecting upon the preparations for the 2014 Winter Olympics in Sochi –Putin's pet-project– causes a panic attack. Arsen Kanokov, the President of Kabardino-Balkariya, is worried that "bandits" might derail his reappointment, and Aleksandr Khloponin, the head of the newly-created North-Caucasus federal district, is concerned about his strategy for stabilizing the region by attracting investments, particularly in tourism (Ekspert, July 23).
Medvedev held a special meeting on this "sabotage" and declared another attack of this kind "absolutely unacceptable," promising to fire all responsible. Except for a very upset Kanokov, who admitted that it was hard to understand the reasons for the daily "events," three other present at the meeting –the Federal Security Service (FSB) Director, Aleksandr Bortnikov, Interior Minister, Rashid Nurgaliyev, and Deputy Prime Minister, Igor Sechin– were supremely confident in their positions. They are among Putin's closest minions, and his assessment of the North Caucasus economic prospects –presented just three weeks ago at a pompous conference of United Russia– is positively optimistic, so nothing is wrong with the "big picture" (Vremya Novostei, July 7).
This denial of the dead-end into which Putin's "velvet authoritarianism" has arrived comes perfectly together with Medvedev's display of "toughness" providing the comfortable perception that the worst phase of the unexpected crisis is over, and this is translated both to the change-averse bureaucracy and the handouts-expecting society. Medvedev's foreign policy based upon painting a peace-and-friendship façade, adds to this imitation policy, and many Europeans are ready to subscribe to it, since it spares them the effort of thinking about the risks of misinterpreting Russia. Indeed, making a small contribution to the high-tech Potemkin village that Medvedev is building with such joy in exchange for the relaxation of hard-security and energy-security tensions is an absolutely rational choice for every European leader. They need to know, however, that the timeframe for this "see-no-crisis" policy is limited not only by Putin's probable return to the Kremlin in 2012, but also by the social antagonism that Gorbachev is trying to pre-empt. Medvedev is now talking about "modernization in the Chekhovian fashion" that would change the people involved in it, but Putin's old guard is still holding him on a leash that allows him to twitter but not to ordain.