GULIYEV STOPPED BEFORE REACHING BAKU
Publication: Eurasia Daily Monitor Volume: 2 Issue: 194
By: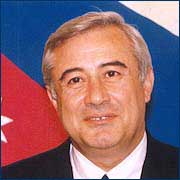 As Azerbaijan's November 6 parliamentary elections draw near, public interest in
election-related events has increased dramatically. Perhaps counting on this
heightened public attention, the chairman of the Azerbaijan Democratic Party (ADP),
Rasul Guliyev, recently announced that he would return to his country. Guliyev has
been living in exile in the United States since 1996, following his split from the
ruling Yeni Azerbaijan Party and its chairman, the late President Heydar Aliyev.
Subsequently, Guliyev was charged with embezzling $120 million while serving as head
of Baku's main oil refinery in the early 1990s. Guliyev departed from London in a
chartered jet on October 17.
The Azerbaijani opposition, excited about the long-awaited return of one of its
leaders, pledged to organize a massive rally at Baku's airport to greet Guliyev. But
fearing public disorder and national destabilization, government authorities blocked
all of the roads towards the airport as well as major entry points to the capital
beginning early Monday morning. Citizens who tried to go to the airport were kept
back and subsequently arrested. Taliyat Aliyev, the deputy chairman of ADP, has
informed EDM that more than 30 ADP activists were detained in the village of
Surakhani, near the airport.
However, the much-expected homecoming did not occur. Azerbaijani authorities
announced that, although flight control had granted permission for Guliyev's
chartered plane to land, the aircraft never arrived. At the same time, various
Russian and Ukrainian news agencies reported that Guliyev had been arrested in
Simferopol, at the request of Azerbaijani authorities. His documents are currently
under inspection, and ADP officials have not commented on whether Guliyev would make
another attempt to return to Azerbaijan.
This situation, however, perfectly satisfies the needs of the ruling party as well
as those of Guliyev himself. It is not a secret that the authorities have been
deeply worried about the return of the popular former speaker of parliament.
Specifically, Baku worried that Guliyev's return would further mobilize, unite, and
energize the Azerbaijani opposition. The latter has been excited about the series of
"color revolutions" across the post-Soviet space and does not hide its intention to
organize a similar democratic uprising in Azerbaijan following the parliamentary
elections.
As the campaign proceeds with some major governmental interference, the opposition
realizes that toppling the ruling regime is the only possible way for it to come to
power. Thus, it has lately been engaged in a series of unauthorized rallies in
downtown Baku, which have resulted in brutal clashes with police and subsequently
increased tensions in the country. The glorified return of Guliyev would add more
fuel to the opposition flame.
At the same time, Guliyev, known for his generous attitude and keen ability to make
allies, is said to still have many friends among the ruling party. Local analysts
believe that should Guliyev actually return, he would split the ruling regime, thus
further destabilizing the already shaky position of President Ilham Aliyev. This is
the very reason that Guliyev was barred from running for the presidency in 2003.
This year, however, in an attempt to smooth the registration process, Azerbaijani
authorities decided to register Guliyev as a candidate from Baku's Khatai district.
Yet immediately after that decision was announced, the Prosecutor-General's office
lifted his immunity as a candidate and announced that Guliyev would be arrested upon
his return home.
It remains to be seen what steps Guliyev will take next. At the moment, he has a
convenient excuse to deliver to his supporters, who seem to be openly frustrated
with his repeated broken promises about his return. Should he be released, as often
happens when he is detained in other countries (Guliyev is still officially on the
Interpol wanted list), he would have to make another attempt to enter Azerbaijan,
perhaps this time by land.
Another possible scenario would be for the Ukrainian authorities to continue
detaining him until Azerbaijan's elections are finished. After that, Guliyev's
return would not matter much for the domestic politics of the country, but it would
significantly improve Ukrainian-Azerbaijan relations, which have deteriorated
lately. As winter approaches and Russia triples energy prices, Ukraine needs
alternative sources of energy and Azerbaijan might satisfy this need.