GULIYEV'S SECOND ATTEMPT TO RETURN TO AZERBAIJAN FAILS
Publication: Eurasia Daily Monitor Volume: 2 Issue: 207
By: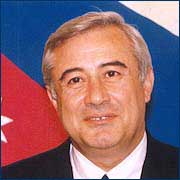 After his first unsuccessful attempt to return to Azerbaijan on October 17, Rasul Guliyev, chairman of the Azerbaijan Democratic Party and former speaker of parliament, announced that he would return between October 31 and November 3 (see EDM, October 19). Such a vague timeline put doubts in the minds of many who even had the faintest hopes that Guliyev would still come back.
Yet, as November 3 drew closer, statements from Democratic Party officials, as well as from the Musavat and Popular Front parties that align with Guliyev in the Azadliq bloc, showed that indeed Guliyev's return is unlikely. On November 1, Sardar Jalal-oglu, the deputy chairman of the Democratic Party and the man who runs the party operations on a day-to-day basis, said, "There is no guarantee that Mr. Guliyev's personal safety will not be under risk. Under these conditions, I would not come back to Azerbaijan" (Zerkalo, November 2). This statement seemed like finding a useful and comfortable excuse rather than addressing a real problem.
For years, Azerbaijani authorities have tried to capture and return Guliyev to Baku on charges of embezzling $100 million while he was head of the state's largest petroleum refinery in the early 1990s. The charges likely were motivated by Guliyev's falling out with then-President Heydar Aliyev's inner circle and his presidential ambitions. Seeing such threats, Guliyev sought political asylum in the United States and never expected to go back to Azerbaijan.
However, these plans changed in September and October of this year, when the November 6 parliamentary elections created favorable conditions for him to return. First, there was widespread international attention to the crucial elections in Azerbaijan, which ensures more media headlines for his cause. But more importantly, the local analysts believe that Guliyev's return would be a good opportunity for the opposition to "rock the boat," meaning to capitalize on his wealth and personal connections inside the ruling elite and try to create a pre-election "orange revolution" in the country.
Yet, it seems like the opportunity has been missed. After the notorious arrests of the powerful ministers of health and economic development, as well as several other high ranking officials, who were accused of funding the opposition's plans to create public disorder on the day of Guliyev's return, the opposition lost steam (see EDM October 21, 28). Under these conditions, Guliyev's second promise to return seemed like an attempt to buy time and bolster his supporters in the Democratic Party, who have been waiting for his return for many years now.
Local voters, although having mixed feelings about Guliyev's personality, believe that he is simply too scared to come back. "If he really wanted to come back, he could buy a ticket for a regular flight and arrive at the Baku airport. Surely he would be arrested, but then he would be seen as a man of his word. But now, everybody thinks that he is fooling the nation," said Rasim Gasimov, a vendor in downtown Baku.
Leaders of the Azadliq bloc, meanwhile, warned the authorities that, should Sunday's elections be falsified, they would take to the streets and organize peaceful demonstrations. Ali Kerimli, chairman of the Popular Front and co-founder of Azadliq bloc, said on November 3, "The opposition reserves its constitutional right to hold peace rallies" (ANS TV, November 3). The remark came short of his traditional emotional call for "the end of regime." Some analysts believe that Kerimli and his colleagues in the Azadliq bloc have realized that their train left the station long ago. Others accuse them of having reached a secret agreement with the authorities on ways to divide up seats in the new parliament.
Isa Gambar, Musavat chairman, meanwhile, informed journalists on November 3 that the Azadliq alliance had requested permission to use the square outside the Gabala movie theater for post-election rallies (ANS TV, November 3). This is the same place that the opposition refused to use in early October for their rallies, holding out instead for a staging area in downtown Baku. This acquiescence is another sign of the opposition's spiritual defeat, which was partly fueled by President Ilham Aliyev's October 25 presidential decree that paved the way for marking voters' fingers with ink (see EDM, October 28). This procedure significantly quieted the complaints from international and domestic monitors and deprived the opposition of their favorite excuse to denounce the vote.
(Additional coverage from Echo, Azadliq, and Yeni Musavat, October 31-November 4)