Having Previously Declared Victory, Kadyrov Wants Rebels Crushed in 2 Weeks
Publication: Eurasia Daily Monitor Volume: 6 Issue: 117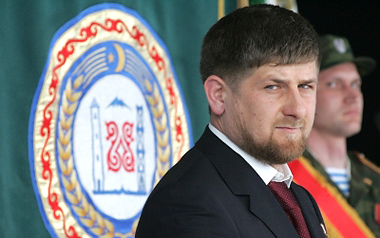 Chechen President Ramzan Kadyrov has claimed repeatedly over the last several years that the republic's rebels have all but been wiped out. However, since the counter-terrorist operation was officially ended in April, authorities in Chechnya and neighboring Ingushetia have had to launch a number of special counter-insurgency operations in the two republics. Still, there has been virtually no let up in rebel attacks in Ingushetia, Dagestan and Chechnya.
That may explain why Kadyrov yesterday ordered top Chechen Interior Ministry officials and the commanders of the republic's Special Forces units to wipe out Chechnya's rebels within the next two weeks and expressed unhappiness with the performance of the republic's security agencies. "Special operations to liquidate the gang are going on full-scale in the republic, and correspondingly there should be results," he told them during a meeting in Grozny. "As long as these 'shaitans' [rebels] are running around our land, we have no right to relax, to take vacations, to travel outside the republic. So I am giving you two weeks to change the situation; the militants must be destroyed." Last week, Kadyrov ordered government officials not to take vacations until the last rebel fighter is wiped out, adding that they can "peacefully travel to prestigious health resorts" once there is a final victory over the rebels (Kavkazsky Uzel, June 18).
Kavkazsky Uzel quoted an unnamed staffer with a local Chechen non-governmental organization as saying: "I have spoken with several members of the law-enforcement bodies involved in the large-scale operations against the members of armed formations. According to them, the situation is not as pleasant and beautiful as the leadership of the power structures is reporting it to be; [they say] that the special operations mainly consist of blockading certain parts of mountainous wooded areas, that the militants, as before, are feeling very sure of themselves, and that no one is risking moving far into the woodlands, where the main bases of armed formations may be located."
According to the NGO staffer, security forces in Chechnya are in constant fear of ambushes and the mines, homemade bombs and trip wires that the rebels place around their bases. "Many police and servicemen no longer feel the same enthusiasm they once had. That was seriously influenced by the cancellation of the counter-terrorist operation regime in Chechnya, which meant a significant lowering of wages and various bonuses and other privileges [for servicemen]. This war is going on not for weeks or months, but for years, and that is long enough a period to make everyone tired of the endless bloodshed." The NGO source called Kadyrov's order to wipe out the rebels in two weeks unrealistic (Kavkazsky Uzel, June 18).
In another apparent sign of nervousness over the security situation, top Chechen officials have strongly denied media reports that a group of 37 young men in the republic "went into the mountains" to join the rebels between June 1 and June 9. According to the official website of Chechnya's president and government, Chechen Interior Minister Ruslan Alkhanov told journalists in Grozny that media reports of a new wave of young Chechen recruits into the rebels' ranks were "ideological sabotage" and that the claim was "an impudent and barefaced lie" – made all the worse, Alkhanov added, by the fact that the claim was attributed to Chechnya's mufti, Sultan Mirzaev. According to Alkhanov, the republic's mufti never made such a claim. The Chechen interior minister said the reports attributing the claim to Mirzaev appeared in "little-known websites" but gave no further detail. Alkhanov said such reports were aimed at undermining Chechnya's authority, disrupting investment in the republic and giving a false picture of the power and means of the "illegal armed formations" in Chechnya.
The Chechen presidential and governmental website also quoted Mirzaev himself as denying that he had made any claims about young Chechens heading into the mountains to join the rebels. "I could not have made those statements, because it is a falsehood, and to speak lies goes against my principles," the mufti was quoted as saying (www.chechnya.gov.ru, June 17).
Meanwhile, the Rosbalt news agency has quoted an unnamed "high-level source in Russia's special services" as saying that the identity of rebels killed last month during a special operation in Ingushetia's Sunzha district had been established and that the leader of the armed Islamic underground in the North Caucasus, Dokka Umarov, was not among the dead.
Russian media had reported earlier this month that in May, federal forces had discovered and destroyed Umarov's base near the Sunzha district village of Dattykh, that Umarov was among those killed and that the body had been sent for forensic testing to identify it definitively. Adam Delimkhanov, the State Duma deputy and close Kadyrov associate, said Umarov may have been wounded during a special operation and Kadyrov himself subsequently said Umarov had likely been badly wounded (EDM, June 11).
"Officially, the identification and examination of the remains have not finished, but we already know who these people were," Rosbalt on June 17 quoted the high-level Russian special service source as saying. "For the most part, they were militants from Dokka Umarov's inner circle and those who had Azerbaijani passports. There was information that Dokka Umarov also had such a document, but there is no confirmation that he is among those killed. According to our information, Umarov is alive, and that is confirmed by operational data." Rosbalt also quoted an unnamed source in Chechnya's "power agencies" as saying there was no evidence that Umarov had been killed. "That person is still alive," the source told the news agency (Rosbalt, June 17).
Officials in Moscow have also been expressing concern over the security situation in Chechnya and neighboring republics. Federal Security Service (FSB) Director Aleksandr Bortnikov told a meeting of the National Anti-Terrorist Committee in Moscow on June 16 that the situation in a number of republics of the North Caucasus remains "very complicated," that the "criminal underground" in the region still possesses "a significant amount of weapons" and that there has been an "outbreak" of attacks on law enforcement officers and government in Dagestan, Ingushetia, and Chechnya in recent months (Interfax, June 16).