Holy Sultan Mosque Marks Kazakhstan's Muslim Revival
Publication: Eurasia Daily Monitor Volume: 9 Issue: 158
By: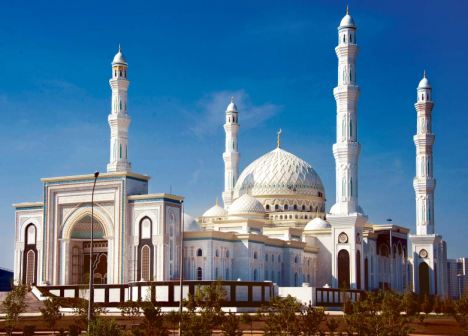 Last month, the largest mosque in Central Asia, Hazret Sultan ("Holy Sultan"), opened in Astana. The mosque, whose total area is more than 17,500 square meters (188,368 square feet), is designed in classic Islamic style with traditional Kazakh ornaments and decorative elements. Its walls have extracts from the Koran and sayings of the Prophet Muhammad. It is named after the Islamic philosopher poet Khoja Ahmed Yasawi, a spiritual teacher of all Turkic people such as the Kazakhs, as well as author of "Divan-i Hikmet" ("the Book of Wisdom") and other works (Caspionet, July 7).
The Hazrat Sultan Mosque is but the latest portrayal of Astana's spiritual revival, now in evidence during the holy Month of Ramadan. Throughout the Soviet period, the authorities repressed organized religious activities, sometimes severely. Another Soviet practice that harmed Kazakhstan's Islamic identity was to relocate, sometimes through coercion, non-Muslims to Kazakhstan. Even so, Islam remained resilient among some ethnic Kazakhs in rural regions.
At independence, Kazakhstan was balanced in terms of ethnicity as well as religion, with roughly 63 percent of the inhabitants considering themselves as ethnic Kazakhs and 23 percent as ethnic Russians, while 47 percent referred to themselves as Muslims and 44 percent as Christians (CIA World Factbook, 1999 and 2001).
Since then, many non-Kazakhs have left the country, while more Kazakhs are describing themselves as Muslims. By the time of the 2009 census, 70.2 percent of the respondents identified themselves as Muslim, 26.2 percent as Christian, 0.1 percent as Buddhist, 0.2 percent as other (mostly Jews), some 2.8 percent said they were non-believers, while 0.5 percent of the respondents chose not to answer (Kazakhstan Statistics Agency, November 12, 2010).
Following the collapse of Soviet power, Kazakhstan experienced a modest religious revival. Many Kazakh Muslims were able to visit or study in Muslim countries, while foreign funding from Turkey, the Gulf monarchies and other Muslim nations helped construct or rebuild Kazakhstan's mosques and religious schools. In addition to the new Holy Sultan Mosque, the Nur Astana mosque in Astana (a gift of the Emir of Qatar, Hamad bin Khalifa) and the Anet Baba Kishikuly Mosque in Semey (Semipalatinsk) in eastern Kazakhstan are also well-known (Aysegül Aydingün, "Islam as a Symbolic Element of National Identity Used by Nationalist Ideology in the Nation- and State-Building Process in Post-Soviet Kazakhstan," Philosophical and Multidisciplinary Approaches in Religious Studies, 2007).
Even secular nationalists did not oppose the renewal of the country's Islamic traditions since the process helped rebuild Kazakhs' national identity, which had been artificially suppressed during the Soviet era (Azade-Ayse Rorlich, "Islam, Identity and Politics: Kazakhstan, 1990-2000," Nationalities Papers, Vol: 31, No: 2, 2003). Parallel efforts to construct a renewed post-Soviet identity during the 1990s included the designation of Kazakh as the official language in schools and the creation of a new national flag and anthem (Donnacha Beachàin and Rob Kelihan, "State-building, Identity and Nationalism in Kazakhstan: Some Preliminary Thoughts," Working Papers in International Studies, Vol. 1, 2011).
At present, almost all of Kazakhstan's Muslims are ethnic Kazakhs (an estimated 60 percent of the population) or ethnic Uzbeks, Uighurs and Tatars (who collectively constitute almost 10 percent of the country's 16.6 million people). They are almost all Sunni Muslims of the moderate Hanafi school of Sunni Islam, though a small number adhere to the Shafi'i Sunni, Shi'a, Sufi and Ahmadi schools (US Department of State, International Religious Freedom Report for 2011).
Islamic practices in Kazakhstan have historically been tolerant and personal, but in recent years expressions of Muslim identity have become more public and traditional, especially in the more religiously conservative western part of the country, under the influence of similar trends in other Muslim nations (Sean Roberts, Testimony Before Commission on Security and Cooperation in Europe, January 25). The highest concentration of practicing Muslims resides in southern Kazakhstan, in the Fergana Valley region that borders Uzbekistan and the Kyrgyz Republic, while many urban Kazakhs do not consistently practice Muslim customs and rituals (Department of State, Religious Freedom Report for 2011).
Conversely, Kazakhstan's large Slavic minorities (consisting mostly of ethnic Russians but also some ethnic Ukrainians and ethnic Belarusians) are either Orthodox Christians or not religious. Some of Kazakhstan's ethnic Germans are Protestant, while the country's 70,000 Jews can freely worship. The state discourages membership in newer non-traditional religions and cults that are not indigenous to Kazakhstan (Department of State, Religious Freedom Report for 2011).
The authorities have taken care to mandate tolerance toward most of Kazakhstan's non-Muslims as well as those individuals not actively practicing a religion. The authorities strive to ensure inter-ethnic and inter-confessional accord among the heterogeneous population by promoting dialogue and non-discrimination while suppressing religious extremism. Kazakhstan's constitution guarantees freedom of religion and specifically mandates a secular form of government and prohibits religiously based political parties or religious education in schools. Kazakhstan is the only Central Asian state whose constitution does not assign a special status to Islam.
The Spiritual Association of Muslims in Kazakhstan (SAMK) works closely with the government to license the activities of Kazakhstan's more than two thousand mosques, conduct background checks on imams, and authorize travel agencies to provide services to Muslim pilgrims making the Hajj pilgrimage to Saudi Arabia. Its head, the Supreme Mufti of Kazakhstan, currently Sheikh Absattar Hajji Derbisali, is a Sunni scholar who can interpret Islamic law. The first English edition of his book on Islam, The Religion of Peace and Creation, was published last year (Caspionet, March 8, 2011).
A current SDMK priority is preventing extreme and militant interpretations of Islam entering from outside Kazakhstan (Tengrinews.kz, July 14, 2011). In a measure to counter manifestations of religious extremism that has aroused concern in some Western countries, the government enacted a new law in 2011 that requires that all religious organizations apply for state approval and that regulates other forms of religious activity in public places (see EDM, October 14, 2011; Department of State, Religious Freedom Report for 2011).
Although the law tightens state monitoring of religious practices and creates a new Religious Affairs Agency that could restrict religious freedom, Kazakhstan's restrictions are much less severe than in other Central Asian countries such as Tajikistan and Turkmenistan, where a broader range of Muslim religious activities is controlled.
The threat of religious violence may be increasing somewhat in Kazakhstan. However, such manifestations remain rare despite a few unprecedented if scattered small-scale violent incidents that occurred in 2011; the Kazakhstani authorities have linked many of them to Islamic terrorist groups sponsored by foreign sources (see EDM, July 2, 16, 25).
All countries, and here Kazakhstan is no exception, are trying to find the right balance between curtailing religious extremism without suppressing religious freedoms, which among other problems could itself contribute to radicalization. As rhetoric from the homegrown militant group Jund al-Khilafah (Soldiers of the Caliphate) suggests (see EDM November 11, 2011), a trend toward greater religious constraints may, indeed result in increased insecurity and destabilizing extremism in the Central Asian republic. But although Muslim religiosity is on the rise and increasingly fills the public space and notions of national identity in Kazakhstan, thus far religious extremism has not resonated with significant portions of Kazakh society.