HOT ISSUE: Traits and Orientations of China's New Politburo Standing Committee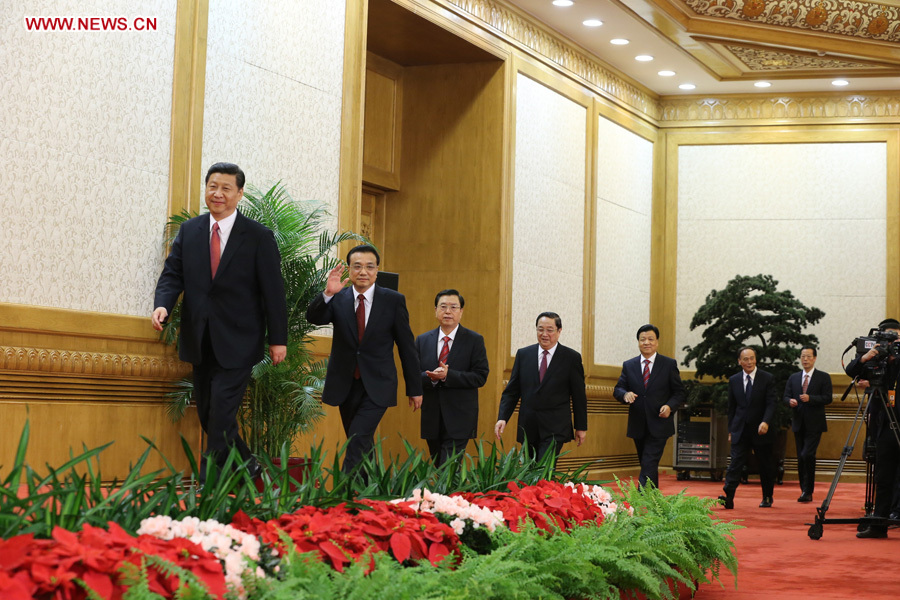 On November 15, China announced the seven members of the Political Bureau Standing Committee of the 18th Chinese Communist Party (CCP) Central Committee. These seven members, led by CCP General Secretary Xi Jinping, will form China's supreme ruling council for the next five years. The transitory nature of this Standing Committee presents an intriguing paradox. The 18th CCP Party Congress has been billed as a watershed event in party history, because it marks the first generational change of leadership in the 21st century and the transition from the Fourth Generation, under outgoing President Hu Jintao, to the Fifth Generation leadership, under newly anointed General Secretary Xi. Almost as importantly, China's leaders have transitioned out from under the shadow of Deng Xiaoping's leadership selections—the last of whom was Hu.
Only the putative "twin cores" of the Fifth Generation leadership—Xi, age 59, and premier-in-waiting Li Keqiang, age 57—however, were born in the 1950s. Their other Standing Committee colleagues are contemporaries of the two Fourth Generations titans who have just retired from the Politburo, Hu Jintao, age 69, and Premier Wen Jiabao, age 70. For age reasons, the five only can serve one term. This means that a more thorough-leadership change almost certainly will take place at the 19th CCP Party Congress in 2017, when two members of the Sixth Generation leadership probably will be inducted into the Politburo Standing Committee. The two are likely to be Inner Mongolia Party Secretary Hu Chunhua and Jilin Party Secretary Sun Zhengcai, who were both born in 1963. Having just been promoted to the Politburo this week, Hu (no relation to President Hu) is tipped to be given the helm of Guangdong Province, and Sun is set to take charge of Chongqing.
More significant is the fact that few of the seven Standing Committee members are considered reformers, especially with respect to China's political system. For example, Liu Yunshan, Xi's successor as executive secretary of the Central Committee Secretariat and president of the Central Party School, is a Maoist-style commissar whose primary concern is the perpetration of socialist orthodoxy. Some inroads in economic and financial reform, however, are expected to be made by the economic team under premier-in-waiting Li Keqiang.
Here are brief sketches of backgrounds behind the rise of the seven new Politburo Standing Committee members as well as their personal and political orientations [1]:
Xi Jinping
The new CCP general secretary and Central Military Commission chairman is the first-among-equals in the Standing Committee. Known for being a team player and a consensus builder rather than a visionary trail-blazer, the 59-year-old native of Shaanxi Province is expected to follow existing policies at least in the coming two to three years through the duration of the 12th Five Year Plan.
The portfolios of this princeling—Xi is son of the respected party elder and former vice premier Xi Zhongxun—are expected to include party affairs in addition to foreign and military issues. Since he was first elevated to the Politburo Standing Committee in 2007, Xi has masterminded several ideological campaigns to promote "the ideological purity and moral rectitude" of cadres. In foreign policy, the new commander-in-chief is set to continue the quasi-superpower diplomatic strategy begun by President Hu a few years ago, particularly with the goal of countering the U.S. "rebalancing toward Asia" policy.
Unlike ex-president Jiang and President Hu, Xi does not head a powerful party faction. This could adversely impact on the new party chief's ability to consolidate his power base and to push through new initiatives. He is on good terms, however, with a few dozen princeling generals in the People's Liberation Army. This probably means the top leadership will have a clearer view of China's military modernization and its impact on Chinese national security.
Li Keqiang
Li, who was a star law student during the liberal era of the early 1980s, is deemed a reformer in economic and social matters. Despite his relatively lackluster record the past five years as executive vice premier of the State Council, the 57-year-old native of Anhui Province is expected to push harder on different areas of administrative and economic changes. These include streamlining the State Council or central government by abolishing as many as ten ministries and department. Li is set to inject more market elements into the economy by curtailing the monopolistic powers enjoyed by about 120 state-controlled conglomerates. He also may expedite the internationalization of China's financial sector, for example, by speeding up the full convertibility of the renminbi and gradually opening up China's capital account transactions.
Apart from Executive Vice Premier-designate Zhang Gaoli, Li is expected to lean heavily on Ma Kai and Wang Yang, who may become vice premiers at the National People's Congress (NPC) next March when state positions will be decided. Wang Yang, whose current post is Party Secretary of Guangdong, is considered one of the most liberal members of the Politburo. Ma, who has solid experience in finance, may take over the economic portfolio previously handled by former Vice Premier Wang Qishan.
Zhang Dejiang
The secret of Zhang's success is his consummate ability to build guanxi or "personal relationship" networks that, in some cases, includes currying favor with party leaders. A graduate of Kim Il-Sung University in Pyongyang, the 66-year-old Zhang is known as a conservative in the ideological and economic arenas. In 2001, the native of Liaoning Province caused a big stir when he published in a major theoretical journal an article opposing the admission of private businessmen into the party. Nonetheless, Zhang has received credit for the phenomenal success of Zhejiang and Guangdong Provinces, which he ran, respectively, from 1998 to 2002 and from 2002 to 2007.
Given his lack of experience in legislative or judicial work, Zhang's appointment as the next NPC Chairman has raised eyebrows among China's legal circles. Both President Hu and General Secretary Xi, however, have indicated a major thrust of reform in the coming decade is "running the country according to law." On Zhang's shoulder falls the critical task of ensuring that the NPC will not only introduce modernization-minded legislations but also function as a critic of the party-state apparatus.
Yu Zhengsheng
At age 67, Yu is just two years younger than the out-going President Hu. While Yu, deemed "the big-brother princeling," has kept a low profile since taking up the job of Shanghai Party Secretary five years ago, he has been inducted into the Standing Committee primarily for his political gravitas and acumen as well as superior interpersonal skills. In case arguments were to break out within among the top seven, Yu may be the best person to cool tempers and broker a compromise.
As chairman of the Chinese People's Political Consultative Conference (CPPCC), which is the country's highest "united front" organ, Yu's main job is to boost ties with sectors including non-CCP politicians, businessmen, intellectuals as well as residents of Taiwan, Tibet and Xinjiang. Thus, while the CPPCC is usually considered an advisory council without substantial power, Yu may provide General Secretary Xi with tips on winning hearts and minds particularly in Taiwan and Tibet.
Liu Yunshan
Liu, age 65, has been given Xi Jinping's old job as executive secretary of the Central Committee Secretariat, which is the nerve center of the party. Considered to be the most conservative in the new Standing Committee, the long-time director of the CCP Propaganda Department was the party's point man in imposing media censorship and muzzling free-thinking intellectuals.
While Liu began his career as a lowly reporter for the Inner Mongolia Branch of the Xinhua News Agency, he has leapfrogged up the hierarchy by being an excellent public relations staffer for his bosses. Both ex-president Jiang and President Hu are said to be happy with Liu's utter devotion, because he helped popularize the two party chiefs' policies and slogans. Liu's appointment, however, is the clearest indication that ideological and political reform will continue to be put on the back-burner.
Wang Qishan
Wang, age 64, is one of the few charismatic cadres on the political stage. The former vice-premier in charge of finance has been named Secretary of the Central Commission for Disciplinary Inspection, the country's highest anti-corruption agency. Wang is also the only Politburo member with personal experience dealing with multinationals, especially those in the financial sector. The son-in-law of former Vice Premier Yao Yilin, Wang is particularly well-known in the United States. Since 2009, he has led China's delegation in biannual Strategic and Economic Dialogue sessions with cabinet-level officials from Washington.
A protégé of former Premier Zhu Rongji, Wang shares his patron's forceful personality. While he is said to be disappointed with not getting the job of executive vice premier, Wang may become post-1949 China's most effective graft-buster. Chinese netizens have joined party leaders in citing corruption as China's worst socio-political problem. One major obstacle that Wang will face is his cozy ties with hundreds of princeling businessmen as well as major financiers. This has raised doubts as to his ability to crack down on the "tigers" among the corrupt members of China's red aristocracy.
Zhang Gaoli
Zhang, age 66, is expected to be named executive vice premier at the NPC in March. This is despite wide-spread speculation that this number two slot in the central government would go to fellow Standing Committee member Wang Qishan, who has been a high-profile vice premier. One rationale for Zhang getting the job is apparently to avoid a power struggle between premier-in-waiting Li Keqiang and the strong-willed Wang.
Zhang has an enviable track record running a series of coastal boomtowns and prosperous provinces including Shenzhen, Shandong and Tianjin. He is credited with turning the Bohai Sea hub, which also incorporates the two centrally administered cities of Tianjin and Beijing, into an axis of growth comparable to the Pearl River Delta and the Greater Shanghai Region. Zhang, however, has been criticized for favoring prestige projects—many of which have run up huge debts.
Zhang's political instincts are considered top-notch. He is one of the few top party cadres to be considered acceptable to the three living CCP general secretaries: Jiang Zemin, Hu Jintao and Xi Jinping.
Notes:
The compilation of the biographies and orientations of the seven PBSC members is based partly on published reports by the official Xinhua News Agency, China News Service, Southern Metropolis Daily and Southern Weekend as well as Hong Kong newspapers such as Ming Pao, Wen Wei Po and Tai Kung Pao.