How Serious Are Ivanishvili's 'Revelations?'
Publication: Eurasia Daily Monitor Volume: 10 Issue: 81
By: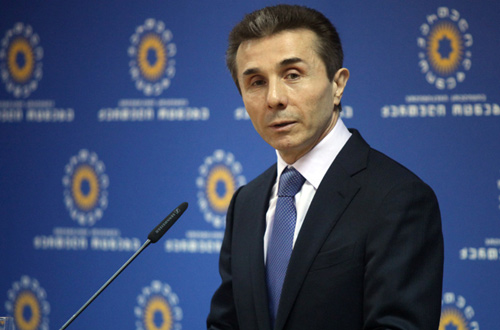 On April 26, 2013, Prime Minister of Georgia Bidzina Ivanishvili admitted that the previous government perhaps had links with North Caucasian militants and terrorists, and Georgian territory was probably used not only for their transit but also for training purposes. It is difficult to underestimate the consequences of such severe accusations for Georgia's international standing, as well as its relations with Russia and the West. They might even herald a shift in Georgia's foreign policy.
In an interview with Georgia's largest private TV channel, Rustavi 2, Prime Minister Ivanishvili, a billionaire mogul who earned his fortune in Russia, spoke of the practical steps his government has been taking to improve relations with the Russian Federation. In particular, he mentioned softening the government's rhetoric regarding Moscow, overhauling Georgia's national security and defense doctrine, supporting the 2014 Sochi Winter Olympic, and performing a thorough investigation of the anti-terrorist operation conducted near the village of Lapankuri in eastern Georgia by President Mikheil Saakashvili's government in late August 2012 (https://www.rustavi2.com/news/video_progs.php?id_clip=5211&pr=Position&l=77&ftp1=1&ftp2=0&ftp3=0).
"What happened [in August 2012], he said, was that "Georgian territory was used for transit by North Caucasus militants and by other outside militants," and his government "has closed this [channel] maximally," adding, "I believe this will never happen again." When the journalist asked Ivanishvili about the Russian daily Izvestia's article implicating Georgia in providing training for Tamerlan Tsarnaev, one of the two suspects of the April 15 Boston Marathon bombings, among other North Caucasus militants (https://izvestia.ru/news/549252), and whether the investigation of the Lapankuri operation would show that the militants killed in August by Georgian security forces "could indeed have been given some kind of training" on Georgian soil, Ivanishvili literally answered: "I think it is possible… I could take the suspicions voiced by the public defender as very realistic, but not as something already proven." Referring to Georgia's Public Defender Ucha Nanuashvili, a fierce critic of President Saakashvili, who was handpicked by Ivanishvili for the post in December 2012, the prime minister then added: Like Nanuashvili, "I also have huge suspicions that this was in fact happening in reality… The investigation will be finished in the nearest future and we will know a great many details, even shocking ones […] on the collaboration by the [previous] authorities […] with militants and terrorists. And [it] would be shocking for me personally if that becomes proven."
President Saakashvili quickly responded to Ivanishvili's "revelations," saying "with full responsibility" that Georgia never participated in training militants or terrorists. He called Ivanishvili's accusations "baseless," "detrimental" and "irresponsible," warning that they could potentially harm the country, "depriving Georgia of its international support and friends in the United States and the West and leaving it alone in the face of Russian aggression and occupation" (https://maestro.ge/?address=uc&id=46619&page=3). The Georgian president, whose political party, United National Movement (UNM), lost against Ivanishvili's Georgian Dream (GD) in October's parliamentary elections, said in his statement that by "uttering those allegations" Ivanishvili was putting his own country, not the president personally, in big trouble." "As long as I remain president of Georgia," said Saakashvili, whose term will expire in October 2013, "[Ivanishviliv] will not succeed" in blemishing Georgia's international reputation and depriving it of its Western friends. The Georgian president called on "responsible members" of the Ivanishvili government to "distance themselves from those reckless and dangerous statements."
Commenting on April 27 on Ivanishvili's statement, a member of his cabinet, Defense Minister Irakli Alasania, said: "The investigation is underway. We cannot make any conclusions in advance. But at the moment, there are no grounds" for raising such suspicions (https://www.newposts.ge/politika/11707-alasania-premieris-versias-ar-etanxmeba.html). Regarding Ivanishvili's claim that under the former government, Georgia's defense doctrine was overhauled and Russia's status as Georgia's biggest security threat was "softened" in it, Alasania, said: "No fundamental changes have been made" in the Strategic Defense Review since "the Russian Federation, its military occupation and armed forces pose the most significant national security threat" to Georgia" (https://www.newposts.ge/politika/11705-alasania-doqtrina-shecvlili-araa.html).
Giorgi Bokeria, President Saakashvili's national security advisor, also confirmed that Ivanishvili had "inaccurate information" and "no such changes were ever made to any strategic documents," which "are always elaborated in coordination and by interagency consensus" (https://www.newposts.ge/politika/11705-alasania-doqtrina-shecvlili-araa.html)
Commenting on Ivanishvili's terrorism "suspicions," Bokeria said they were in line with Moscow's accusations over the past years: "The prime minister and several members of his team are following some type of manual on how to harm [Georgia's] interests in the process of discrediting their political opponents. Chapter one of the manual is to blame Georgia for starting the war with Russia [in 2008]; Chapter two is to incriminate Georgia in supporting terrorists and militants. The next chapter might well be accusing Georgia of making chemical and nuclear weapons" (https://www.newposts.ge/politika/11694-bokeria-gamoxmaureba-premieris-gancxadebebze.html). Ivane Merabishvili, a former prime minister, called Ivanishvili's statements "proof" that the latter aimed at changing Georgia's foreign policy orientation.
Since becoming prime minister, Ivanishvili has established a peculiar habit of issuing clarifications on his earlier statements, claiming that either his words were misunderstood or misinterpreted. The April 26 interview with Rustavi 2 was no exception. On April 29, he softened his tone slightly by saying that he "expressed suspicion," but had never stated affirmatively that the previous government was "cooperating with terrorists" (https://www.civil.ge/eng/article.php?id=26004).
It is still early to claim that Ivanishvili is indeed reversing Georgia's pro-Western policy or, as his political opponents allege, that he is deliberately tarnishing Georgia's reputation to make the country "incompatible" with the West. But it is safer to say that he is obsessed with the idea of improving relations with Russia as soon as possible. Ivanishvili should be aware, however, of the consequences of rapprochement with Moscow at all costs through unilateral concessions (see EDM, April 4). Condoning the Russian military occupation in strategic documents and implicating Georgia in unlawful activities would result in alienating the Georgian public from his policies. But the reckless and unsubstantiated statements would be potentially damaging in the eyes of Georgia's Western partners as well. As for Russia, it would probably make good use of Ivanishvili's statements by arguing for Georgia's international isolation.