How Will Hakan Fidan's Appointment Shift Turkish Diplomacy in Its Neighborhood?
Publication: Eurasia Daily Monitor Volume: 20 Issue: 108
By: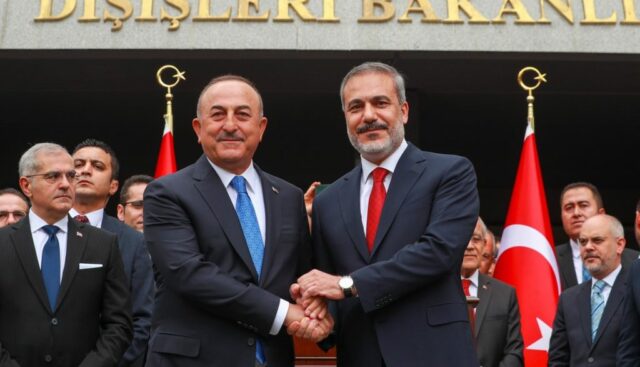 After winning re-election, Turkish President Recep Tayyip Erdogan significantly reshuffled his ministerial cabinet. Unlike in previous terms, this time, Erdogan decided to make significant changes to his cabinet while signaling upcoming reforms amid economic difficulties at home and political disputes abroad. In addressing domestic needs, the Turkish president appointed internationally respected ex-banker Mehmet Şimşek as the new minister of finance and Cevdet Yilmaz, former minister of development and deputy prime minister in charge of the economy, as vice president (Al Jazeera, June 3). Although the cabinet members are newly appointed bureaucrats, they are not completely "new faces" as they were heavily engaged in Turkish politics before their appointments.
Among the surprise appointments by Erdogan was Hakan Fidan, who entered the cabinet as the new foreign minister after serving as the head of Turkey's intelligence services, or the country's top "spymaster," for 12 years (Hurriyet, June 5). Before that, Fidan served as an advisor to Erdogan in the prime minister's office, underlining the close relationship between the two figures. His career has been marked with work "in the shadows," and he has shied away from aggressive public statements. Thus, many see him as a "moderate" force in crafting and leading Turkey's foreign policy agenda.
Undoubtedly, Erdogan's decision to replace the longest-ever serving Turkish foreign minister and seasoned diplomat Mevlüt Çavuşoğlu with Fidan triggered debates as to whether radical changes will follow in Turkey's overall foreign policy (Al-Monitor, June 4). Unlike Çavuşoğlu, Fidan has never been a public figure, instead carrying out behind-the-scenes diplomacy and other essential tasks, such as leading secret talks with the outlawed Kurdistan Workers' Party, negotiating with Israel during Turkey's rapprochement in their bilateral relations and holding similar discussions with Egypt and Syria as Erdogan's confidant (Anadolu Agency, April 25; Ahram Online, June 11).
In truth, diplomacy and intelligence are intertwined processes, as effective foreign policy depends on the quality and quantity of the intelligence made available to diplomats (Arab News, June 9). Therefore, such a formula suggests that Fidan could be a formidable foreign minister. Moreover, considering his experience in intelligence-gathering and national security, his appointment has been seen as a signal of Ankara's intent to take up a more assertive role in regional and global affairs (Arab Weekly, June 8).
In the past few years, under Erdogan, Turkey's growing soft power in the South Caucasus and Central Asia has become more visible. The ruling Justice and Development Party's long-term narrative based on Turkic unity with Islamic elements has enabled it to steadily strengthen its footprint in the Turkic-speaking countries in the region, particularly Azerbaijan (Turkeyanalyst.org, June 14). In this vein, the appointment of Fidan is a signal that Ankara hopes to cement its presence in the region and become a leading stakeholders alongside Russia and Iran. This renewed vision makes all the more sense now as Russia's regional influence wanes amid its war against Ukraine and international pressure on Iran continues to mount.
Indeed, Fidan's appointment came at an uncertain time for Turkish foreign policy as it struggles to navigate between the West and Russia, engages in diplomatic normalization with its neighbors in the Middle East and elevates its diplomacy in the South Caucasus and Central Asia (Turkeyanalyst.org, January 31, 2022). Hence, it should come as no surprise that Fidan is tasked with the execution of such critical missions. Additionally, it seems that, by accepting this post, Fidan, as one of Erdogan's closest ally, was likely promised more flexibility, unlike his predecessor. As such, this factor will enable Turkey's former spymaster to capitalize on this added room for maneuver and leave his personal mark on Ankara's foreign agenda.
Overall, Fidan will need to quickly establish Turkey's main foreign policy goals with its neighbors. In the South Caucasus, focus will likely remain on deepening ties with Azerbaijan, as Baku struggles with peace negotiations vis-à-vis Yerevan and tensions with Iran continue to simmer (see EDM, December 16, 2022). In the peace talks, Turkey stands as a natural ally of Azerbaijan while acting as a deterrent against Iranian influence. With Erdogan's re-election and Fidan's appointment, Ankara will likely pursue a more assertive policy to establish a land connection with Azerbaijan through its Nakhchivan exclave via Armenia's Syunik province—namely, the Zangezur Corridor—and fence off Tehran from the region. Erdogan's statement that "Iran is the main obstacle in opening the Zangezur Corridor," made during his most recent state visit to Azerbaijan, indicates Ankara's renewed attention to completing this project and thus further strengthen the Turkish-Azerbaijani relationship (Trend.az, June 14).
Azerbaijan publicly cheered Erdogan's re-election with the strong belief that, during this term, his government will put enormous efforts into ensuring a durable peace between Baku and Yerevan while positioning Turkey as the most reliable security guarantor in the region (APA, June 3). In this context, the appointment of Fidan, the former spymaster and prominent security expert, will likely represent an additional asset for Baku in normalizing relations with Armenia, confronting Iran's hybrid warfare and implementing Erdogan's ambitious "Century of Turkey" program, which aims, among other goals, to "contribute to global peace through an enterprising and active foreign policy" (New Arab, May 30; Yetkin Report, June 6). Ultimately, as foreign minister, Fidan strongly reflects Ankara's shifting foreign policy vision and ambitions to elevate its role as a stable regional leader with undisputed influence stretching from the Middle East to the Caucasus and Central Asia.