Hu Jintao's Sixth Generation Protégés Play Safe to Ensure Promotion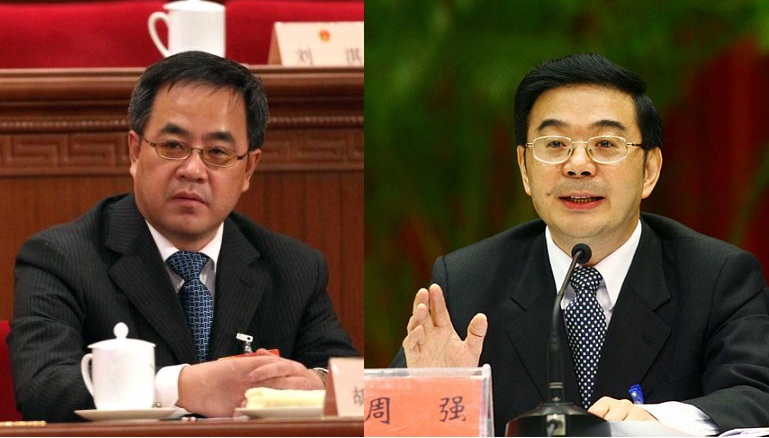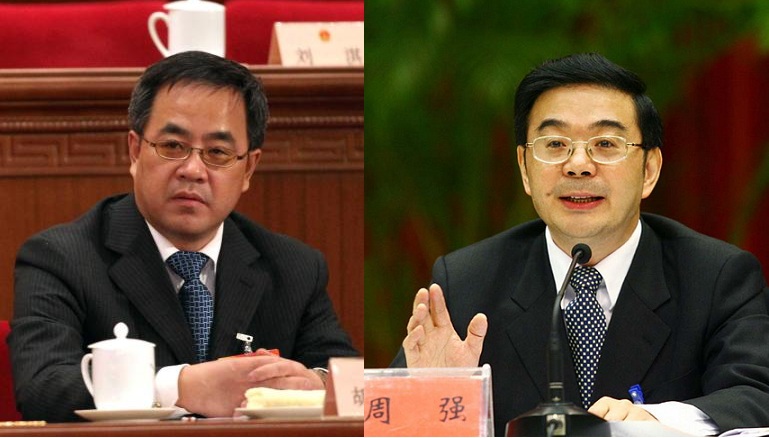 The rounds of ritualistic protestation of loyalty to the "Chinese Communist Party (CCP) central authorities with Comrade Hu Jintao as General Secretary" show President Hu Jintao has become the biggest beneficiary of the Bo Xilai scandal. Apart from pulling out all the stops to ensure that more of his Communist Youth League (CYL) faction affiliates from the Fifth Generation—a reference to cadres born in the 1950s—will be inducted into the Politburo Standing Committee (PBSC) at the 18th Party Congress this autumn, the supremo is boosting the political standing of a few key members of the Sixth Generation leadership. Hu Chunhua (born 1963) and Zhou Qiang (born 1960), Party Secretary of respectively Inner Mongolia Autonomous Region and HunanProvince, are tipped to be made ordinary Politburo members at the forthcoming congress. The two are also deemed frontrunners for making the PBSC to be established at the 19th CCP Congress in 2017. This means that while Vice President Xi Jinping will succeed Hu as party chief later this year, the 58 year-old princeling may have to yield his post to a CYL Faction stalwart at the 20th Party Congress in 2022.
Hu Chunhua (not related to the president) and Zhou Qiang, both former CYL party secretaries, are in terms of party ranking, two of the three most senior Sixth-Generation cadres in the CCP. The third is Party Secretary of Jilin Province Sun Zhengcai (born 1963), a former State Council technocrat who has no obvious factional affiliations. To get a better grasp of the future trajectory of the CYL Faction, it is instructive to study the political traits of Hu and Zhou and their paths to prominence.
A graduate in Chinese language and literature from elite Peking University, Hu served in the Tibet Autonomous Region for 20 years before becoming party boss of the CYL in 2006 and governor of Hebei Province in 2008. He assumed his current post as Inner Mongolia's party chief in 2010, when he was merely 46 years old. The speed of his promotions—his stint at the CYL and in Hebei each lasted merely 18 months—is probably due to the fact that he enjoys the full confidence of President Hu. The younger Hu is tipped to be made Party Secretary of either Guangdong Province or the Beijing municipality at the 18th Party Congress. Since both posts carry Politburo status, this would enable Hu to become the youngest Politburo member at the 18th Party Congress (Reuters, March 12; Deutche Welle [Berlin], February 8).
In the tradition of Chinese politics, up-and-coming cadres avoid making controversial statements—and initiating overly ambitious projects—so as not to be seen as upstaging their superiors or departing from the line of the central party authorities. The younger Hu obviously caught the eye of President Hu for having acquitted himself well in the rugged terrain of Tibet, where the older Hu was party boss from 1988 to 1992. Chinese media accounts of Hu Chunhua have emphasized his ability to "eat bitterness" in one of the most challenging parts of China. While there is little information about how Hu battled the secessionist movement in the restive Tibet region, his proverbial helicopter ride to the top testifies to the leadership's high assessment of his capacity in two key party tasks for the 21st century: upholding political stability; and ensuring national unity and patriotic pride (Sina.com, April 10; China News Service, March 14).
Despite his relative greenness in the party's high echelons, Hu Chunhua is also an intriguing foil to one of the biggest villains in Chinese politics since the Cultural Revolution: the disgraced and now former Chongqing Party Secretary Bo Xilai. Instead of humbly carrying out the center's orders, the egotistical and ambitious Bo took every opportunity to promote himself while serving in the western Chinese metropolis—to the point of challenging the authority of President Hu and Premier Wen Jiabao (Wall Street Journal, March 16; Apple Daily [Hong Kong], April 13; Reuters, April 11). Hu, on the other hand, has the reputation of always and unconditionally toeing the Beijing line.
Not surprisingly, Hu Chunhua is one of the regional leaders who are implementing the post-Bo Xilai loyalty drives with extra gusto. At a meeting of senior Inner Mongolian officials earlier this month, Hu swore absolute fealty to the Hu Jintao-led central leadership. "We must self-consciously maintain a high degree of unison with the center with Comrade Hu Jintao as General Secretary," Party Secretary Hu indicated. Without referring to the Bo incident, Hu noted "we must always maintain a clear-headed and resolute [stance] in politics, and be resolute in following through the decisions and arrangements of party central authorities." Hu also underscored the imperative of upholding stability and harmony in Inner Mongolia—which witnessed sizable ethnic strife last year—"so as not to complicate the national situation of stability" (People's Daily Online, April 7; Inner Mongolia Daily, April 6).
Contrary to the charismatic, media-savvy Bo, Hu Chunhua is self-effacing to a fault. During the press conference that he gave at the National People's Congress (NPC) last month, Hu answered only four of the 20 questions raised by the 90 or so Chinese and foreigner reporters covering the rising star. After all, he opened the conference with this caveat: "Today is open day for the Inner Mongolian delegation. Please ask me only questions related to Inner Mongolia." Hu refused to comment on issues including whether he had ever faced pressure in maintaining stability in his region; how he felt about being one of the youngest provincial party secretaries of China; and whether he had a microblog account (People's Daily, March 6; China News Service, March 6).
Hu's cautious approach sets him apart from relatively liberal cadres in the CYL camp, including Politburo member and Guangdong Party Secretary Wang Yang. In the past year, Wang (born 1955) has won praise from Chinese and international commentators for his conciliatory approach in handling social unrest. Wang, who has a high chance of making the PBSC at the 18th Party Congress, also has won plaudits for the relatively free rein that he has given the Guangdong media (Wall Street Journal, March 7; Bloomberg, February 4). The CYL heavyweight, however, also has incurred the ire of the CCP's conservative wing for being too close to the liberal thinking of Premier Wen, who is a consistent advocate of political liberalization.
Hu Chunhua, however, has worked hard to avoid being drawn into the CCP's Byzantine factional intrigue. Most of his policy statements evince a down-to-earth approach to fulfilling key party goals such as upholding socio-political stability (weihu wending). In a recent speech on the prospects of preserving stability in Inner Mongolia, Hu admitted "the main reason" behind riots and disturbances in his region was that "we have not done our work to a satisfactory enough level." Apart from pledging that party and government units would handle "mass incidents" according to law, Hu stuck to patriarchal ways and means of "educating the masses." The party boss urged his underlings to educate the masses on a correct understanding of the relationship between "personal interests and the interests of the state." He added "The masses must be taught to understand the boundary separating reasonable aspirations from unreasonable demands—and that even reasonable aspirations must be voiced in a rational and legal manner" (Legal Daily, January 18; People's Daily, January 18). While meeting leading local media representatives earlier this year, Hu noted news organizations must "provide correct guidance to public opinion [by] taking the standpoint of the party and government" (People's Daily, January 17; Inner Mongolia Daily, January 16).
Zhou Qiang, another key Sixth Generation protégé of President Hu's, has a legal background. A graduate of the Chongqing-based Southwestern University of Politics and Law, Zhou served in the Ministry of Justice from 1985 to 1995. He then worked in the headquarters of the CYL, which he headed from 1998 to 2006. The Hubei Province native subsequently was transferred to Hunan for him to acquire much-needed experience as a regional administrator. Since Hu became Hunan Party Secretary one year after Hu Chunhua had attained a similar rank, analysts believe he might have lost the race to become the potential "core" of the Sixth Generation leadership to Hu. Nonetheless, Zhou is considered a frontrunner to replace Zhang Dejiang as the Party Secretary of Chongqing—a position that also carries Politburo status—at the 18th Party Congress (Apple Daily, April 13; Sina.com, March 11). Zhang, who is also vice premier, took over the job of Chongqing party boss from Bo Xilai after he was sacked by the Hu-Wen leadership on March 15. It is however understood that Zhang would fill the post only until the 18th Party Congress.
Like Hu Chunhua and other up-and-coming regional leaders, Zhou has emphasized strict adherence to the center's instructions. While he has played no part in the campaign to resuscitate Maoism that is associated with the disgraced Bo, Zhou has used his status as the top official of Mao Zedong's birthplace skillfully to gain the support of conservative cadres who are still enamored of the Great Helmsman. Zhou thus has been a keen supporter of the renewed "Learn from Lei Feng" movement—a reference to the campaign to emulate Lei, whom Mao lionized as a "proletariat paragon" in the 1950s. "The quintessence of the Lei Feng spirit will never become outdated," said Zhou in a recent seminar. Zhou added what Lei advocated—"loving your country and total devotion [to the masses]"—possessed "eternal value" for Chinese (Xinhua, February 17; Hunan Daily, February 15). It is significant that in the wake of the Bo scandal, the party leadership has organized numerous educational and propaganda drives to ask civilian and military officials to emulate Lei Feng's spirit of unquestioned loyalty of the party's goals and discipline (Asia Times Online, April 5; People's Daily, March 22).
Despite his proclivity toward adherence to party dogma, Zhou seems to have more confidence than Hu Chunhua in displaying a personal flair. A case in point was Zhou's support to so-called "officials with personality," a reference to unconventional cadres who sometimes do not follow the norms of bureaucratic politics. For example, several Hunan officials have attracted national media attention through using their personal blogs and microblogs to expose abuses in the province that range from pollution to corruption. When asked at an NPC press conference last month about his views on "cadres with personality," Zhou said "In Hunan, cadres whose behaviors and policies are in accordance with the law and party discipline will enjoy protection." Zhou also was not afraid of touching upon the sensitive question of so-called "naked officials," or cadres whose spouses and relatives have either gone abroad or who possess residence rights in foreign countries. "As for myself, I have filed all my personal data with the [Party] Organization Department," he indicated, "I have no 'naked official' problems" (China News Service, March 11; Hunan Daily, March 10).
Despite Bo's downfall—and the dent this may have made to the clout of the Gang of Princelings—the factional distribution of the nine PBSC seats this autumn will probably reflect a rough balance of power between the CYL Clique on the one hand, and the conjoined Gang of Princelings and the Shanghai Faction on the other. ("Jockeying for Position Intensifies among Candidates for the Politburo Standing Committee," China Brief, October 28, 2011). The CYL Faction, however, enjoys a clear-cut advantage ten years down the road. It is to be expected that President Hu, who is noted for his cautious and meticulous approach to Chinese-style power plays, will counsel Sixth Generation CYL protégés led by Hu Chunhua and Zhou Qiang to stick to tried-and-true formulas in their steady but sure ascendancy to the top of the CCP hierarchy.