Hu Sends Special Envoy to Pyongyang ahead of Whirldwind Summitry
Publication: China Brief Volume: 9 Issue: 19
By: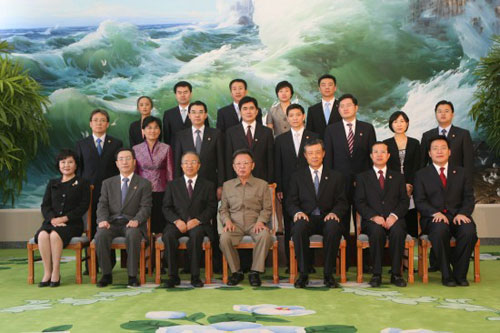 As part of a three-day visit from September 16–18 that largely stayed below the fray of both domestic and international media, Chinese President Hu Jintao sent State Councilor and former Deputy Minister for Foreign Affairs Dai Bingguo—his trusted confidante and top foreign policy advisor on North Korea—to Pyongyang as his special envoy (The Chosun Ilbo [South Korea], September 18). Councilor Dai reportedly carried a letter from Hu, which was delivered on September 18 during a meeting with the North Korean leader, Kim Jong Il. Following informal diplomatic conventions for high-profile meetings between Beijing and Pyongyang, neither side walked away empty handed. The Kim-Dai meeting was quickly followed with a pronouncement by the Dear Leader that suggested, albeit vaguely, that Pyongyang may be willing to return to the stalled Six-Party Talks, while Kim was reassured by Hu's diplomatic overtures that Beijingstill considers Pyongyang its "lips and teeth" ally.
Hu's message for Kim expressed the intent of the Chinese side to consolidate and develop China-DPRK good-neighborly relations, and specifically pointed out that as a close neighbor to the Korean peninsula, Beijing attaches great importance to the relationship and pays close attention to the situation on the Korean peninsula. Moreover that, "it has been China's consistent goal to realize the denuclearization of the Korean Peninsula and to safeguard and promote peace, stability and development of Northeast Asia," adding, "China is ready to spare no effort to work with the DPRK to realize those goals" (Ming Pao [Hong Kong], September 18; China Daily, September 19).
In response to Hu's letter, the North Korean leader reportedly stated that North Korea "welcome[s] both bilateral and multilateral talks to resolve the standoff over its nuclear programs" (Yonhap [South Korea], September 22). In other words, North Korea appears once again prepared to resume international talks on dismantling its nuclear program.
That Hu dispatched Dai—who chairs the Chinese side of the "Strategic Track" in the revamped U.S.-China Strategic and Economic Dialogue (SE&D) along with Secretary of State Hillary Clinton—to knock at the doorstep of Pyongyang just days before his most important international debut yet, and that this was done in the wake of former President Bill Clinton's high-profile trip to Pyongyang to secure the release of two U.S. journalists, appears to be a carefully calculated choice by Beijing. Dai's delegation included Wu Dawei, vice minister of Foreign Affairs, and Fu Ziying, vice minister of Commerce. Interestingly, Wu, a top diplomat who serves as China's chief negotiator to the Six-Party Talks, was reportedly in Pyongyang for a week in August for talks but failed to secure a meeting with Kim at the time (JoongAng Daily [South Korea], September 26; Oriental Morning Post [China], September 19; Global Times, August 18).
According to Yoon Deok-min, a senior researcher at the South Korean Institute of Foreign Affairs and National Security, the purpose of Dai's visit had more to do with "Chinese President Hu Jintao, fearing loss of authority in the region, soon sent State Councilor Dai. The North then spoke of returning to 'multilateral talks' to save face for China, but still fell short of pinpointing the six-party negotiations where China acts as the host" (JoongAng Daily, September 26). Some Chinese experts, however, challenge such views. "The recent easing of tensions does not mean that China's influence over the Korean Peninsula is diminishing. On the contrary, China cast its influence by communicating with each party on a diplomatic visit," said Yang Bojiang, an expert on Northeast Asia issues at the China Institutes of Contemporary International Relations (Global Times, August 18).
On top of meeting with the Dear Leader himself, the itinerary for Dai's delegation included a meeting with Kang Sok-ju, North Korea's first vice foreign minister and the brain behind Pyongyang's nuclear brinkmanship, and Kim Yong Nam, president of the Presidium of the Supreme People's Assembly of the Democratic People's Republic of Korea (DPRK). The meetings concluded with a debut for the opera, "The Dream of the Red Chamber," at the Pyongyang Grand Theater, which will be the main feature for the "60th anniversary of China-DPRK diplomatic ties" celebration on October 6 (Xinhua News Agency, September 17; JoongAng Daily, September 18). The inclusion of the opera in the itinerary suggested to some observers that Dai's visit was intended to lay the groundwork for a possible trip by Premier Wen Jiabao to Pyongyang to mark the 60th Anniversary of bilateral relations between China and North Korea on October 6 (Mainichi Daily [Japan], September 14; Xinhua News Agency, September 15; Reuters, September 18), which comes on the heel of Hu's U.S.-tour and right before the Japan-China-South Korea top-level talks hosted by Beijing and scheduled for October 10 (CCTV, September 18; People's Daily Online, September 24). Whether Premier Wen will indeed attend the celebration has not yet been officially confirmed by the Chinese Foreign Ministry (Xinhua News Agency, September 15).
Hu's whirlwind summitry, which began on September 21 and ends September 25, includes attending the U.N. climate change summit; making an address to the general debate of the 64th Session of the U.N. General Assembly; and participating in a Security Council summit-level meeting on nuclear non-proliferation and disarmament, which President Barack Obama will chair—the first time for a U.S. president, capped by the financial summit for the Group of 20 (G-20) scheduled for September 24-25.