Ideological Differences on the Israel-Hamas Conflict Divide Belarusians
Publication: Eurasia Daily Monitor Volume: 20 Issue: 161
By: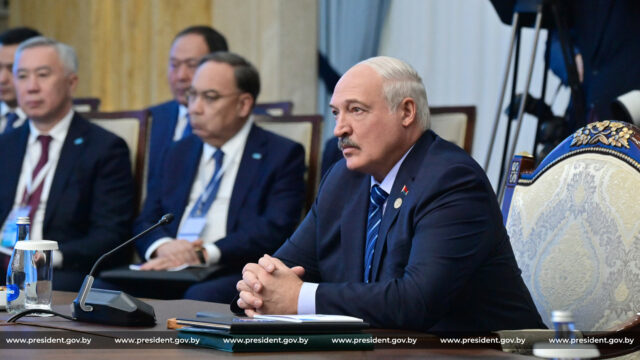 The mixed reactions of Belarusians to Hamas' shocking attack in Israel on October 7 underline the ongoing societal divisions in Belarus. For example, the Belarusian newspaper Minskaya Pravda published a column by RT editor Igor Molotov immediately after the fighting broke out. The propagandist rejoiced over the attack and predicted that "Palestinian flags [will fly] over the al-Aqsa Mosque in Jerusalem." Molotov characterized these events as a "victory for Moscow and Minsk." The article soon disappeared from Minskaya Pravda's website, but screenshots of it can still be found online (Zerkalo, October 11).
Alexander Klaskovsky, a veteran of Belarusian opposition-minded journalism, shared a similar, albeit satirical response. He declared, "This conflict plays into the hands of Belarusian officials. In particular, a new reason has emerged to promote Belarus as an island of peace on a distraught planet. The conflict also presents the regime's leader as a wise guardian of stability, peace of fellow citizens, and a peacemaker on a global scale" (Telegra.ph, October 11). Klaskovsky does not hide his sarcasm here. It is, however, possible that quite a few Belarusians indeed think along these lines. Some surveys conducted by opposition-minded pollsters indirectly confirm this fact by pointing to increased public trust in official Minsk (see EDM, January 5). Belarusians appreciate that they are neither mobilized as the Russians, nor bombed as the Ukrainians.
Belarusian President Alyaksandr Lukashenka has yet to utter a word about the ongoing conflict between Israel and Hamas. Lukashenka has stayed mum even after Russian President Vladimir Putin stated on October 10 that US foreign policy failures had caused the conflict (Moscow Times, October 11).
The differences in public opinion are most apparent in the split between "Westernizing" and Russo-centric Belarusians. The Westernizing group supports democratic practices for good governance, while the Russo-centric faction supports more authoritarian practices. On October 3, the Belarusian Economic Research and Outreach Center (BEROC) released its analysis of the World Value Survey and European Values Study that were conducted from 1981 to 2018 and covered Belarus. BEROC is an economic research center headed by Pavel Daneyko, a Belarusian economist. The center had been analyzing these studies for the past few years (Beroc.org, October 3). The results demonstrate that Belarusians have shown increased support for the expansion of private property: 40 percent in favor of it in 2018, compared with just 28 percent in 1990–94. Sixty percent of Belarusians favor economic competition, while 46 percent agree with the statement that the Belarusian people, not the state, ought to be responsible for their own well-being (in Russia, only 28 percent think so; in Ukraine, 35 percent). Over 45 percent believe that income redistribution from the wealthy to the poor is a condition for democracy. In Russia, 69 percent believe in this principle. Overall, Belarusians are characterized as a group for whom values of survival (i.e., economic values) are more important than values of self-expression (i.e., political values).
Several narratives have emerged in the Belarusian state-run media regarding the crisis in the Middle East. This content includes gloating about Israel's failure in intelligence and lack of preparation for a terrorist attack (e.g., "Mossad failed"). Another theme is that the situation for Ukraine may worsen. Oleg Gaidukevich, a member of the Belarusian House of Representatives, predicts that US assistance to Kyiv will be significantly reduced. At the same time, curtailing the fighting against Russia does not benefit Washington. According to Gaidukevich, if "it becomes necessary, they [the Ukrainians] will be sent to their deaths without weapons, with shovels and pitchforks" (SB, October 10).
Meanwhile, Lukashenka made a trip to Bishkek, Kyrgyzstan, to participate in the Commonwealth of Independent States (CIS) summit on October 13. He admonished the leaders of the other CIS members that, without a coalition, "we will be torn to pieces" by the West. Lukashenka supported Kazakhstani President Kassym-Jomart Tokayev's initiative to establish the so-called "International Russian Language Organization." Lukashenka proclaimed that, without maintaining the Soviet-era language of inter-ethnic communication, "we will soon be speaking to each other via interpreters, or in English" (YouTube, October 13). It is unlikely that his appeal for consolidation within the CIS was taken seriously by the other national leaders, such as Azerbaijani President Ilham Aliyev and Tokayev, even despite his language initiative. Azerbaijan and Kazakhstan, unburdened by participation in the ongoing wars, are busy developing relations with centers of power other than Russia, including Turkey, China, and the West (see EDM, January 3, February 14).
Belarus finds itself in a rather different setting being subjected to Western sanctions and firmly attached to Russia. There has been no slowdown in invoking history even more distant than the Soviet era in Belarus, as memory politics have become weaponized in the divided society. For Belarusian Westernizers, who largely make up the audience of the Belarusian service of Radio Free Europe/Radio Liberty, Pavel Tereshkovich, a reputable Belarusian ethnographer, explained why Belarusians did not succeed in their nation-building efforts in the early 20th century to the same extent as the Poles and Lithuanians (Svaboda, October 11). Tereshkovich emphasizes the "socioeconomic backwardness" of Belarusian communities at that time. During World War II, quite a few "Belarusian patriots" chose to contribute to the national cause, including Belarusian education, under the patronage of the occupiers. Some 400,000 of them left Belarus in 1944, which, according to Tereshkovich, undercut the national movement.
Around the same time, on October 12, an "international conference" was conducted in Kaliningrad devoted to casting the actions of Count Mikhail Muravyov (1796–1866) in a positive light. Muravyov was a Russian imperial statesman most known for putting down Polish uprisings and for subsequent cultural "depolonization" of the Northwestern Krai (wherein today's Belarus is located). The conference was labeled "international" because five of the 20 papers presented came from representatives of Belarus (T.me/historiographe, October 12). Muravyov is a villain to the Belarusian Westernizers, who insist that the uprisings he put down were not just Polish but also Belarusian. He remains a hero for Russians and those Belarusians supportive of Belarus's Russo-centric orientation.
The ideological clashes continue between Belarusians in embracing one of the two diametrically opposed historical narratives. These tensions have been most recently enflamed by how the two groups characterize the situation on the ground in Gaza. Such sentiments will only serve to further weaken societal cohesion in Belarus. These ideological differences have become a preoccupation of the Belarusian elite against the backdrop of little emphasis on encouraging the self-expression of ordinary Belarusians.