In Belarus, Pseudo-Events are Events, Too—Maybe Even More So
Publication: Eurasia Daily Monitor Volume: 16 Issue: 10
By: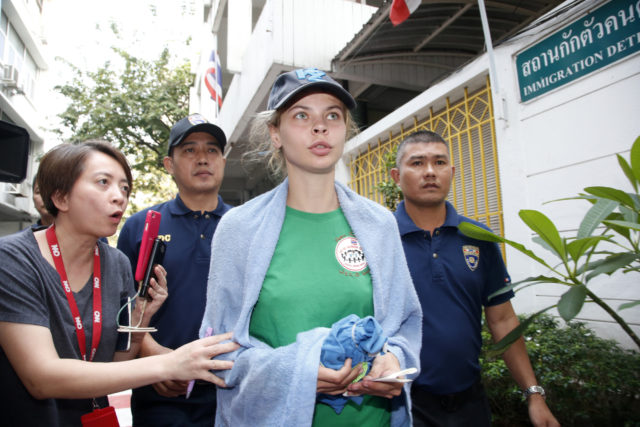 Russian-Belarusian tensions are still a major topic of discussion in the Belarusian media. Artyom Shraibman of Tut.by, notably predicts that neither side will yield to the other; therefore, Belarus will have to cope with slower economic growth and look for financial aid elsewhere (Tut.by, January 21, 2019). Dmitry Zayats, an economics expert from Belorusskie Novosti, echoes Shraibman but suggests that longer-term effects of reducing Belarus's reliance on Russian financial injections will be beneficial (Naviny.by, January 21). According to the political commentator Ivan Lizan, based in Rostov-on-Don, Minsk and Moscow will settle their arguments within three months to one year. This is because Russia has no other allies on the European continent, while Belarus has no alternative to the Russian market. As for media outlets—be they Russian, Belarusian or Western—each of them cares mainly about promoting its own political agenda, Lizan asserts (Sonar2050, January 21, 2019).
Yet, as time goes by, it is becoming increasingly clear that, in both countries, the general public is growing less worried about the situation than the various pundits; domestic affairs are again becoming dominant in peoples' minds. Thus, according to a January 25 survey by FMO, Russia's most influential polling agency, 50 percent of Russians identify with the opinion that relations between Russia and Belarus are good—exactly like in 2017, when the same proportion shared this view. Only 17 percent of Russians believe relations are bad—5 percent fewer than in 2017. Forty-seven percent of Russians hold a favorable attitude toward Belarus's President Alyaksandr Lukashenka—4 percent more than in 2017. A favorable attitude toward the Belarusian leader is particularly high among elderly Russians, as was the case earlier (Svaboda.org, January 25, 2019).
Although no corresponding surveys have been conducted lately in Belarus, opinions expressed by the experts most concerned about the possibility of a Russian annexation of the country, such as Vladimir Matskevich (Svaboda.org, January 18, 2019) and Pavel Usov, rather reveal a shared indifference regarding relations with Russia. "The society en masse does not even suspect that the independence of their country is threatened; whereas, those who do, prefer to lull themselves by the thought that stability, security and independence is guaranteed by Lukashenka," writes Pavel Usov (Usov, January 18). Some "venerable intellectuals" even blame journalists for paying "too much attention to naked buttocks" and for "not sounding the alarm about a possible loss of independence," writes Alyaksandr Klaskouski, a veteran opposition-minded journalist (Baj.by, January 23, 2019).
The reference to naked buttocks was no metaphor. Both Russians and Belarusians have paid incomparably more attention lately to the exploits of one Anastasia Vashukevich, nicknamed "Nastya Rybka," born and raised in Bobruisk, Belarus, than to anybody else. Vashukevich is a model, escort and self-described "sex guru," who spent a year in a Thai prison. Her notoriety grew after appearing in an investigative documentary produced by Russian opposition figure and anti-corruption blogger Alexey Navalny, in early 2018 (YouTube, February 8, 2018). The 25-minute video shows Oleg Deripaska—a billionaire with ties to Donald Trump's former campaign chairman Paul Manafort—taking a cruise on a yacht off the coast of Norway, in August 2016, in the company of Vashukevich and Russian Deputy Prime Minister Sergei Prikhodko. Vashukevich has described herself as Deripaska's mistress and claimed to have used her access to make audio recordings that shed light on Russia's role in the 2016 United States presidential election. Deripaska has denied any wrongdoing, saying that the allegations were the result of a campaign aimed at damaging his reputation. Vashukevich was arrested in Thailand for allegedly running a class on sexual seduction. US Federal Bureau of Investigation (FBI) agents reportedly tried to speak with her during the first half of 2018, only to be rebuffed by Thai authorities (ViceNews, January 17, 2019). The alternative version is that those investigators concluded Vashukevich was not a source of valuable information.
Vashukevich was detained yet again, on January 17, 2019, at Moscow's Sheremetyevo airport, right after landing from Bangkok, Thailand en route to Minsk, on suspicion of inciting prostitution. However, on January 22, she was released on her own recognizance. Moreover, she was freed from a Russian jail at the behest of President Lukashenka (Tut.by, January 22, 2019). In Belarus, a campaign was launched to free Vashukevich, and the Russian police was accused of "[acting] cynically and brutally"; more than 300 people signed a corresponding petition online (Udobnyi Gorod, January 25, 2019). Some Belarusians depicted Nastya Rybka as someone fighting much-hated Russian oligarchs (Mk.ru, January 21, 2019; Naviny.by, January 22, 2019). Vashukevich's interview about her suffering in Thai prison also showed up on a popular Russian site (Lenta.ru, January 25, 2019).
Various Belarusian media outlets commented on the issue. Some did not fail to observe that "to get Rybka from Moscow proved easier than to get compensation for the oil tax" (Gazetaby.com, January 22). Others claimed that by facilitating her release, Lukashenka sustained his image as a fighter of oligarchs (Svaboda.org, January 22, 2019). A 35-minute-long podcast of the Belarusian Service of Radio Liberty (BSRL) promotes the same idea—albeit, with a tinge of sarcasm. Nonetheless, an unofficial survey BSRL conducted in Minsk confirmed that everybody the outlet spoke with knows about Nastya Rybka, and most believe the authorities ought to defend her (Svaboda.org, January 26, 2019).
Reflecting on the comparative significance that the public accords to competing news events, the New Yorker magazine recently militated against "virality as a genuine signifier of newsworthiness" (New Yorker, January 25, 2019). Yet, it arguably failed to make a compelling case that the saga of the Covington Catholic High School boys in Washington, vigorously discussed all over the US, was a "pseudo-event." The same apparently pertains to the saga of Nastya Rybka. In fact, it is equally meaningful if only because different media outlets have abundantly used both stories to highlight their own agenda. Political leaders, needless to say, have their agenda, too. That Lukashenka did not miss the opportunity to demonstrate Belarus is an independent country able to defend its citizens is definitely to his advantage, especially against the backdrop of tensions with Russia.